The Sweet Reason Steve Harvey's Wife Always Makes Sure They Have A Large Christmas Tree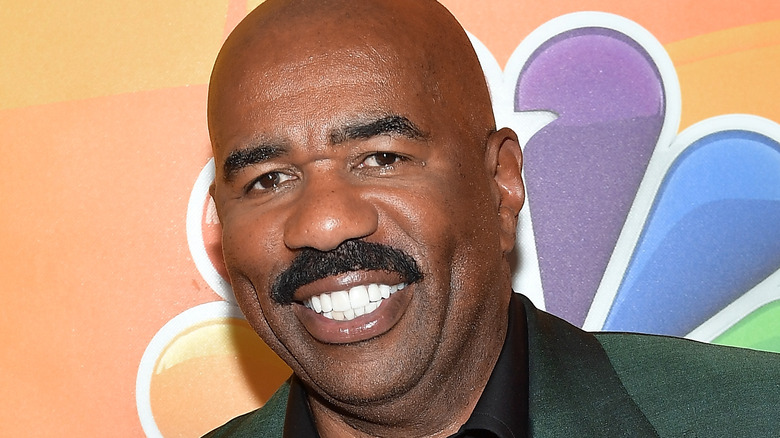 Matt Winkelmeyer/Getty Images
These days, Steve Harvey is the hugely successful host of several hot TV commodities, including "Family Feud" and the recently launched "Judge Steve Harvey." Before that, Harvey was an in-demand stand-up comedian. However, despite his demonstrable wealth and fame, the beloved TV personality hasn't forgotten where he came from. In fact, during an appearance on "The Ellen DeGeneres Show," via YouTube, Harvey admitted to being brought to tears when he heard the "Family Feud" theme song while on vacation.
Harvey was enjoying some food in a swanky restaurant with his family, when, as he recalled, "The DJ in the south of France started playing the 'Family Feud' theme song, and everybody in that restaurant knew the song, and I started crying. It just made me cry." When his daughter wondered what the matter was, the TV host admitted, "I'm a hood guy. I'm from Cleveland, I come from nothing. And these people are doing the 'Family Feud' theme song in the south of France? I went to Glenville High School! ...It just messed me up, man."
Harvey certainly hasn't been jaded by fame and fortune, as evidenced by a touching Christmas tradition the former comedian shares with his wife.
Steve Harvey worked hard to afford the finer things in life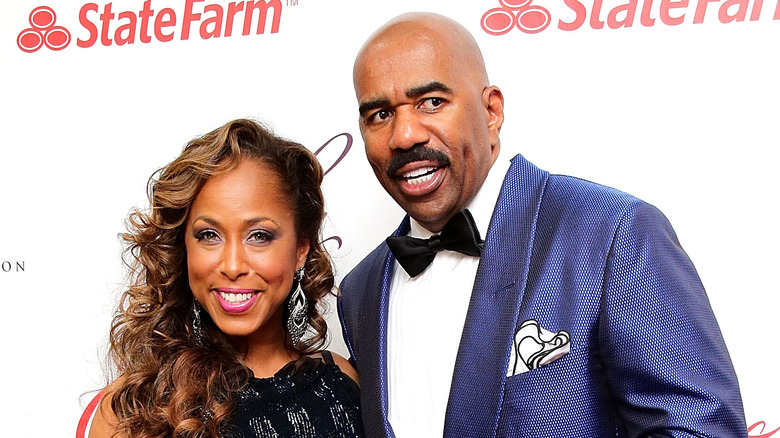 Neilson Barnard/Getty Images
In December 2021, Steve Harvey took to Twitter to share stunning shots of his family's Christmas decorations, including a large, ceiling-tipping tree. The TV personality explained, "When I was a little boy we had a 4 foot Christmas tree at my house, but I always wanted the big tree I saw in the mall. I told God that if he gave me some money, I would put the tree in the mall in my house." According to Harvey, his wife, Marjorie Harvey, "makes sure it happens every year." Alongside the impressive shrub, Harvey also showed off some massive festive sculptures.
The "Family Feud" host told Oprah.com the best splurge of his career thus far was "My 1940 Cadillac Series 62 convertible." Harvey shared, "It's cream, with navy blue seats and a drop top. A few times a month I throw on a baseball cap, light a cigar and spend a few hours driving around Chicago." The star overcame significant adversity to get to where he is today, with Cheat Sheet reporting he suffered with a prominent stutter in childhood. Harvey also had major stage fright when he first started out.
And yet, as he admitted to The Stuttering Foundation, "I still have to get psyched up, pumped, to go out there and face all these people." As far as Harvey is concerned, "I want them to laugh, I want them to get their money's worth."