Why Steve Harvey Says He Quit Doing Stand-Up Comedy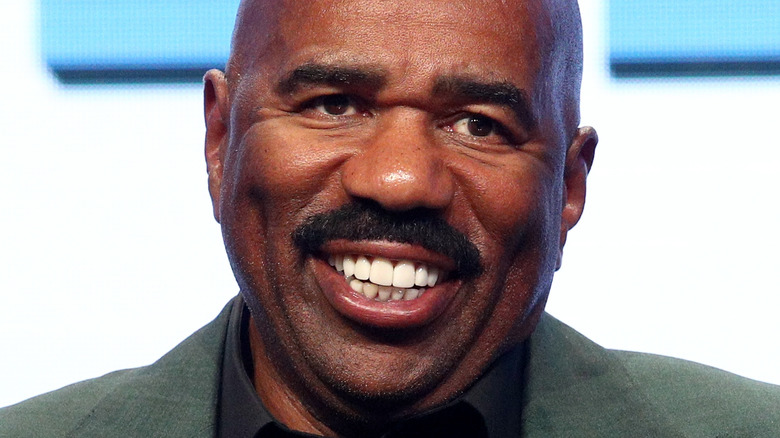 Frederick M. Brown/Getty Images
These days, Steve Harvey is best known as the host of the beloved game show "Family Feud" and the frontman of "The Steve Harvey Show." Recently, he added a third show to the roster with "Judge Steve Harvey." It's worth noting, however, that before he was a TV personality, Harvey made a name for himself on the standup circuit. As E! News notes, Harvey has a reputation for being outspoken, whether he's making dodgy jokes or taking part in offensive commentary.
In 2017, E! News reported that Harvey allegedly sent an email to staff on his hit talk show which advised them (among other things) to never enter his dressing room unless explicitly invited to do so, to never speak to him in the hallways, and to never interrupt him while his makeup is being done. Ostensibly, this was to prevent the TV host from being "ambushed" throughout his busy day. Although the email's release generated headlines, it wasn't terribly surprising in the context of Harvey's larger career. From allegedly cheating on his ex-wife during their relationship to publicly meeting up with then-President Donald Trump, in 2017, it's clear that the "Family Feud" host does whatever he wants. In fact, when asked whether he'd ever return to comedy, Harvey suggested that his decision to quit in the first place was due to cultural sensitivities.
Steve Harvey believes cancel culture has destroyed comedy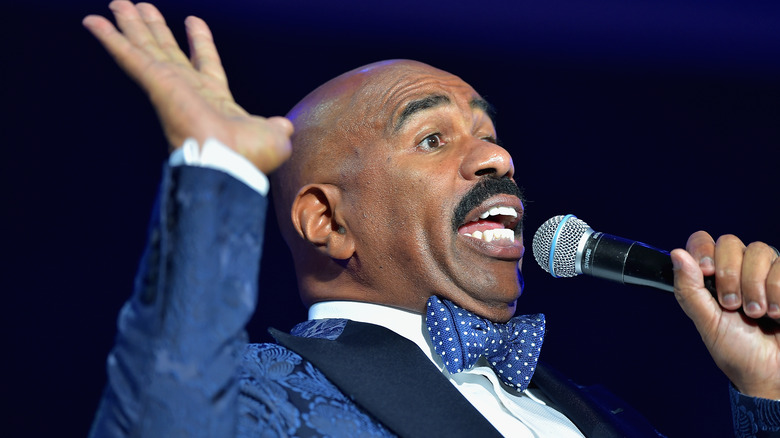 Moses Robinson/Getty Images
According to The Wrap, retired comedian-turned-TV-host Steve Harvey has no desire to return to the stage where he made his name. "The only way I can do one more special, is that it would have be to at the end of my television career, because it will end my television career," Harvey quipped, during ABC's recent Television Critics Association press tour. He elaborated, "We're in the cancel culture, and nobody, no stand-up [comic] alive that is sponsor-driven can say anything he wants to. Chris Rock can't, Kevin Hart can't, Cedric the Entertainer can't. I can go down the list. The only person that can say what they want to say is Dave Chappelle because he's not sponsor-driven, he's subscription-driven." 
To Harvey's point, Chapelle was heavily criticized for making transphobic jokes during the Netflix special "The Closer," per The Wrap. However, unlike the other comedians Harvey name-checked, Chappelle works almost exclusively with Netflix, so he's more free to say whatever he likes. "Political correctness has killed comedy," Harvey told The Wrap. For the former stand-up comedian, "a joke has to be about something ... Some of these jokes have to be about people because that's the most interesting topic." Fans hoping to see him return to the stage someday will have to wait until Harvey is finished with his TV career and can bow out without fear of reprisal.