The Best Anti-Aging Undereye Concealers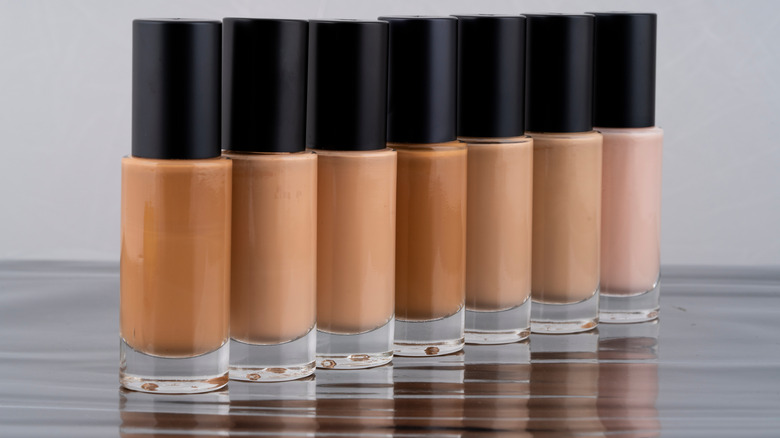 Panint Jhonlerkieat/Shutterstock
We may receive a commission on purchases made from links.
Concealer — it can make or break your look. While the perfect concealer may not be able to undo all your sins, it can cover up those pesky dark circles and smooth any skin texture. Picking the wrong concealer though can cake into fine lines that naturally occur in the delicate undereye area, which will only draw attention to the area you were trying to conceal. Picking the right concealer that won't cake becomes even more difficult as we age. Thankfully, makeup companies have been paying attention and have been releasing concealers with the latest anti-aging innovations.
According to PopSugar, one such concealer is available at Target for only $14: The No. 7 Lift & Luminate Triple Action Serum Concealer. This concealer contains Argireline, an ingredient called "Botox in a bottle" for its wrinkle-reducing properties (via W Magazine). In fact, 50-year-old actress Idina Menzel wore this concealer to the 2020 Oscars. Another concealer with skincare benefits is IT Cosmetics Bye Bye Undereye Concealer (via Cosmopolitan). This full-coverage concealer contains collagen, peptides, and antioxidants all in a super-charged formula. Keep scrolling to read our list below on other anti-aging concealers that will have you aging like Benjamin Button.
Anti-aging concealers that will smooth your undereyes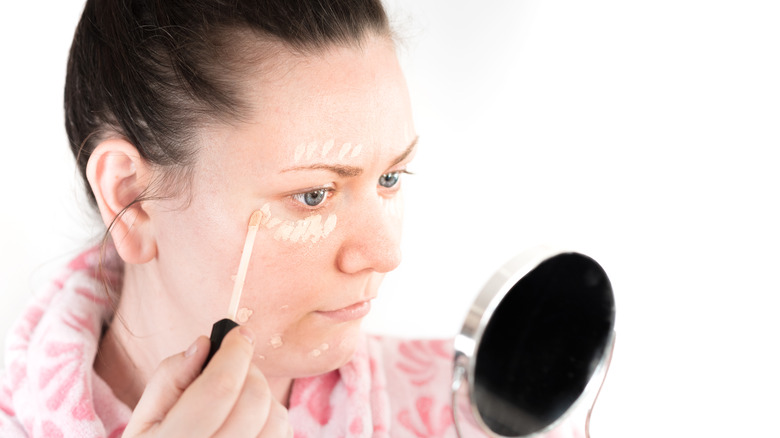 Niccolo Bertoldi/Shutterstock
A concealer that has recently come out and is getting rave reviews from beauty gurus is Lancome Teint Idole Ultra Concealer, per Vogue UK. The concealer can be used anywhere on the face for spot-concealing, as well as the undereyes. With nourishing ingredients like waterlily, moringa, and vegetable glycerin, this formula will not cake or settle into fine lines. Another cake-proof concealer is MAC Studio Fix 24-Hour Smooth Wear Concealer (via Prevention). The concealer has a natural-looking matte finish that won't sweat off or crack, even if you have to do an all-nighter.
Beautyblender has a full coverage concealer that promises 24-hour wear time, per Glamour. Beautyblender Bounce Airbrush Liquid Whip Concealer offers a creamy, whipped formula with hyaluronic acid and peptides that provides an airbrushed look and blurred fine lines. The concealer comes with a mini Beautyblender tip that helps provide an easy application to the undereyes.
According to Woman's World, Clinique Line Smoothing Concealer is especially targeted toward women with deeper fine lines in the undereye region. This concealer firms the undereyes and fills in any wrinkles so that you're left with smooth skin. The product also contains brightening ingredients for those battling dark circles. If you're on a budget, there are several other anti-aging concealer options, all under $20.
Affordable anti-aging concealer options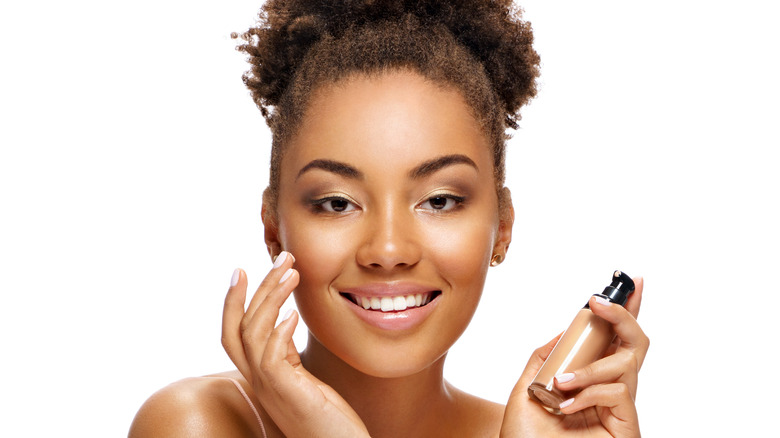 RomarioIen/Shutterstock
According to Marie Claire, the Sephora Bright Future Gel Serum Concealer ($14) is a lightweight, creaseless concealer that offers buildable coverage and blends out seamlessly. The concealer also contains pineapple ceramides to brighten undereye circles and improve texture under the eyes over time. Sephora's competitor, Ulta, also has an anti-aging concealer option. Ulta Beauty's Youthful Glow Concealer ($9) works to blur, plump, and smooth the undereye area with ingredients like vitamin E, hyaluronic acid, and gold (via Ulta).
Beauty guru Tati Westbrook highly recommends Catrice Cosmetics True Skin High Cover Concealer ($7) (via YouTube). It's a medium-coverage, lightweight concealer with hyaluronic acid that doesn't crease or budge throughout the day. One of Kerry Washington's favorite concealers is great for mature skin (via Women's Health). She swears by Neutrogena Radiant Serum Concealer. According to Neutrogena, the $12 creaseless concealer contains peptides and will blur the look of fine lines. While you may not have found the fountain of youth just yet, you're guaranteed to look like you've stopped time with any one of these anti-aging concealers.