Here's What We Think "The Next Episode" By Dr. Dre And Snoop Dogg Really Means
Michael Ochs Archives/Getty & Al Pereira/Getty Images
Los Angeles-born and raised Snoop Dogg and Dr. Dre have been on the music scene together since they introduced gin and juice to the mainstream in the '90s. In large part, through their collaborative efforts, the genre of Gangsta rap became a ubiquitous staple in American culture. Their beats bumped not just from the speakers of low riders in Compton but throughout the sleepy suburbs — from the West to the East coast.
Though rooted in navigating real-life struggles, their songs usually had a catchy beat and downright beguiling come-party-with-us vibe. Clearly, Dre's single "The Next Episode" is no exception. In fact, the song — a hit from his 1999 album titled "2001" — ranked No. 23 on the US Billboard Hot 100 chart, according to Genius. Moreover, it's a timeless classic and potential Super Bowl LVI halftime show song.
About 23 years later, in the cultural era of binge-watching episodes, it's logical that "The Next Episode" leaves us wanting more. So, what's the meaning behind the iconic song?
This legandary song was originally scrapped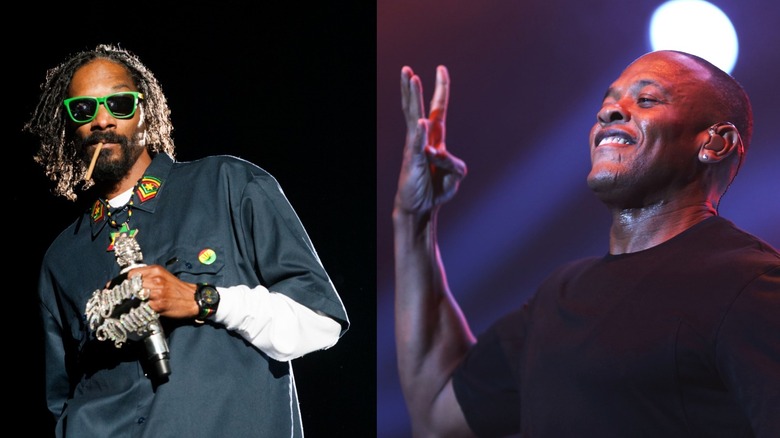 Paul R. Giunta & Chelsea Lauren/Getty
Sure, "The Next Episode" is one heck of a party song. But, draped over visceral beats, edgy lines such as, "Dre and Snoop chronic'ed out in the 'llac; with D.O.C in the back, sippin' on 'gnac (Yeah)" seemed to connect with a far-reaching audience. The song had folks casually chatting about hydraulics and adding Hennessey Cognac — of the aforementioned "'gnac" — to their chill picnic vibe sip-list.
It turns out, though, "The Next Episode" was not the first episode of this lyrical legacy. We need to rewind to Dr. Dre's debut album, "The Chronic," which dropped in 1992 (via Brittanica). In the song "Nuthin' but a 'G' Thang," Snoop Dogg closes out the song with the line, "just chill, 'till the next episode." Teasing more Dre and Snoop collaborations, the Snoop was hard at work finishing his own album, 1993's "Doggystyle" (via IMDb).
In fact, the album was slated to feature a track called "Tha Next Episode," but it was cut. Unfortunately, they couldn't secure clearance for one of the song's samples, so — as reported by Genius — it got shelved. It turns out the song was included in promotional materials in advance of the album's release. So, there's likely cool memorabilia out there — song lists that don't match the final tracks.
Fast forward to 1999. It might seem like a long wait, but fans finally got "The Next Episode," the epic collaboration between Dre, Snoop Dogg, Nate Dogg, and Kurupt.