Here Are Snoop Dogg's Best-Rated Songs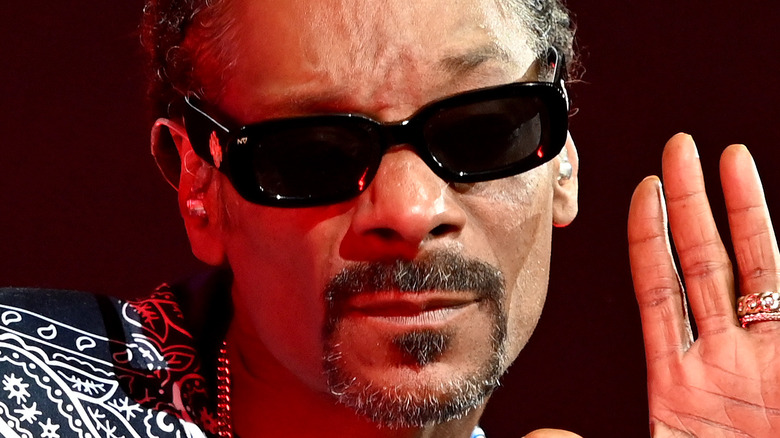 Stephen J. Cohen/Getty Images
Before Snoop Dogg was a household name, he was a choir boy in Long Beach, California, according to Biography. He was born Cordozar Calvin Broadus Jr., but his mom thought he looked a bit like Snoopy from "Peanuts." Thus began the legendary moniker. But Snoop's life was a far cry from the lighthearted childhood antics featured in the cartoon.
Although the now-icon is often seen baking with his gal-pal turned business partner Martha Stewart, Snoop Dogg's music is rooted in his experience with the violence he navigated within his community, as reported by Ebony. The performer has been open about his involvement with Rollin' 20 Crips Gang, according to Hip Hop Wired. He was accused and ultimately acquitted of murder in 1993, just as his career was accelerating. 
Sheena Lester, then editor in chief of RapPages magazine, commented on the case in an interview with the LA Times. "Snoop is a kind and a gentle brother," Lester said. "I hope [the] trial taught people that there is nothing glamorous about gangsterism. I hope it helps people to separate the music, which is cool, from the reality, which is not." 
Years later, the rapper uses his life experience to give back to at-risk groups through his youth football program (as seen in his Netflix series "Coach Snoop") and continues to drop mainstream hits as both a solo and featured artist. His music has always been a creative outlet; let's look back on some of his best-rated releases.
Snoop Dogg's musical collaborations are as well-known as his solo hits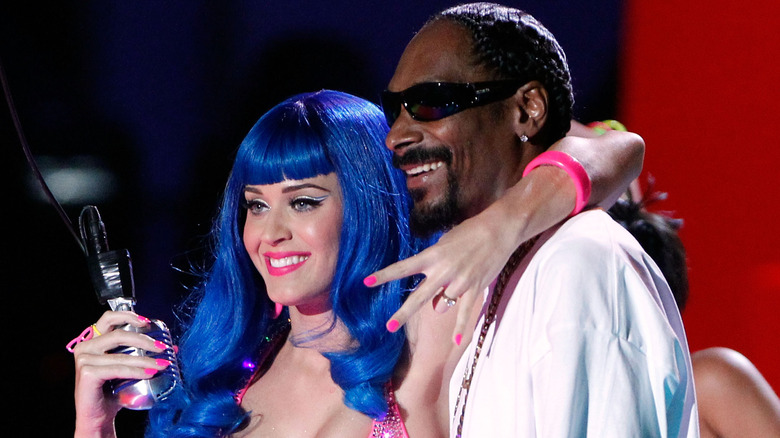 Christopher Polk/Getty Images
Snoop was nominated for his first Grammy alongside Dr. Dre just as he hit the mainstream music scene. Dre dropped his debut album — "The Chronic" — in 1992. In a year with hits like "Jump" by the adolescent duo Kriss Kross, the Snoop-Dre anthem "Nuthin' but a 'G' Thang" shook up the musical landscape. The song landed the rising talent his first Grammy nod as gangster rap echoed through the suburbs nationwide, (via IMDb).
Though his career is a masterclass in collabs, the 2003 song "Beautiful" featuring Pharrell Williams and Uncle Charlie Wilson remains a fan-favorite. The trio was nominated for Grammys in the Best Rap/Sung Collaboration and Best Rap Song categories. Williams and Snoop were back at it the following year with the hit song "Drop It Like It's Hot." It notched them — you guessed it — more Grammy nominations. In fact, the rap classic continues to get shout-outs from fans and in the likes of this career recap from Live365.
Snoop hasn't limited himself to partnerships within the rap and hip-hop scene, either. For example, he and Katy Perry famously teamed up for the 2010 pop hit "California Gurls." The bop came complete with a larger than life, sugary-sweet video.
As a solo artist, Snoop Dogg brought Gin and Juice to the mainstream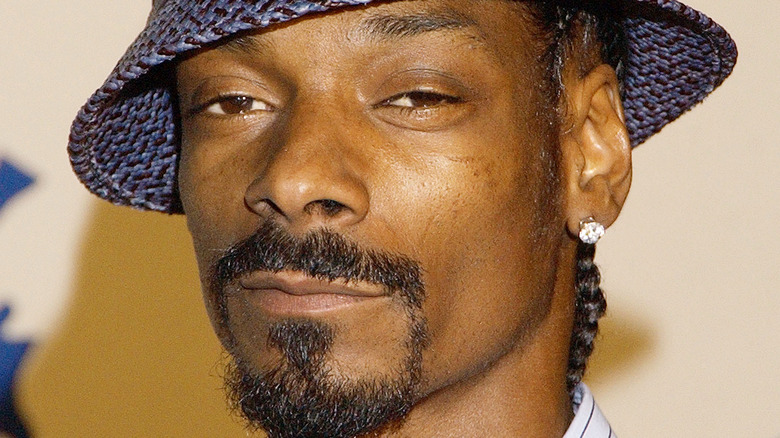 Everett Collection/Shutterstock
Although Snoop Dogg has released an endless string of collaborations, he's had plenty of hits as a solo artist, too. On January 15, 1994, he dropped an irresistible batch of musical refreshment in the form of "Gin and Juice." The track is a mega-hit so iconic it endures to this day. In fact, its modern-day popularity prompted Ellen DeGeneres to ask the rapper to mix up the signature drink with Martha Stewart to promote their 2016 collaboration "Martha & Snoop's Potluck Dinner," according to Thrillist.
It's important to note that even though "Gin and Juice" is an enduring mainstream reference, the song came from his 1993 debut album "Doggystyle." Created during a tumultuous time in the artist's life, the album also included the solo hit "Murder Was The Case." The title and number came under scrutiny during his murder trial, which will be explored in the Starz docu-series "A Moment in Time" (via The Hollywood Reporter).
Snoop Dogg's solo and collaborative success documents decades of personal and cultural milestones. It proves a great artist can shine a light on their experience to make it resonate with others; the rapper's best-rated songs offer a glimpse at the expansive range of his artistry.