Mikaela Shiffrin Fans Are Livid With NBC After The Olympian Makes Shocking Announcement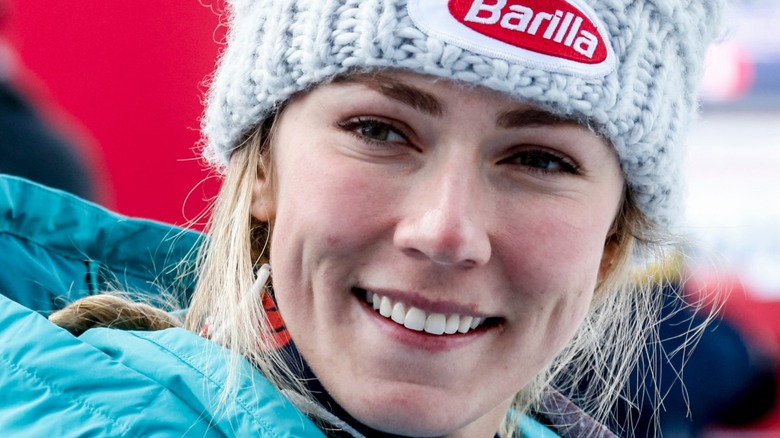 cristiano barni/Shutterstock
Three-time Olympian Mikaela Shiffrin is a heavily decorated alpine skier and overall sports legend. ESPN casually reminded the world that the list of accolades under her belt — including 73 World Cup wins and a historic 47 World Cup wins in slalom — is all-encompassing. With these impressive stats, it's easy to forget that Shiffrin is only 26 years old and has a long career ahead of her.
So, when NBC aired uninterrupted footage of Shiffrin sitting alone with her head down, moments after she was disqualified from the women's slalom at the 2022 Beijing Winter Olympics, it left many viewers fuming on the U.S. Olympic skier's behalf (via Yahoo!). On top of an emotional interview with the news network, the New York Post reports that NBC broadcaster Dan Hicks deemed the event as "one of the biggest shockers in alpine skiing history" in a dismissal of her record-breaking performances. 
On Thursday, February 10, a spokesperson for Shiffrin announced that she and her mother would forego interviews with press indefinitely at the Olympics, per HuffPost. "Mikaela (nor her mother/coach Eileen) will not be doing any media for the foreseeable future. Thank you for respecting her/their space right now," the statement read.
Now, NBC is under fire for their coverage.
Fans are furious at NBC's handling of the upsetting moment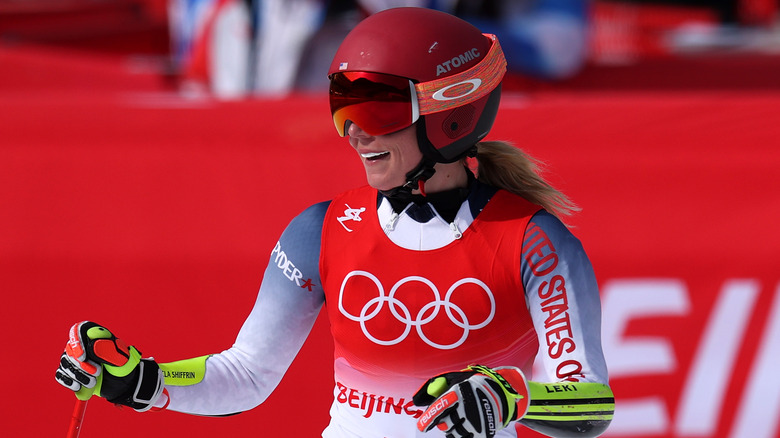 Alex Pantling/Getty Images
Variety branded NBC's coverage of Mikaela Shiffrin's disqualification "melodramatic" and disappointing in light of the U.S. alpine skier losing her father unexpectedly in 2020. Fans called the network's decision to broadcast what many feel should've been a private moment insensitive and exploitative. 
In one Reddit thread, users questioned Dan Hicks' commentary on the event. The original poster called out Hicks' assessment that she "failed to deliver" and reaffirmed that Shiffrin's accomplishments are her own, writing, "She wins the medal for herself! She's not doing it for anyone. She doesn't owe anyone. Not even a word about the fact that she almost retired from the sport last year and it's her first Olympics since losing her dad ... just 'she failed to deliver'"
One user criticized NBC for going through with the interview in the first place, writing, "I thought having Shiffrin do the interview after slalom was in bad taste." Another user argued that the biggest issue wasn't Hicks' comments, but rather NBC for zooming in on her dejectedly sitting on the slopes. They wrote "The gross part was NBC continuing to stick a camera on her and ignoring the rest of the race, but that's not on Hicks, that's on the director and/or EP. Hicks' job is to try and explain why the only person the casual viewer has ever heard of went out of the race so quickly ... and he really can't because it's a pretty shocking moment."
Many people are bringing up Simone Biles' experience after dropping out of the Tokyo Olympics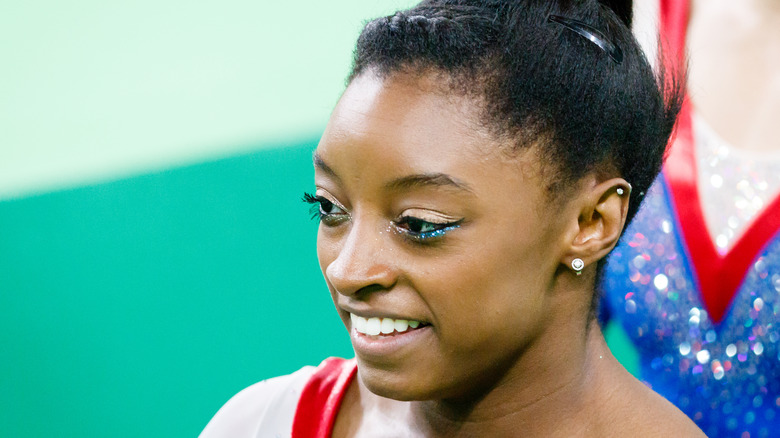 Petr Toman/Shutterstock
The similarities between NBC's coverage of Mikaela Shiffrin after her Beijing performance and the press surrounding two-time Olympian Simone Biles (via Team USA) during the 2020 Tokyo Olympics was not lost on viewers, reports HuffPost. Biles' decision to drop out of the summer Olympics and prioritize her mental health made waves across the sports world. The Guardian pointed out that it also drew criticism from some, highlighting the lack of empathy for female athletes, especially women of color.
Over on Twitter, fans continued drawing comparisons between Shiffrin and Biles' treatment. In a February 8 tweet, one user accused the news outlet of repeating past mistakes, writing, "NBC learned absolutely nothing from Simone Biles and now they are doing the SAME thing to Mikaela Shiffrin and it's infuriating." Another user blamed the spotlight that NBC's in-depth profiles on athletes creates, writing, "at some point NBC has to examine the effect that creating outsized PR campaigns around individual athletes has on the athletes performance. Nathan Chen, Simone Biles, Mikaela Shiffrin — can't keep calling it coincidences."
Despite the immense backlash, NBC stood behind their coverage. Executive producer Molly Solomon told the Associated Press that it was their obligation to showcase the heartbreaking moment. "There's no script when there's a wipeout on the slopes or a fall in figure skating. We're watching real people with real emotions in real time and we did everything we were supposed to do."