Inside The Controversy Surrounding The Death Of Jim Carrey's Ex-Girlfriend
Joe Seer/Shutterstock
In 2015, Jim Carrey's ex-girlfriend, Irish makeup artist Cathriona White, died from suicide. Just days before she committed suicide, White and Carrey had called it quits after dating on and off since 2012, per Mirror. In a suicide note obtained by TMZ, White seemed to blame her mental state on the couple's recent breakup. "I've spent three days now in disbelief that you're not here," White said in her suicide note. "I can go on brokenhearted and try to put the pieces back. I could, I just don't have the will this time. I'm sorry you felt I wasn't there for you. I tried to give you my best part."
Despite the problems that might have existed in their tumultuous relationship, Carrey still appeared to be devastated upon learning of her death. "I am shocked and deeply saddened by the passing of my sweet Cathriona," Carrey said in a tribute, per Mirror. "She was a truly kind and delicate Irish flower, too sensitive for this soil, to whom loving and being loved was all that sparkled. My heart goes out to her family and friends and to everyone who loved and cared about her. We have all been hit with a lightning bolt."
In the aftermath of White's death, quite a bit of controversy was ignited involving the question of Carrey's involvement in his ex-girlfriend's death, and all of the secrets that she had been hiding from the actor while they were dating.
If you or anyone you know is having suicidal thoughts, please call the National Suicide Prevention Lifeline​ at​ 1-800-273-TALK (8255)​.
Carrey faced a wrongful death legal case after White's death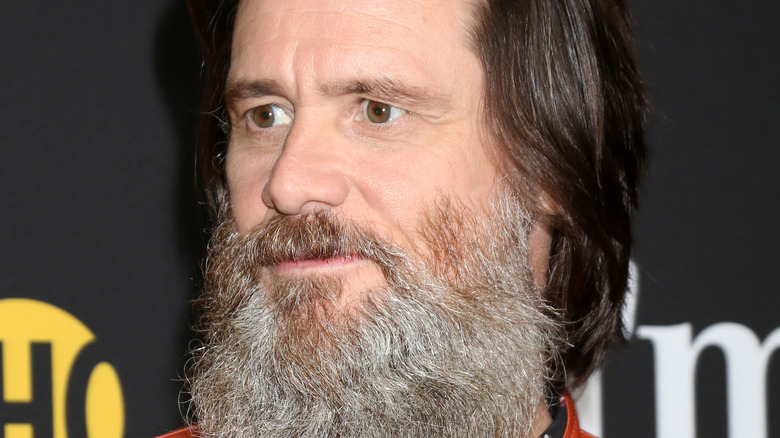 Kathy Hutchins/Shutterstock
Shortly after Cathriona White's death, actor Jim Carrey came face-to-face with quite a hefty lie that his former girlfriend had maintained throughout their years-long relationship. It turns out that White was actually married to another man while she was dating Carrey. According to Mirror, Carrey's lawyer claimed that the Irish-born makeup artist was only married to Mark Burton to obtain a green card for American citizenship. However, it was eventually Burton, along with White's mother, Brigid Sweetman, that filed a civil suit against Carrey, accusing the actor of assisting in White's suicide by giving her the prescription pills that eventually led to her lethal overdose.
Burton and Sweetman also accused the actor of giving White herpes, though it was later revealed that White had actually forged documents to show that she had sexually transmitted diseases or infections in 2011 in order to claim that Carrey gave her these diseases and extort him for money, per Mirror.
In February 2018, Carrey was cleared of all charges and the case against him was dismissed. "I really hope that some day soon people will stop trying to profit from this and let her rest in peace," Carrey said about the court case, per BBC.
Since White's death, Carrey has only been linked romantically to one other woman, Ginger Gonzaga, whom he began dating in 2019. However, shortly after they made their relationship red carpet official, Us Weekly broke the news that the couple had called it quits.