Princess Eugenie Shares Two New Photos Of Her Son On His First Birthday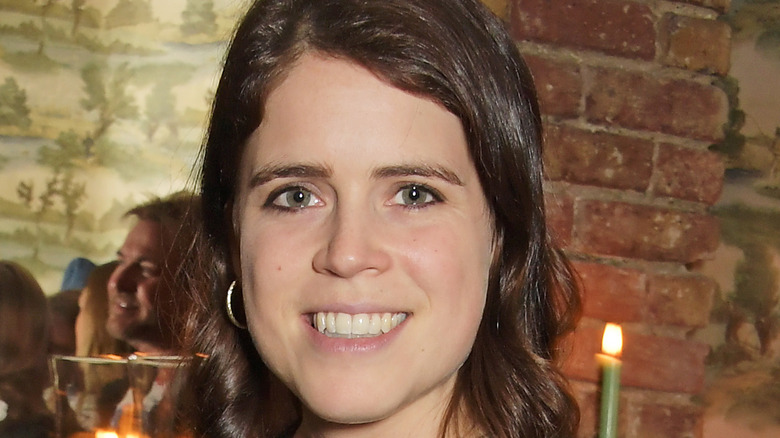 David M. Benett/Getty Images
When she's not busy with her work as the director of the international Hauser & Wirth art gallery or overseeing multiple philanthropy missions, Princess Eugenie, the daughter of Prince Andrew of York and Sarah Ferguson, is spending time with her family.
In 2018, Princess Eugenie married Jack Brooksbank, who works as an ambassador for tequila brand Casamigos. "Jack ... is a man of such integrity," Ferguson said of her son-in-law during an interview with BBC One's "The One Show," per Us Weekly. "He's just one of my most favorite people. I call him James Bond actually. He's just a superhero in my book, and he's a great father, a fabulous husband and he's never at front of house. He always likes to be at the back."
In February 2021, the couple became first-time parents when Princess Eugenie gave birth to their son, August Philip Hawke Brooksbank, People reported. "Our hearts are full of love for this little human, words can't express. ... Thank you to the wonderful essential workers including our midwife who came to discharge our boy," Princess Eugenie wrote in an Instagram post shortly after her son's birth.
Princess Eugenie wrote a sweet tribute to her son on his first birthday
On Wednesday, Princess Eugenie posted a rare photo of her son, August Philip Hawke Brooksbank, in celebration of his first birthday. "Happy 1st Birthday to our little hero Augie," captioned an Instagram post that featured a photo of herself, her husband, Jack Brooksbank, and August, on top of a snowy mountain decked out in winter gear. A second photo showed August (from the back) sitting next to toys. "You are such a special soul that brightens every room with your smile and wave. You have made us so very proud. We love you!"
Unlike other members of the royal family, Princess Eugenie has often taken to social media to show off her growing family. In an Instagram story, she revealed the meaning behind one of her son's middle names. "On his grandfather's birthday weekend, thinking of my grandfather [Prince Philip], we are introducing our little boy. He is named after his great-grandfather and both of his great x5 grandfathers," Princess Eugenie said, per People.
While bidding farewell to 2021, Princess Eugenie spoke about the big changes in her life that took place in the previous year. "Happy New Year to all. Goodbye 2021. A year that blessed us with our boy and saw our family grow with new additions but also a year that took some of our biggest and brightest lights. Forever in our hearts," Princess Eugenie captioned an Instagram post that contained photos of her husband, son, and grandfather, Prince Philip, among others.