Love Is Blind's Iyanna Reveals What It Was Like To Be Vulnerable On Television - Exclusive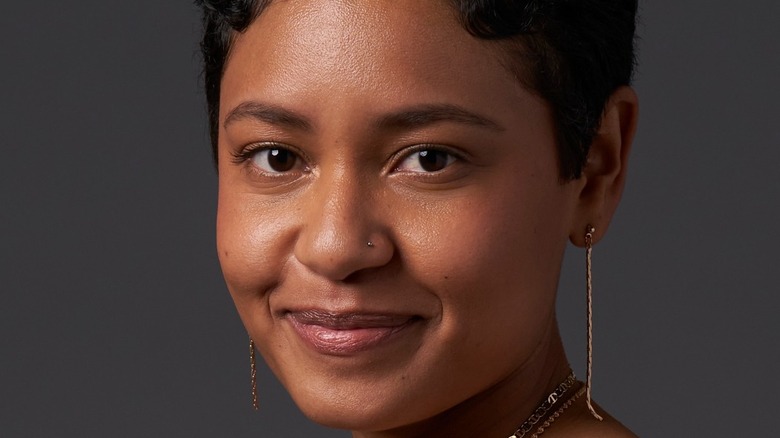 Ser Baffo/Netflix
The highly anticipated second season of Netflix's "Love Is Blind" launched its first five episodes on February 11, and a new group of singles are looking to find love on the reality dating series. The premise of the show seems simple at first — 15 men and 15 women go on blind dates with one another until they (hopefully) form a connection with one person in particular. Once two singles have established an emotional bond, the man proposes to the woman and the two are finally allowed to see each other for the first time. Over the next four weeks, couples are put to the test to determine if they're ready to walk down the aisle and say "I do," which shows that nothing is ever as simple as it seems.
Iyanna, one of the women participating in Season 2 of "Love Is Blind," spoke with The List during an exclusive interview about the process of finding love on the hit Netflix show. Iyanna revealed how it was an experiment she was fully committed to, as she wanted to ensure that she was being her most authentic self when participating in the pod process. She eventually becomes engaged to Jarrette after some emotional revelations and complicated hiccups, and the first few episodes sees the pair navigating their first weeks of romance in Mexico.
During her conversation with The List, Iyanna revealed what it was like to be vulnerable with Jarrette on television, what she learned about herself during this process, and much more.
Iyanna was committed to being honest and open during the pod process
Netflix
When Iyanna began the pod process on Season 2 of "Love Is Blind," she was committed to being as honest and open as possible with her potential love interests. As she grew closer to Jarrette, she shared some deeply personal experiences with him. This level of vulnerability and authenticity mattered to Iyanna when it came to finding love, even if it meant that she'd have to share these intimate details of her past with a wider audience.
Speaking exclusively with The List, Iyanna said, "I think it was something that I had to figure out if I was comfortable with before even going on the show. I just wouldn't feel comfortable marrying someone who didn't know those things about me. So, it was something where I had a 'come to me' moment and just said, 'Iyanna, it's something that needs to be done if you really want to find love on this.' It was still nonetheless uncomfortable, but definitely necessary."
Iyanna went on to say that the process of building a relationship through the medium of reality television taught her valuable lessons about herself beyond her capacity for being vulnerable. 
Iyanna learned valuable lessons about herself during her time on Love Is Blind
Though the process of finding someone to marry is the main premise behind Netflix's "Love Is Blind," many of the contestants learn valuable lessons about themselves as individuals while getting to know their respective partners. While speaking to The List about what it was like to be vulnerable both with Jarrette and the wider Netflix audience, Iyanna also discussed what she learned about herself during her time on the show.
"I learned that I do struggle with quite a bit of my own anxiety. And I think the hardest thing for me to start to navigate, now that I know that about myself, is to manage those anxieties and not project them, which is really, really difficult," Iyanna said. "But I also learned that I am extremely resilient and that I've grown quite a bit. I took that time and it paid off, and I'm pretty proud of myself." 
Love Is Blind Season 2 is now available to stream on Netflix.