Fans Are Confused About The Rock's Appearance At The Super Bowl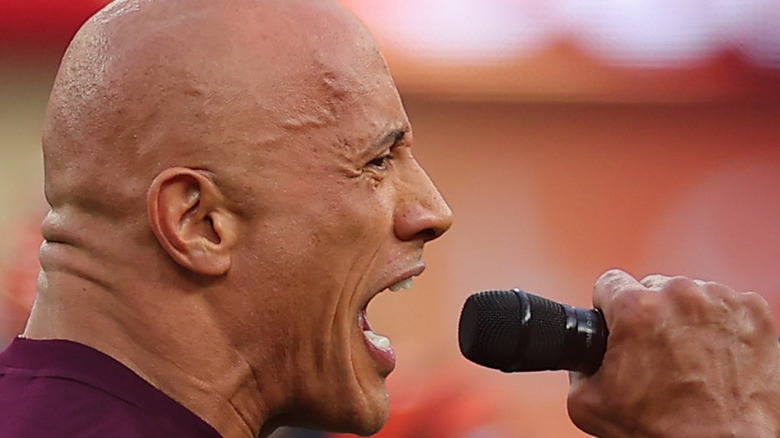 Kevin C. Cox/Getty Images
When you have a Super Bowl in Los Angeles, you can definitely expect some celebrity appearances. Celebrity actor and wrestler Dwayne "The Rock" Johnson took to the field to help give a special pregame opening as shared by the NFL on Twitter, "@THEROCK. INCREDIBLE OPENING TO #SBLVI." The actor has been a longtime fan and was thrilled to bring his WWE-style enthusiasm to the field on what could be considered America's biggest game day. Said The Rock ahead of the appearance, "After all these years, my football dream of standing on the Super Bowl field has finally come true. This will be historic. This will be my honor. This will be electrifying. I'll see you this Sunday!" (via Deadline).
To describe the intro, think big, loud, muscly, and theatrical. And while there was definite theater in the performance, perhaps the red carpet Hollywood treatment didn't extend to everyone's outfits like The Rocks sorta-dressy sorta-muscle shirt maroon combo. Shared one watcher, "The cut of those pants is a little strange, The Rock," (via Twitter) while another adds more bluntly, "Talk about cringe!!!" (via Twitter).
The internet is divided on The Rock's pants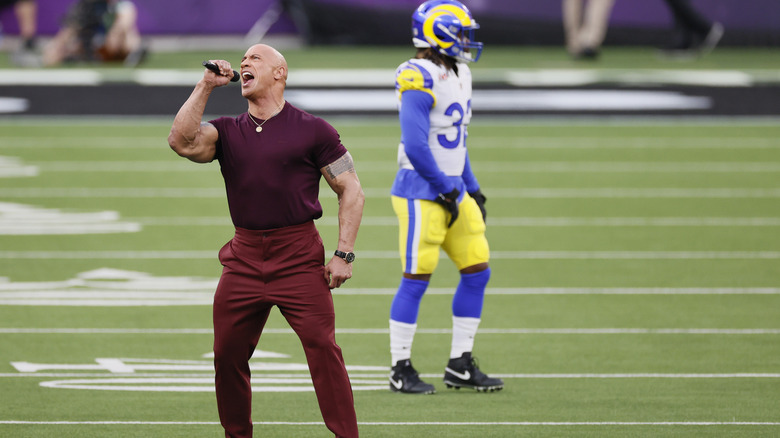 Steph Chambers/Getty Images
It could be argued that The Rock was maybe trying to avoid favoring one team's colors and playing favorites, but that still doesn't really explain the pants. Maybe the problem is simply that there's less overlap between Super Bowl fans and wrestling fans than had been anticipated — not that we doubt The Rock's enthusiasm. One upset fan shared, "That was awkward and terrible" (via Twitter). But while there's doubters, there will always be dedicated fans to defend Johnson, such as one rebutting a diss to their icon and his importance, "The most electrifying man in sports entertainment? the Brahma bull? The scorpion King??" (via Twitter).
But whatever your take on the pants or the performance, our favorite take has to be this fan incorporating the wrestler's signature phrase, "If you smmmmmeeeellllllllllllllll ....what the rock....is.....cooking....spoiler alert: during Superbowl [sic], it's probably chicken wings," (via Twitter).
Confusing, enthusiastic, and someone brings it back to the snacks. Sounds like Super Bowl to us.