Everything We Know About Super Bowl 2022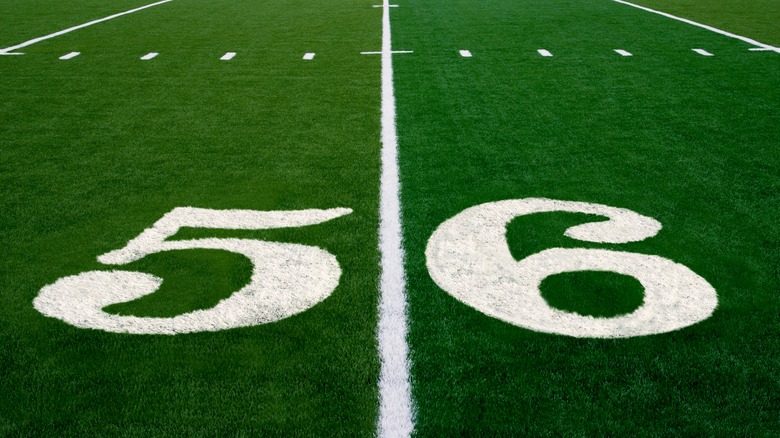 SAJE/Shutterstock
Break out the chips and dip and your foam finger, because it's almost Super Bowl time! If you're a football fan, you've probably already got Super Bowl LVI on your calendar. This year's match up is on Sunday, February 13 at 6:30 p.m. ET (via NFL). This actually puts it a week later than originally scheduled and a week into the start of the Beijing Winter Olympics, so sports fans will have plenty of options, per NBC Sports. You can also watch the game on NBC, or live stream it on the NBC Sports App or Peacock.
It will be held at Los Angeles's SoFi Stadium, which is home to both the Los Angeles Chargers and the Los Angeles Rams. There had been some doubt in early January as to whether the game would still be held there with a surge in coronavirus cases in the city, but California Health and Human Services Agency Secretary Dr. Mark Ghaly confirmed the game would go ahead as planned with COVID mitigation strategies in place. Ghaly said, "Let me just be abundantly clear that the Super Bowl is coming to LA" (per KDVR).
We don't know who's playing yet, but according to sports betting site Covers, the Green Bay Packers, Kansas City Chiefs, and Tampa Bay Buccaneers are currently the top three teams. The max amount that each member of the winning Super Bowl team will get is $150,000 and the max for the losing team is $75,000 (via Yahoo! Sports).
The Super Bowl Halftime Show will be headlined by five heavy hitters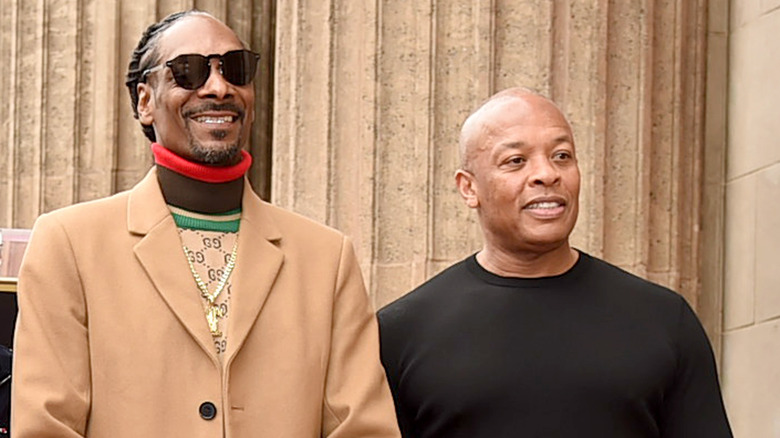 Kevin Winter/Getty Images
Now for what's the most important part for some — the Pepsi Super Bowl Halftime Show. The lineup for what's sure to be an epic show is five artists who've never performed together before: Dr. Dre, Snoop Dogg, Eminem, Mary J. Blige, and Kendrick Lamar (via NFL). Snoop Dogg told Entertainment Tonight that "this it's gonna be one of the greatest Super Bowl halftime shows that you ever witnessed." He added, "Dr. Dre is on it. He's putting his time together with the specifics and the dynamics of what we're doing."
The rapper has also promised that his bestie Martha Stewart will be there, and that he'd be setting up an introduction to Eminem, who Stewart is a fan of. "I'm setting it up, Martha. I got you. I got the VIP lounge, I got it all in my mind. I know how y'all gonna be, it's gonna be set up it's gonna be beautiful, I got this," he said.
He's not the only one excited. Senior Pepsi VP Adam Harter said, "Along with the NFL and Roc Nation, we continue to try and push the limits on what fans can expect during the most exciting 12 minutes in music; this year's superstar line-up is sure to deliver a mind-blowing performance," per NFL. 
There's even an app for the show, which will include behind the scenes clips and augmented reality features (via The Drum).