Euphoria's Makeup Artist Reveals The Inspiration Behind Cassie's Look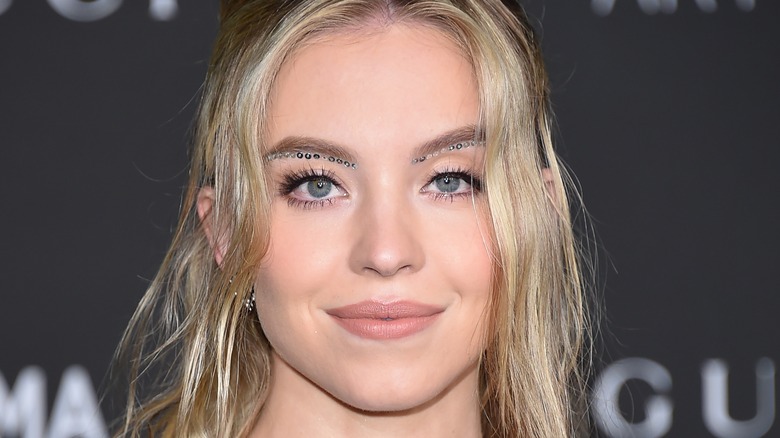 DFree/Shutterstock
HBO's "Euphoria" is well-known for plenty of reasons, but one of them might be the spectacular looks of the cast members. The show's costume design and makeup team continues to push boundaries in every episode with unique makeup and fashion. Because "Euphoria" has especially excelled in that area, it has sparked new trends among Gen Z'ers, as Refinery29 reported. Ever since the show hit streaming platforms, viewers have been incorporating "Euphoria's" glitter, eyeshadow gems, and bright makeup into their own beauty routines.
But the beauty looks aren't just for show. Every detail, right down to the exact shade of eyeshadow used, helps to tell a larger story. Creator Sam Levinson opened up to IndieWire about how "Euphoria's" head makeup artist Doniella Davy has empowered the characters to pop. "What Donni does is storytelling. Cinematic storytelling at that," he said. "She knows the scene, the lighting set-ups, and works to illustrate what's not being said ... what she was able to do [on "Euphoria"] was translate the interior emotion of the characters into an actual expressive palette." For her part, Davy credited some of the show's young actors for helping her to identify what they were "feeling for their characters." "They're very with it ... They come in with ideas," she added. But of all the actors, perhaps no one's makeup is emulated as much as Sydney Sweeney, aka Cassie.
Doniella Davy talks Sydney Sweeney's rhinestone eye look
While Sydney Sweeney certainly had her own fan base during Season 1 of "Euphoria," she's taken center stage in Season 2. Fans have loved her explosive scenes and incredible acting performances just as much as her makeup looks. Makeup artist Doniella Davy shared an inspiration binder with TikToker Kirbie Johnson, which helped give insight into her vision for Cassie. Davy — who has long been open about her makeup process — also took to Instagram to share the story behind Cassie's memorable look in the first episode of Season 2. 
"When we first see Cassie, she's already drunk and eating powdered donuts (the best) on the curb, so we loved keeping her skin dewy with super flushy cheeks and lips for this episode," Davy wrote. "We were always bringing her lip color out beyond her lips to sort of look like "make-out/cry" lips or like she had been nervously biting her lip." The caption accompanied a carousel of images of Cassie rocking rhinestone encrusted eyes, red lips, and extra-pink cheeks. However, it was the rhinestones that got everyone talking, and Davy explained how that look was core to the episode's plotline. "As the night goes on, [Cassie's] anxiety-terrified-totally-freaked-out eyes are framed by this delicate, like innocent, twinkle. She wasn't really trying to do what she did...right?? I love how Cassie's look contrasted so much with Maddy's liner."