Michael Che Makes His Position In The Kanye West Vs. Pete Davidson Feud Very Clear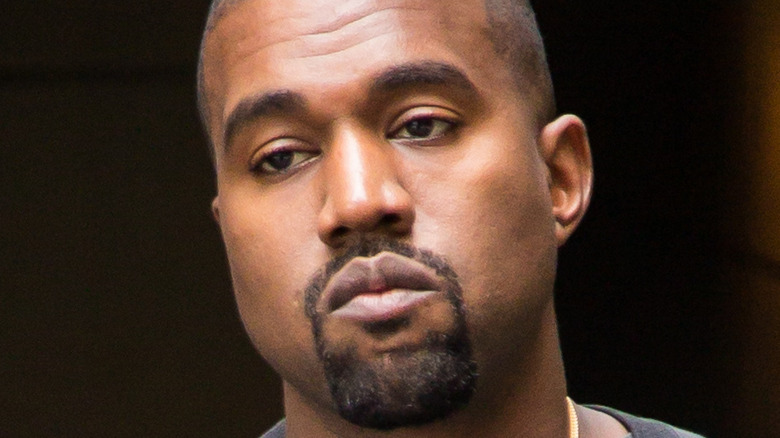 Liam Goodner/Shutterstock
Kanye West is letting the whole world know how he feels about love rival Pete Davidson. The "SNL" star has been quietly dating West's former wife, Kim Kardashian, for a few months now and, despite the fact the rapper — who legally changed his name to Ye — has been very publicly seeing actor Julia Fox, West cannot let it go. Per Page Six, he went on a lengthy Instagram rant before quickly deleting everything, describing Davidson as a "d***-head" and alleging he was the former boyfriend of Hillary Clinton (likely due to the comedian's massive tattoo tribute to her).
West previously threatened to beat the "SNL" star up, on a recent track with fellow rapper The Game. Aside from making his feelings on Davidson clear, though, the outspoken star is demanding loyalty from his nearest and dearest — and calling out those who fall short. Referring to Davidson as "Skete" rather than Pete, West railed, "THE REASON I ASKED [KID] CUDI TO AT THE LEAST SPEAK TO SKETE IS BECAUSE FOR YEARS CUDI ALWAYS MADE IT SEEM LIKE IT WAS ME AND HIM AGAINST EVERYONE. NOW THAT IM FIGHTING FOR MY FAMILY HE NOT BY MY SIDE THIS IS BIGGER THAN MUSIC."
The rapper cut Cudi out of his upcoming record "Donda 2" as a result, but Cudi tweeted in response that West was simply twisting the truth in a desperate bid for attention. Now, the Chicago native is demanding another famous man stand by him. 
Michael Che responded to Ye the best way he knew how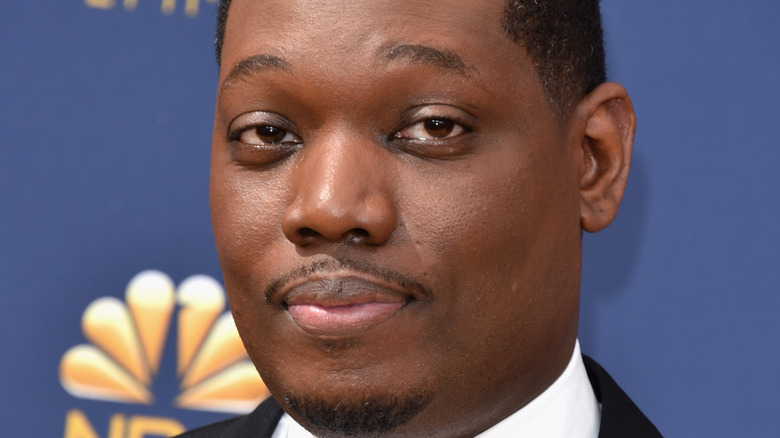 John Shearer/Getty Images
As Us Weekly notes, after going on an Instagram tirade targeting Pete Davidson, Kanye West made it clear he definitely wouldn't be taking anything back (before deleting everything, naturally). Alongside a shot of him holding a sign with the date hastily scribbled on it, the Chicago native shared, "MY ACCOUNT IS NOT HACKED I WILL BE AT SUNDAY SERVICE AT NOON AND WILL ME TAKING NORTH AND SAINT TO THE SUPERBOWL SHORTLY AFTER." He added, seemingly out of nowhere, an appeal to comedian Michael Che.
"I'LL DOUBLE WHATEVER THEY PAYING YOU JUST SO YOU DONT HAVE TO LOOK AT THAT PAWN EVER AGAIN BIG LOVE," the rapper proposed, again in relation to Davidson, whom Che works with on "SNL." In response, the comedian posted photos of his own notepad on Instagram, in which Che scribbled a variety of increasingly hilarious requests for, among other things, triple pay, a new office, and even "some beats for my band, The Slap Butts." Most importantly, though, Che rejected West's demand for loyalty. 
He wrote simply, "Sorry Ye, but I would never betray my friends." After Kid Cudi was publicly called out for his alleged disloyalty, he responded in the comments to West's original post, decrying him as a "f***** dinosaur." Davidson, meanwhile, allegedly reached out to the rapper via text, but West was having none of it, professing that the comedian would "never" be around his kids as long as he could help it.