NHL Star Ron Duguay Sets The Record Straight About His Romance With Sarah Palin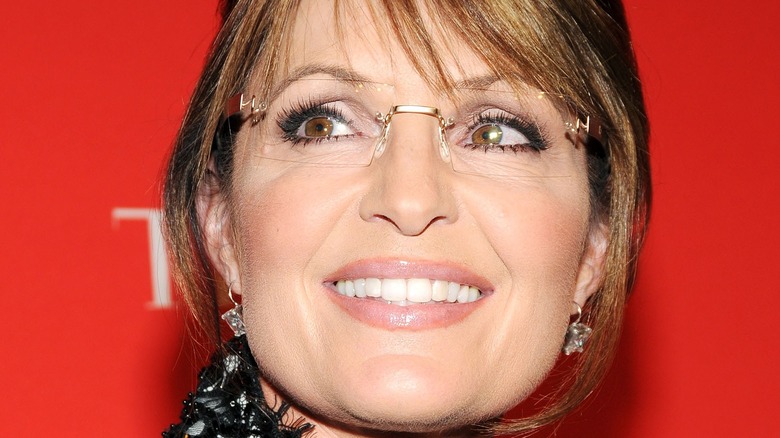 Everett Collection/Shutterstock
Before there was Donald Trump in politics, there was Sarah Palin. Many credit Palin's failed attempt at running for vice president as the stepping stone for the even more outrageous Trump (via NRP). Palin was often finding herself in the media for the outlandish things she would say, much like former President Trump. It was no surprise when Palin endorsed Trump for president, as they shared such similar public personas.
Much like Trump, Palin would find her personal life at the center of media controversies, especially when it came to her relationship with her former husband, Todd Palin (via People). The couple were married for 30 years and quietly divorced in 2020, though Todd was the one who filed back in 2019.
Palin opened up about her divorce on a podcast with Dr. James Dobson. She shared, "It's not easy to talk about," adding, "It was devastating," she said. "I thought I got shot." At that time, she was hopeful the couple could still work it out, but it seemed Todd was firm in wanting to separate.
Now, Palin has moved on, and her new boyfriend is dishing out all the details.
Duguay finally set the record straight on his relationship with Palin
Many rumors were swirling about Palin dating a former National Hockey League player, Ron Duguay, long before the pair made any official announcements. However, Page Six reported that they were just friends.
After being seen out and about with Duguay, Palin was quick to shoot down any rumors, saying, "He's my buddy. We have hockey in common," about being the mother of hockey-playing kids.
Now, it seems the former New York Rangers player and Palin have moved past being just buddies. According to the New York Post, Duguay rolled out to the courthouse where Palin was fighting a lawsuit against the New York Times. He said, "We're friends. I'm here to support her," but it seems there is more to the story.
The Daily Beast sent a text message to Duguay asking if he was dating Palin and he responded, "Hi. Yes." It's no surprise, as the couple has been photographed holding hands and having romantic dinners together. Now, however, it is official.