Euphoria's Makeup Artist Reveals The Inspiration Behind Kat's Look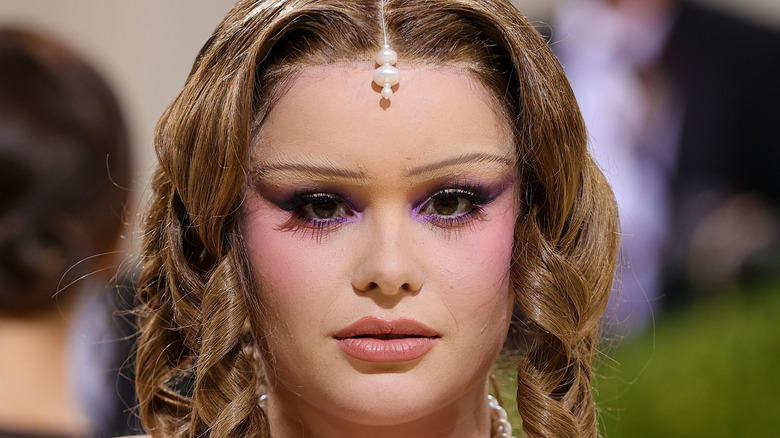 Theo Wargo/Getty Images
Attending high school in "Euphoria" is like entering an artist's escapist palette — there's raw glitter mixed with dark pigments, dim lighting and runway-ready outfits in every shot, creating a unique aesthetic now associated with the show. Surprisingly, it fits into the rhetoric of angsty teens dealing with substance addiction, gender identity crises, and intense emotions. Either way, homework isn't on anyone's radar and neither is realism.
One of the biggest curators of the "Euphoria" aesthetic is the show's makeup department head, Doniella Davy. She dives into the nuances of each character's storyline, making them apparent with an extra long stroke of eyeliner or darker lip shade. Honestly, you could just observe the makeup changes and understand the plot line with little context. While all the characters experience Don Davy's genius, one particular character stood out in her transformation. Kat Hernandez, played by Barbie Ferriera, wore nude lips and understated makeup until she began experimenting and exploring her own sexuality. Read on to learn more about Kat's looks, according to Davy.
The looks adapt to Kat's storyline
Kat Fernandez was introduced in Season 1 of "Euphoria" as an unconfident girl. She only wore "a tiny bit of black eyeliner, some smudgy black mascara, no foundation, no eyeshadow, no lip color, maybe a lip gloss" Doniella Davy told Bustle. But as she gains attention from men on the internet, she realizes she has sexual power over men. Almost immediately, Kat slides into her bad b*tch era — bold red lips and bondage-inspired outfits that are okayed at her high school. "Her new look [throughout the first season] was meant to be like a rebellious, alternative version to glam makeup and a total f**k-off to all things precious and subtle and pretty and perfect," Davy said.
Reporter Kirbie Johnson also gave TikTok viewers a BTS pass, where she filmed Davy's mood board and sketches for Kat's looks. She flips through the sketched copies of Barbie Ferriera's face, wearing different looks and colors in every page. Davy talks about how a look may not have made it to the show but that it can be "an idea that got us to a different place." She shows us a collage of eye makeup looks that have "a lot of jewel tones and stuff for Kat." She also says "we love a diffused lip liner ... we love terracotta eyeshadow this season [2]." Ultimately, she tells Bustle that "the whole point is using the makeup to ebb and flow and evolve with the characters."