Love Is Blind's Sal On The Most Rewarding Aspect Of Male Friendships - Exclusive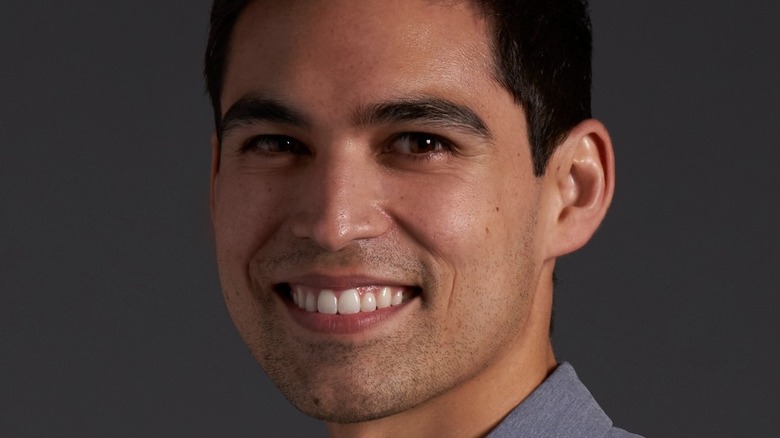 Ser Baffo/Netflix
The main idea behind Netflix's hit dating show "Love Is Blind" is to create an atmosphere that allows hopeful singles to find true love based solely on emotional connection. Single men and women enter conversation pods where everyone essentially goes on a series of blind dates until they potentially find a match (via Elle). The hope is to connect with someone on a profound level, which then leads to an engagement and an eventual wedding ceremony during the show's finale.
Romantic love is the through-line of the program, but the platonic relationships that develop in the women's living quarters and the men's living quarters warrant their own airtime. Viewers are shown what happens after two singles re-enter the living quarters after a disastrous date or a triumphant one. It's in these moments that viewers are shown another side of "Love Is Blind," and of the contestants participating in the experiment.
During an exclusive interview with The List, Season 2 contestant Sal talked about what it was like to participate in the reality dating show from a romantic perspective. Sal also discussed the most rewarding aspect of the male friendships he developed in the men's living quarters, and how these friendships enhanced the overall experience of the show.
Sal enjoyed hanging out with the other male contestants
Whenever the hopeful singles on "Love Is Blind" are taking a break from the pod process, they're shown spending time together in their respective living quarters. While speaking with The List about what it's like to find love on reality television, Season 2 contestant Sal also discussed the most rewarding aspect of getting to know the other guys on the show.
"Oh, the most rewarding thing, I really enjoyed having heart to heart conversations with them. When we were in the lounge, hanging out together, all of us talking about our dating experiences, it gets vulnerable. It can get real, and once we all started sharing that we were having these strong feelings for the people on the other side, the women on the other side, it was just ... I think that was probably the most rewarding for me," Sal said.
The 31-year-old executive assistant went on to add, "It's not very often that I have a group of men that are going through the same exact thing as me. And I thought that was really rewarding and refreshing to go through as guys together." 
Love Is Blind Season 2 is now available to stream on Netflix.