Euphoria's Makeup Artist Reveals The Inspiration Behind Lexi's Look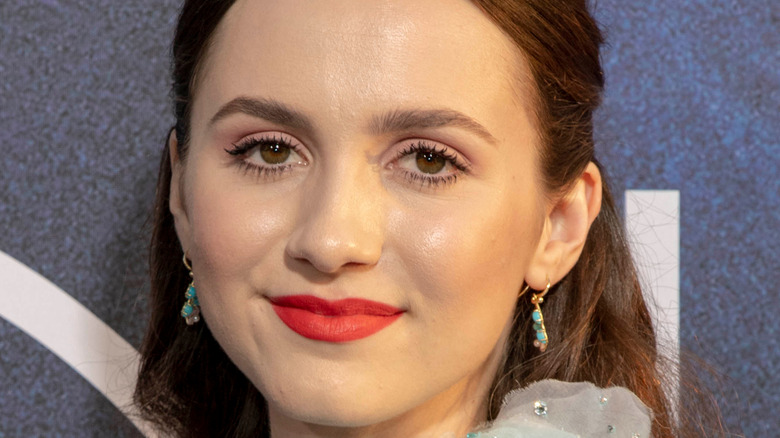 Eugene Powers/Shutterstock
HBO's hit TV series "Euphoria" is all anyone can talk about these days. Sure, the first season secured a huge fandom and was a hit at the time. However, it doesn't come close to comparing to the phenomenon that it has escalated into with Season 2. Variety reported that viewership actually increased over 100% from the Season 1. The show offers such a unique and raw take on the dark corners of teenage-hood. Watching characters fumble through mishaps and low points, they show a real side to what being a teenager can really look like. Each character offers such levels of depth that each and every one of them have their own following or die-hard fans rooting for them.
While you see the expected Zendaya and Alexa Demie fans scattered all across the internet, one character has really stepped into the spotlight this season. Maude Apatow's portrayal of Lexi has become a new favorite for fans of "Euphoria." While we didn't get much of a close look at her in Season 1, fans still appreciated her and craved more, and this season they're getting it. Lexi's emergence and pivotal role isn't the only transformation the character is undergoing, but her entire look is also getting an artful transition to tell a deeper story. Head makeup artist of the show Doniella Davy has shared her own take on how Lexi's changing makeup represents her evolving character. 
Season 2 is all about Lexi's 'self-actualization'
Instantly within the very first episode of Season 2 of "Euphoria" fans got a lot more of Lexi Howard than they had expected. A main character within her own right, Maude Apatow's character had more scenes as well as a revamped look. In an Instagram breakdown of the new Lexi, Doniella Davy explained the vision behind the comeback, "The return of LEXI! And her whole vibe feels so much more intentionally and uniquely Lexi-ish than where we left her last season at the Winter formal," she adds, "This episode marks the start of Lexi's self-actualization journey, and you know her makeup will echo her character's evolution!"
Speaking with Byrdie, Davy explained how Lexi's makeup tells a story of her blossoming into a new era, "Lexi's (Maude Apatow) makeup looks come out more and more as the season progresses and are meant to enhance the portrayal of her self-actualization journey." Davy emphasizes, "She's ready to say something and be heard, and it's kind of the best thing ever." 
However, an important component to using makeup to transforming character's is understanding the face behind it. Davy places heavy emphasis on the importance of working with the actors. Speaking with TikToker and Writer Kirbie Johnson, Davy revealed that while Maddy Perez may rock a sharp, snatched eyeliner look, when it comes to Lexi she has to consider that Apatow preferred a more rounded upward swinging wing. It's all about working with each other rather than forcing a certain vision with no consideration for if the actor can pull it off.