Here's Who Watched The Super Bowl With Donald Trump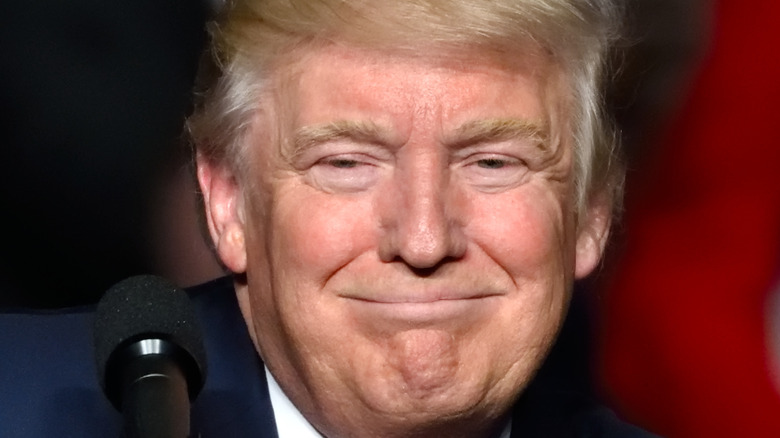 Evan El-Amin/Shutterstock
Former President Donald Trump hosted a Super Bowl party on Sunday, and some may be surprised about who ended up on the guest list.
The party was held at his Mar-a-Lago golf club, where the game between the Los Angeles Rams and the Cincinnati Bengals was featured on big screens and a wait staff dressed in referee uniforms served wings, hot dogs, and burgers.
An attending source told the Daily Mail that "it was a lot of fun," with Trump being "in a great mood." His lawyer, Rudy Giuliani, was there. His wife, Melania Trump, was not. And Urban Meyer and Bill Belichick were also there. As reported by Us Weekly, Meyer was the head coach of the Jacksonville Jaguars before being fired in December 2021, while Belichick, as pointed out by Celebrity Net Worth, is the head coach of the New England Patriots and has led the team to the Super Bowl nine times. Meyer's wife, Shelley Meyer, was also at the party, as was Belichick's partner, Linda Holliday, per Sports Illustrated.
What is the connection between Donald Trump, Bill Belichick, and Urban Meyer?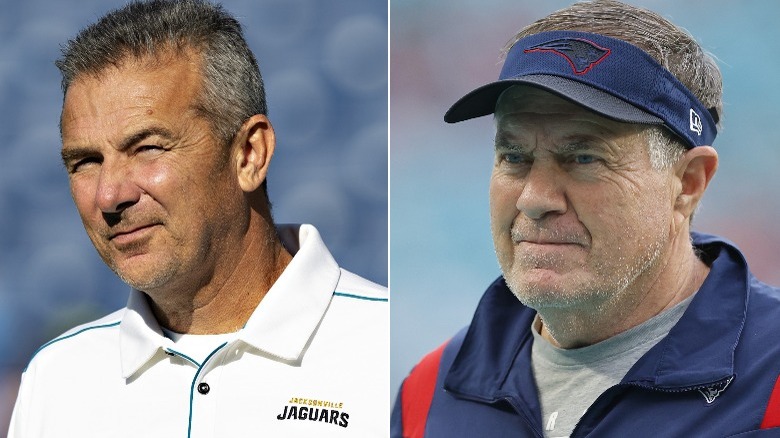 Michael Reaves & Wesley Hitt/Getty
In 2016, Bill Belichick wrote a note to Donald Trump, calling him "the ultimate competitor and fighter" and saying his "leadership [was] amazing," as stated by NBC Sports. When asked about the letter, the NFL coach said, "I think anybody that spends more than five minutes with me knows I'm not a political person. My comments are not politically motivated ... I write hundreds of letters and notes every month. Doesn't mean that I agree with every single thing that every single person thinks about politics or religion or other subjects" (via Twitter). He also stated that he had a "friendship and loyalty" to Trump. Then, in 2021, Belichick refused the Presidential Medal of Freedom from Trump, after the Capitol insurrection on January 6, 2021 (via Yahoo Sports).
When it comes to Urban Meyer, Trump previously said, "I don't know if he endorses me or not, but he's said awful nice things about me." When Meyer is asked about politics, though, he avoids the subject, according to Cleveland.com. However, fans think they know where his loyalties lie, after going through the list of accounts the former NFL coach follows on Twitter, which includes Dan Bongino, Laura Ingraham, Candace Owens, and Tucker Carlson.