The Crocodile Nail Trend That Will Dominate 2022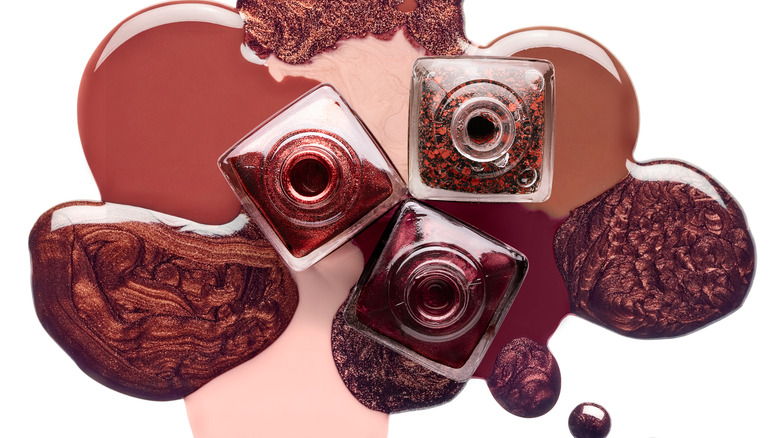 Casther/Shutterstock
There's always a time and a place for animal print. Zebra print had its moment in the '70s, and cheetah took over in the early 2000s. Now, it's crocodile print's time to shine. According to PopSugar, crocodile nail art is up 88,000% on Pinterest, meaning that it's time to get in on the trend before it's too late. This gorgeous look for your nails is the perfect combination of intricate and totally wearable. Get ready, because one look at this nail art will have you booking your next manicure!
Whether you're looking for a new print to try, or you're looking to stay on-trend, you can't go wrong with crocodile nail art. The trend is exactly what it sounds like — a bold crocodile print on your nails. The gorgeous two-tone shades placed in the right order can make it look like you're growing scales right on your nails. It turns out that this nail trend isn't that complicated to replicate, either. Just a few helpful tricks is all you need to master this look on your own.
Here's everything you need to know about how to nail the look (pun intended), so you can get in on the trend in a way that works best for your personal style. 
A blooming gel is the key to crocodile nails
The crocodile nail trend is taking over for a reason. For starters, it's absolutely stunning. The amazement is heightened by the fact that the crocodile art is created solely through the use of nail polish alone, which isn't typically common with manicure trends. The finished product looks like you're wearing a high-end handbag on your nails — it's incredible. The other reason that this trend is taking over is that, believe it or not, it's actually pretty easy to create. 
While you can go to the salon for crocodile nails, it's interesting to see exactly how the look is created and how the technique can be replicated at home. According to Class Act Nails on YouTube, the key to crocodile nails is a blooming gel. That's basically a fancy way of saying a nail polish that spreads until you cure it under a UV light (per Allure). 
To create the crocodile print, start by creating a center line down the middle of your nail. Next, add a base layer of nail polish, cure it, then paint on the blooming nail polish in little lines down the nail, and on each side of the center line you created. As the polish spreads, you get a gorgeous, crocodile-like print. You cure it at the exact amount of spread that you'd like, then add another top layer to complete the final look.
If this seems difficult to master on your own, you can request the design at your local salon and allow a professional to take care of it instead!
Personalize your crocodile nails any way you'd like
If the gorgeous print and ease of application isn't already enough, there's another reason to try this nail trend: You can actually create any color combination of crocodile nail art that you'd like. While there are some nail artists that stun with a monochromatic print, others combine two very different colors in the same look to really make the print pop. No matter what colors you add, they create an absolutely stunning result.
Another way to make the look your own is to add some 3D builder gel to the top. According to Class Act Nails, you add a little dot to the nails where you drew on the lines after it's been cured, and you have an even more detailed crocodile print on your nails.
Whether you're looking for something new for your nails, or you just really want to bring another animal print to life, you really can't go wrong with crocodile nails.