The Real Reason Marcia And Steve Harvey Divorced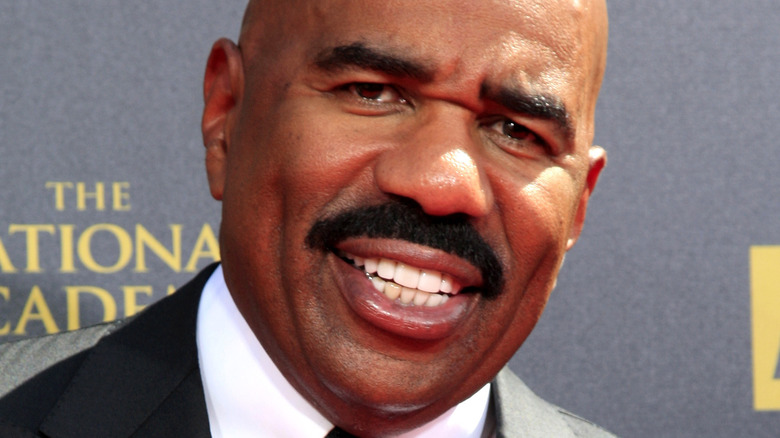 Joe Seer/Shutterstock
Comedian Steve Harvey has worn several hats during his successful career in the entertainment industry, but he is best known for his role as the host of "Family Feud." The show has been such a great success for him that his world completely changed after accepting the job (via Today).
During a segment on "The Ellen DeGeneres Show," Harvey shared that, while on vacation in France, he heard the "Family Feud" theme song and started crying. "I'm from Cleveland, I come from nothing. And these people are doing the 'Family Feud' theme song in the south of France? I went to Glenville High School! ... It just messed me up, man," he said.
While Harvey made it big in Hollywood, he didn't forget his Ohio roots. In the '80s and '90s, he was married to Marcia Harvey, a woman he met in his home state (via NailBuzz). Before he struck it big, the couple had a great relationship. However, it ended in divorce. What happened between the two?
Marcia wasn't a fan of Harvey's entertainment career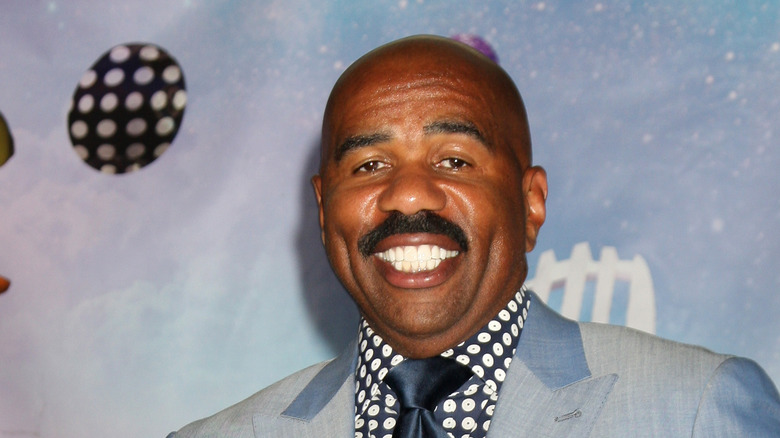 Kathy Hutchins/Shutterstock
Before Steve Harvey was the larger-than-life television host we know and love now, he was an insurance salesman in Ohio (via NailBuzz). During that time of his life, he met Marcia Harvey, who would eventually become his first wife. The pair would have twin daughters named Karli and Brandi, and a son, Broderick Harvey Jr. The Harvey's had a solid relationship until one major life-changing event happened.
According to Vizaca, Marcia had a hard time accepting Harvey's place in the spotlight when he started to rise in popularity as a standup comedian. She did not support Harvey's entertainment career, plus, she felt he was spending less time with her and their children.
The Harveys separated in 1990 when Marcia was pregnant with their son. They officially divorced in 1994 with claims of infidelity. It is believed that Harvey was living with his second wife, Mary Lee before their divorce was finalized.