Is The Encanto Makeup Collection Worth It?
Disney's "Encanto" has become one of the studio's most successful franchises since its release in November 2021. It's been breaking records left and right, with one of the movie's most popular tracks 'We Don't Talk About Bruno' surpassing the incredible success of 'Let It Go' from "Frozen". It even became the first song from Walt Disney Animation to take the No. 1 spot on Billboard's Streaming Songs chart in January 2022 (via New York Post).
But it's not just the music that's been propelling "Encanto"s success. The vibrant aesthetic of the Columbian culture expressed in the film has been a major part of the film's adoration among audiences, so much so that paint palettes (via Crown Paints) and makeup collections have been inspired by the film.
And there's one makeup collection in particular that fans of "Encanto" just can't get enough of. A few days prior to "Encanto"s initial release, Latinx-owned cosmetic brand Alamar Cosmetics partnered with Disney to create the "Encanto" Colección, featuring 13 products inspired by the film and Columbian culture (via Allure).
Glamour says that Alamar's Encanto Colección is every superfan's dream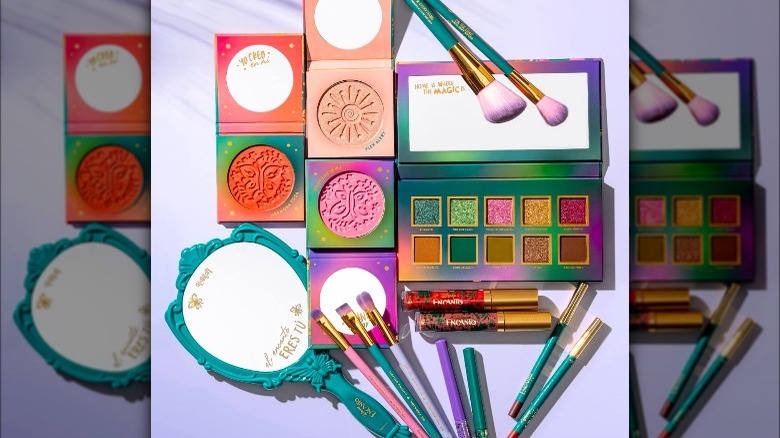 Alamar Cosmetics
As brand writes, Alamar's team were "so moved and inspired" by the film that they wanted to celebrate "large extended families, diversity of skin tones, food, music, and culture" so that fans of "Encanto" can bring the film to life "through colors you can touch, swatch, and wear." This includes a 10-shade palette, liquid eyeliners, powder blush, lip glosses, and accessories including two brush sets and a handheld mirror.
But is the collection worth it? Well, judging by reviews it would seem that Alamar's "Encanto" Colección is something every makeup lover should have in their collection. Allure writes that the "bright colors and glimmering hues ... have a fantastic color payoff", and Glamour notes that the collection is "every superfan's dream."
Makeup reviewer Jessica Flores added (via YouTube) that the products of Alamar's "Encanto" Colección were of "great quality" and that she wasn't disappointed about anything from the collab. While Flores expresses that "everything is excellent" in the collection, she does wish that the palette was a little bigger so that there could have been even more colors to choose from. But overall, the collection is as enchanting and magical as the film itself.