Here's Why Love Is Blind Season 2 Isn't Sitting Right With Fans
Modern dating represents everything that the Netflix reality show "Love is Blind" is trying to escape. There are no dating apps, awkward eye contact, or ghosting, and contestants agree to date while never actually seeing each other. The premise of the show is to transcend the superficiality of dating someone based on their physical appearance and the contestants go on dates in specially-designed pods with nothing but the other person's voice and personality to go off of.
In Season 1 of the hit show, which came out in 2020, we saw potential in this experiment. Many couples were engaged to be married within two weeks of pod dating and they remained engaged after the big reveal of each other's appearances. Fan favorites Lauren Speed and Cameron Hamilton hit it off in a way that made viewers believe in both the show's format and true love. Although fans witnessed a happily ever after, the first season also had its fair share of drama, too. Gianinna Gabelli's up-and-down relationship with Damian Powers taught viewers what not to say to their future partner, for example. 
Essentially, the show had a healthy mix of wholesome relationships, drama, and storyline. However, fans are not as impressed with the second season that debuted in early 2022. 
Some fans accused Love Is Blind Season 2 of being fatphobic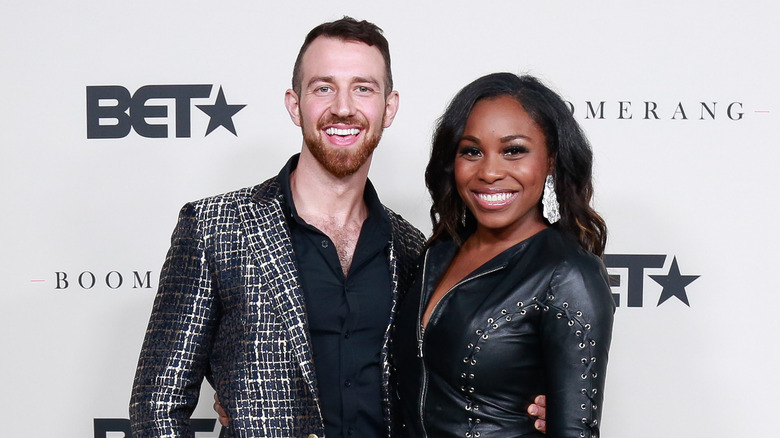 Liliane Lathan/Getty Images
At the time of publication, Season 2 of "Love is Blind" is currently half-way through, with the finale scheduled to drop on February 25, 2022. However, it appears that fans are not as impressed with the show's cast or the on-screen romances this time around. 
"Love is Blind was created for Lauren and Cameron to meet and fall in love. That's it. Season 2 is not doing it for me yet," one fan tweeted, while another user commented, "Season 2 of Love is Blind... definitely not as good as season 1."
Meanwhile, other viewers accused the Netflix reality dating show of being fatphobic. "The fatphobia on season 2 of Love is Blind is really intense," one disappointed fan wrote on Twitter. "Not Love is Blind season 2 acting like they're bringing plus sized women onto the show then none of them make it and the girls that do make it say something fatphobic every 10 seconds," another viewer wrote.