What You Should Know Before Using Waterproof Mascara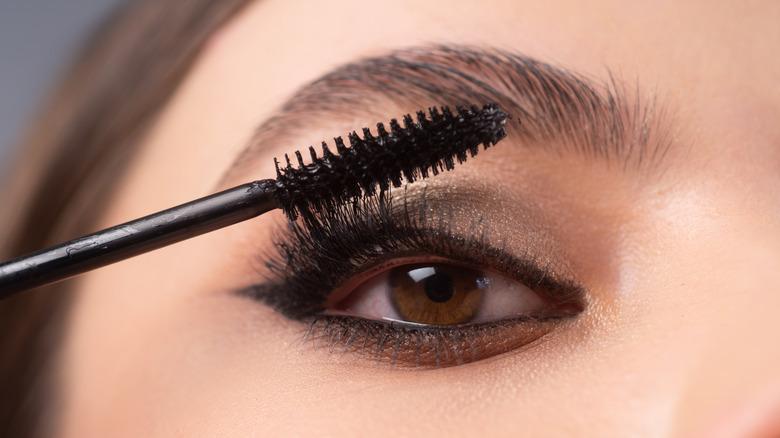 Volodymyr TVERDOKHLIB/Shutterstock
Some of us are blessed with long, luscious lashes, and some of us aren't as lucky. For those of us with less-than-perfect lashes, mascara is our best friend, especially since fake lashes can get messy. For one, mascara can make your eyes look bigger, which is quite an attractive feature. Plus, now there's mascara for every dream lash you could possibly want. As makeup artist Troy Surratt told Allure, "If you want a specific effect, look for a specialized type." If you want longer lashes, choose a mascara with nylon fibers that act like mini extensions. If you're looking for more of a curl, select a product with resins and waxes that lift, bend, and hold lashes.
There's also a regular option and a waterproof option for almost all mascaras available for purchase. The waterproof mascara is amazing because it has incredible staying power and won't budge, even if you've had a sweaty workout, or there's excess humidity. Waterproof mascara will even stay on during that emotional toast you have to make at your best friend's wedding. This is because it has more waxes and polymers — an ingredient that keeps the mascara stuck to your lashes — so you don't have to worry about them smudging, smearing, or running (per Byrdie). 
The publication's favorite waterproof mascara is Tarte's Lights, Camera, Splashes Mascara because it lengthens, curls, and volumizes your lashes and stays perfectly in place for hours. You might love that waterproof mascara stays on forever, but that's where problems could start — because they stay on forever.
Waterproof mascara can damage and dry your lashes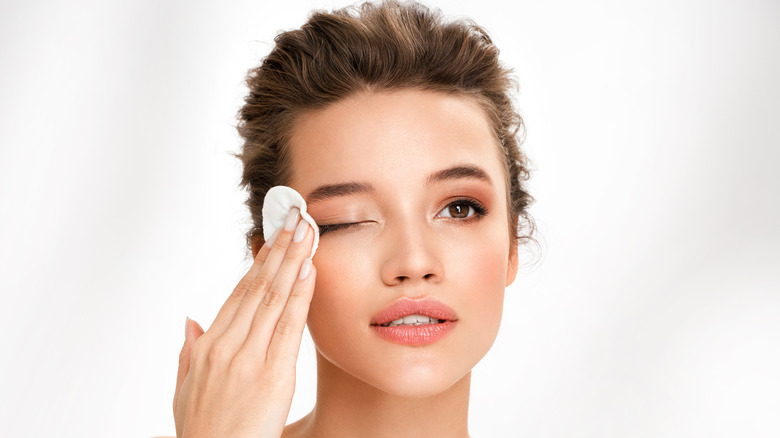 RomarioIen/Shutterstock
We might think waterproof mascara is a better choice, as it's more long-lasting than the traditional formula. Sadly, though, nothing in the world is perfect, because even waterproof mascara has its flaws. Compared to regular mascara, waterproof products tend to have extra ingredients such as isododecane and cyclopentasiloxane. As dermatologist Dendy Engelman told Self, "The ingredients that are used to cause the formula to be waterproof can have the effect of drying out lashes, which can lead to them falling out." So, what helps them stick to your lashes longer might actually damage your lashes in the long-run.
You need to be extra careful when removing any waterproof formula because it will take longer to dissolve. Byrdie recommends being gentle when removing waterproof mascara, and refrain from tugging the area around your eyes. Invest in a quality NARS Gentle Oil-Free Eye Makeup Remover that cleans stubborn makeup while hydrating the eye area and promoting healthier lashes. Other affordable options include olive oil or coconut oil that you can find at home. 
Southern Living believes you should never use waterproof mascara, because you rub the delicate area around your eyes during the removal process, which leads to the development of fine lines. Therefore, using waterproof mascara might increase your risk of aging around your eyes. This product is great for special occasions, but due to the potential damage it can do to your lashes and skin, it might be best to stick to a regular mascara for daily application.