Meet Shaina Hurley From The New Season Of Love Is Blind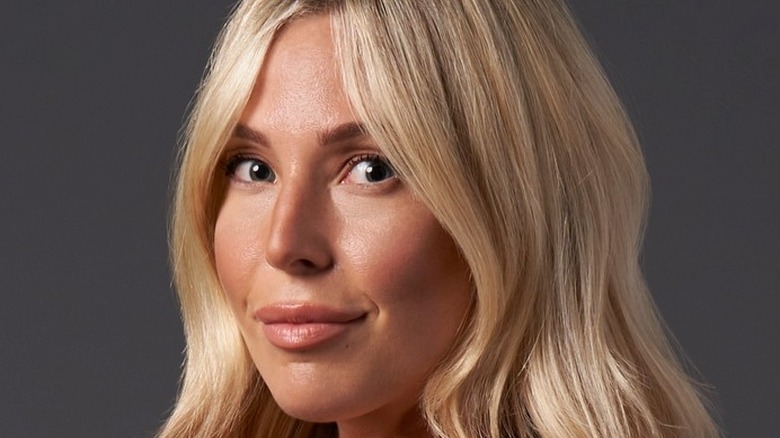 Ser Baffo/Netflix
Everyone's favorite Netflix reality dating series "Love Is Blind" is back for a second season, with new singles and even more shocking proposals. With the first installment of Season 2 officially available to stream on Netflix, who hasn't binge-watched it by now? Similar to the first season, this round has introduced 30-plus contestants all looking for love at first-word. Speaking from across a wall in designated pods, the couples slowly get to know each other, and somehow manage to still have relationship drama before even meeting, which is why it's so addictive to watch. 
Things only get wilder as couples get engaged after only a few of conversations before they start spending some serious quality time getting to know each other. This part of the process has a tendency to very quickly spiral into clashes — something that fans who love the drama typically enjoy (via Screen Rant). This season has already ushered in a wave of memes, of course, as shown by The Tab. As with any reality dating show, what makes "Love Is Blind" such a hit are the bold, uncensored, and often unstable people participating in the experiment. 
"Love Is Blind" is all about finding seemingly normal, real people that lead ordinary lives — which is shocking, considering the quality drama they always manage to provide. After a bumpy road in the first few episodes, the lady everyone wants to know more about is contestant Shaina Hurley, who finds herself in quite the complicated situation. 
Shaina Hurley has styled Zooey Deschanel's hair
With over 30 people cast in "Love Is Blind," you don't really get to see every single contestant throughout each episode. Typically, a few personalities stand out above the rest and end up getting the most screen time. Shaina Hurley's ups and downs have definitely guaranteed her one of those top roles. Hurley's failed pursuit of Shayne Jansen, and her even messier engagement to Kyle Abrams, left viewers in a puddle of confusion (per StyleCaster). Fans are left on the edge of their seats with the last-released episode showing the couple falling apart, with Hurley leaving the retreat in Mexico as a result of their religious differences and intimacy issues. 
Many fans are now wondering who Hurley really is, and what she's like outside of the reality dating experiment. According to The Sun, Hurley is a freelance hairstylist, and her work can be found on her professional Instagram. According to a post from 2019, Hurley has actually worked on "New Girl" star Zooey Deschanel, and shared a few of the looks she's created for the star. The caption on the image reads, "So grateful to have been working with her for the third year in a row!"
When she's not doing hair, the 31-year-old seems to spend most of her time with girlfriends and traveling the world, from London to Mykonos and several places in between (via Elite Daily). When it comes to finding love, Hurley shared an Instagram post stating, "I appreciate honesty in all things, especially dating. Just tell the truth."