Gwen Stefani Shares Never-Before-Seen Wedding Footage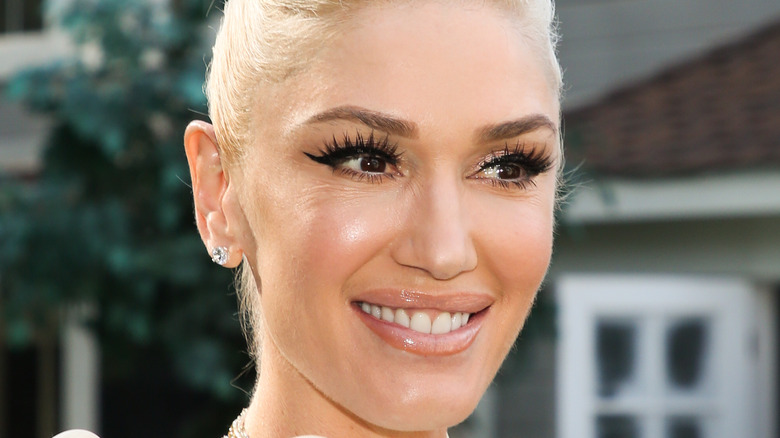 Paul Archuleta/Getty Images
While it seems as though musicians Gwen Stefani and Blake Shelton have been together forever, they only first met one another in 2014 while starring as coaches on "The Voice." At the time, Stefani was married to Gavin Rossdale and Shelton to fellow country musician Miranda Lambert, as People reported. Just a year later, Shelton and Stefani appeared to comfort each other through their respective break-ups and divorces — and it appeared that sparks had blossomed between the pair when a source close to the couple finally revealed that they were an item.
In October 2021, the pair announced that they were officially engaged in separate Instagram posts. After months of anticipation from fans all over the world, Stefani and Shelton officially tied the knot in a private chapel on Shelton's Oklahoma property in July 2021. The wedding only featured a few dozen of the couple's closest friends and family members, though at least one celebrity, Carson Daly, was chosen to be the officiant in their ceremony, per Brides. Given the pair's abilities to craft a catchy hook, their wedding was full of poetic interpretations of their love — including a brand new song written by Shelton to commemorate his marriage to Stefani, called "We Can Reach the Stars," per People. "Next thing you know, he wrote her a song, he sings her a song while he's crying that he wrote specifically for her, 'Reach the Star,' I think it was called," Daly revealed on TODAY, per Brides. "And not a dry eye in the house. And that was really a highlight."
Shelton and Stefani recently shared never-before-seen footage of their wedding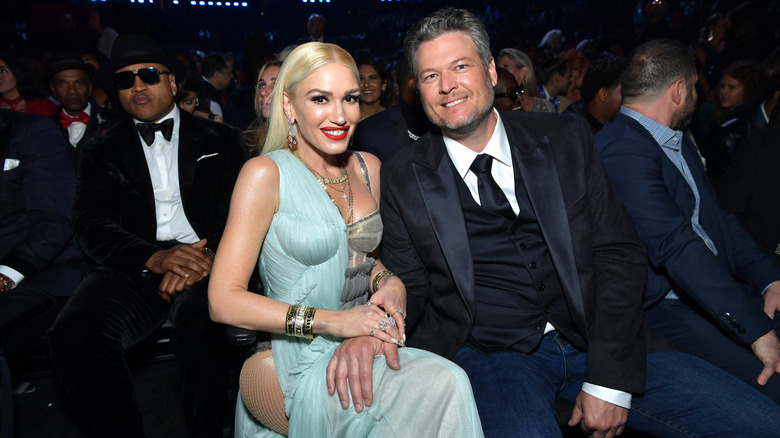 Emma Mcintyre/Getty Images
In honor of Valentine's Day, Gwen Stefani and Blake Shelton shared never-before-seen footage from their wedding on social media. For her part, Stefani shared a video to Instagram set to "We Can Reach the Stars" that featured her in her wedding gown, and sandwiched between herself and Shelton was her son Apollo. In the video, the pair planted a kiss on each of Apollo's cheeks. "The stars, the moon, my whole world," Stefani captioned the post. Shelton also posted a sweet tribute to Stefani on Valentine's Day. "I'm the luckiest man alive.. Happy Valentine's Day, @gwenstefani! I love you!" Shelton captioned a post that contained a photo of the couple on their wedding day.
Previously, Shelton has opened up about becoming a stepfather to Stefani's three sons, Kingston, Zuma, and Apollo. "I take it very serious, but I also have a blast with it," Shelton told KFROG's "The Ride with Kimo & Heather" of becoming a stepfather in 2021. "I don't take it so serious that I'm not enjoying this time because I really am, especially now that we're five years into this thing. I can't imagine my life without these kids now. I have a stepfather in my life who is one of my heroes. I love my stepfather and he's like a father to me, so I have a good inspiration in my life on how to do this and the kind of stepdad I want to be."