Bad News For Kendall Jenner And Her 818 Tequila Brand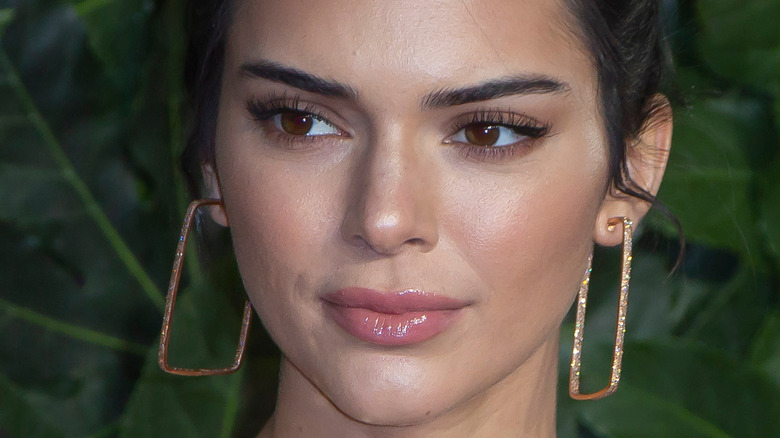 BAKOUNINE/Shutterstock
After spending most of her young adult life pursuing a modeling career, Kendall Jenner decided to follow in the footsteps of her Kardashian-Jenner siblings and launch a business of her own. In 2021, the second youngest Jenner family member introduced 818 Tequila to the world at a lavish launch party (via Elle). After spending several years developing the product line consisting of blanco, anejo, and reposado varieties of tequila with expert David Yan Gonzalez, Jenner expected the spirits to be an instant hit (via People). As a self-proclaimed "tequila lover," she set out to create a tequila ideal for socializing with loved ones. "After trying different types, I wanted to make one meant for enjoying with family and friends," she told Elle. While the products flew off the shelves and sold out within hours, the young model and entrepreneur has found herself in a bit of hot water following the launch.
As the hype surrounding Jenner's grew, the bold yellow label emblazoned with the digits 818 caught the eye of Austin, TX-based tequila brand Tequila 512 (via TMZ). At first glance, there are several visible similarities between the two products. Tequila 512 has been selling their tequila with a similar yellow label since 2015. Additionally, Tequila 512 was given its name to represent the area code in its city of origin. Jenner similarly named her tequilas after the area code for her home in the San Fernando Valley.
A competing tequila brand noticed some similarities
Just a few months after Kendall Jenner's launch party, Austin, TX-based Tequila 512 began expressing their frustration with Jenner's product and its similarities to their own. In an Instagram caption that was posted in May of 2021, Tequila 512's social media representative wrote: "You may have seen that @kendalljenner released a 'new' tequila today. Note the similarities, including the color, the name and it is made at the same distillery in Tequila Mexico as ours. Their batches are being distilled twice. Ours three times. Yet she is charging twice as much per bottle. And here we are getting messages like the one in this post image. Doesn't seem very cool. What do you think?"
The comments that followed confirmed that fans and tequila drinkers noticed the similarities, and some had even mistaken Jenner's 818 Tequila for their usual Tequila 512. Recently, news broke that 512 Tequila would be moving forward with a lawsuit in response to Kendall Jenner's 818 Tequila launch.
Tequila 512 moved forward with legal action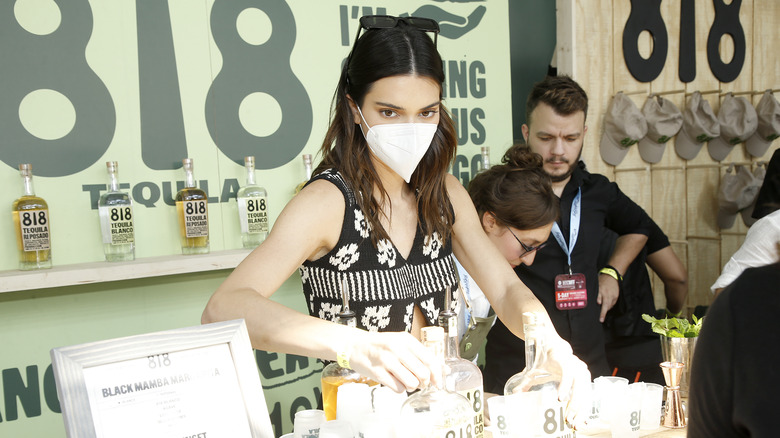 John Lamparski/Getty Images
Currently, Tequila 512 has a pending application open in order to trademark the styling of their bottle. The distinctive tall and thin bottle, yellow block coloring on the label, and black lettering have been a part of the product's packaging since it hit the market in 2015, and the lawsuit claims that the logo is too recognizable to not be a copy (via kxan). The suit states, "...and out of the entire world of colors and shapes to use for product design, Defendant chose to copy Plaintiff's distinctive black lettering inside a vertical yellow rectangle." To clarify, Kendall Jenner herself is not considered a defendant in the case, and suit is filed only against 818 Tequila as a company.
The lawsuit gained tons of steam when Kim Kardashian, Jenner's older sister, added an image of what was supposed to be Tequila 818 to a game within her app, Kim Kardashian: Hollywood, but actually added a picture of Tequila 512 (via TMZ). While it is unknown whether or not this was an accident, the mishap highlighted the similarities between the two products as they can easily be confused. Tequila 512 aims to halt the production of Jenner's 818 Tequila as well as collect the profits already made from the sales of the spirits.