The Heartbreaking Death Of Top Gun Actor Frank Pesce
The acting world is mourning the loss of Frank Pesce, who died at the age of 75 due to complications from dementia. "Frank was a force larger than life or any fictional character, always entertaining, intriguing and fascinating," his girlfriend, Tammy Scher, said in a statement to Variety. "Unafraid to approach anyone and immediately make an acquaintance. Celebrities flocked to be near him as he had an encyclopedia of knowledge about music and movies."
The New York native grew up with stars Sylvester Stallone and Tony Danza. Pesce started his career in the late 1970s with guest roles "Police Story" and "Kojak." He continued to appear on television hits throughout the 1980s and 1990s, including "Knight Rider," "The Greatest American Hero," "Miami Vice," "Matlock," and "Who's the Boss?" He also had small parts in films such as "Rocky," "Flashdance," "Beverly Hills Cop," and "Top Gun." One of his last roles was in 2015's "Creed," which starred Stallone and Michael B. Jordan (per IMDb).
Pesce also cowrote the film "29th Street," which was based on his early life. He played his older brother, Vito, in the movie, while Dan Aiello played his father and Anthony LaPaglia starred as Frank. "To say Frank was one of a kind would be a gross understatement," said David Permut, who produced the film. "We shared our love and passion for film. He claimed to see more movies than Leonard Maltin and Roger Ebert combined."
Frank Pesce was a respected character actor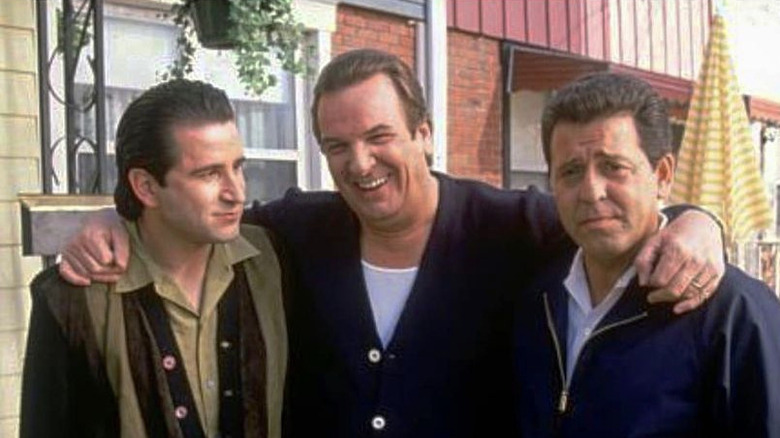 Andrew Toth/Getty Images
Frank Pesce is being remembered as a talented character actor, as well as one of the stars and writers of "29th Street," which has developed a bit of a cult following. "The Pesces in this movie have their origins in real people (indeed, the real Frank Jr. is a character actor who appears as his own older brother, Vito), but in '29th Street' they seem to emerge mostly from the long tradition of Italian-Americans in the movies," Robert Ebert wrote in his review of the film.
According to producer David Permut, the movie nearly didn't happen. "I had sold Frank's real-life story to United Artists and hired George Gallo to write the script, only to find out afterward that Frank also had sold his exclusive life rights to Don Simpson and Jerry Bruckheimer at Paramount at the same time!" he told Deadline. "I exploded at Frank, he then tried defend himself saying, 'We'll, there is no guarantee either studio would actually make the film after the scripts were developed, and a least I got two horses in the race, instead of just one.' I was ready to kill him!"
Luckily, everything worked out in the end and the movie was made. Pesce is survived by his girlfriend, Tammy Scher, his brother, Vito Pesce, sister-in-law Catherine Pesce and nieces Vanessa and Danielle Pesce.