What Martha Stewart Eats In A Day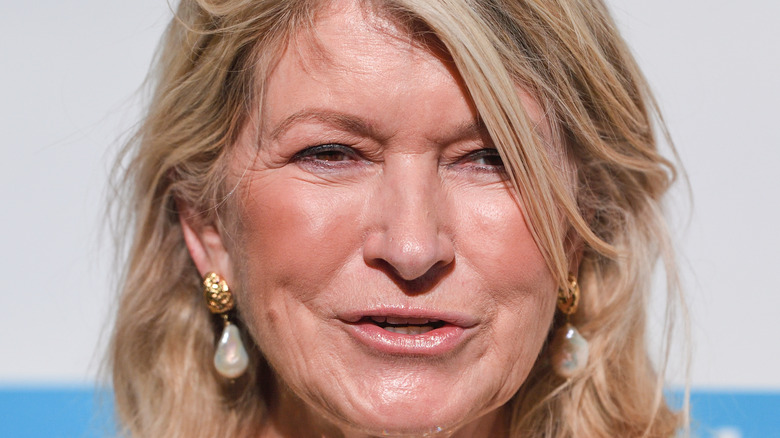 Lev Radin/Shutterstock
Martha Stewart is a household name most well-known for her lifestyle brand. For example, she's produced branded cookware, and she's hosted several cooking shows. Most recently, her unlikely friendship with Snoop Dogg has captivated fans. Having gotten her life back on track following a jail stint in 2004, Stewart has continued to excel in her various ventures.
In fact, she recently announced the opening of her own restaurant. Her restaurant, The Bedford, which will open in Las Vegas this spring, is said to embody a "fully-immersive restaurant concept," according to Food & Wine. The 80-year old cook plans to delight diners and guests with some of her famed delicacies that will be "very delicious, and food you'll want to come back to."
In a statement released about the "charming restaurant," Stewart says that guests can look forward to "wonderful breads and baked goods — and dishes you might not find in other restaurants, like pastas and soups that are unique to the Martha brand," per People. "I just want to make sure that everybody gets a taste of the delicious food that has long come out of my kitchen. You're going to love it," her statement promised.
However, when one considers the food that Stewart prepares for others, they may also wonder what she herself eats in a day.
Martha Stewart is very particular about what she eats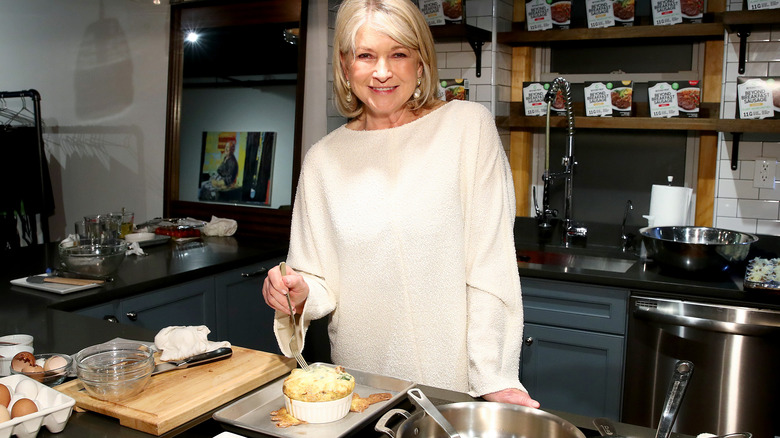 Cindy Ord/Getty Images
Martha Stewart's diet has garnered curiosity from people over the years, not just because she is one of the most successful food and nutrition influencers in America, but also because she's considered young-looking for her age (via Prevention). This ultimately has people wondering if the secret to her apparent fountain of youth is in her diet.
In a video with Harper's Bazaar, Stewart explained that one of the most prominent and important things in her daily diet is her morning green juice, which is a blend of cucumber, parsley, mint, half of an orange, including the skin, and celery, among other ingredients. "I think it's really the secret of good skin. I think it's the secret of good healthy hair," she explained. Science seems to back this, too (via Prevention). She loves the occasional full breakfast as well, particularly before a "horseback ride" or after a "rigorous hike."
According to Good Housekeeping, Stewart loves fish, as she explained to Dr. Oz. It was in this conversation that she revealed her love for alternative flours, too. Of course, she also loves cappuccinos made from organic Battenkill Valley milk, which she says is the "most delicious" (via Yahoo!). As for guilty pleasures, Stewart revealed in an interview with Town & Country that she loves a quick spoon of organic peanut butter or a slice of American cheese. She loves pickled herring, too!