The Law And Order: SVU Episode You Forgot Starred Abigail Breslin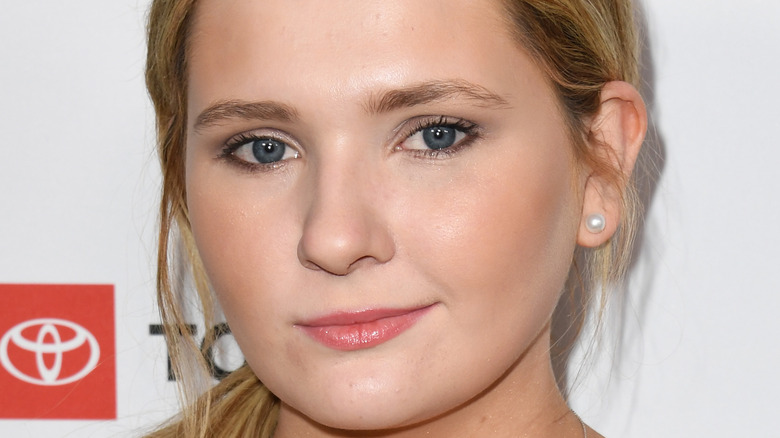 Jon Kopaloff/Getty Images
Abigail Breslin has been acting essentially since she could walk, with her attention-grabbing performance as wannabe pageant queen Olive, in 2006's "Little Miss Sunshine," really putting her on the map. However, Breslin had been actively working for years prior to her Oscar-nominated performance in "Little Miss Sunshine," with her debut dating all the way back to 1999, when Breslin appeared in a commercial for Toys R Us. Just a few years later, she popped up in "Signs" alongside Joaquin Phoenix. 
Enjoying such a prolific career has its downsides, however, particularly when it comes to a star-making role like Olive. As Breslin admitted during a 2021 interview with iNews, "I'll always have a bit of Olive in me, but I want to try new things." The actor revealed that sometimes casting directors still envision her as a little girl, rather than a young woman. "People tend to want to keep you in one specific pigeonhole," she argued, acknowledging her stature and youthful looks also play a part, too. 
Naturally, Breslin doesn't want to distance herself completely from "Little Miss Sunshine," since it kick-started her career. But it's worth noting the young actor appeared in several high-profile projects over the years, including a meaty role in "Law & Order: SVU" that may have passed you by entirely. 
Abigail Breslin portrayed a little girl in turmoil
Per IMDb, Abigail Breslin appeared in a 2004 episode of "Law & Order: SVU" entitled "Birthright." This was notably prior to Breslin's breakout moment in "Little Miss Sunshine," but she made a serious impression regardless. According to Fandom, Breslin played a six-year-old kid named Patty in the hit show, who was stuck at the center of a wild custody dispute. 
The episode kicked off with Patty's attempted abduction in Central Park, which was later discovered to be a setup by officers Benson and Stabler, as Patty's alleged birth mother, Michelle (portrayed by veteran actor Lea Thompson), tried to prove she was the girl's rightful guardian. M.E. Warner conducted a DNA test to ascertain actual Patty's biological mother, while Benson figured out the original issue stemmed back to a dodgy fertility doctor. 
In the end, following a lengthy and highly emotional trial, it was determined that Sarah (Camilla Scott) gave birth to Patty, but the egg in question actually came from Michelle. Regardless, the youngster understandably wanted to stay with Sarah and Michelle left town, unable to take the pain of not seeing her daughter. Suffice to say, Patty was a complex role that Breslin excelled in, regardless of her age. 
According to "Law & Order: SVU" star Christopher Meloni, who plays Detective Stabler, Breslin stood out as a star in the making on the day. He told the Daily Beast, "She was just a little girl... but she was so rock-solid."