Mickey Guyton Opens Up About Her Interaction With Prince Harry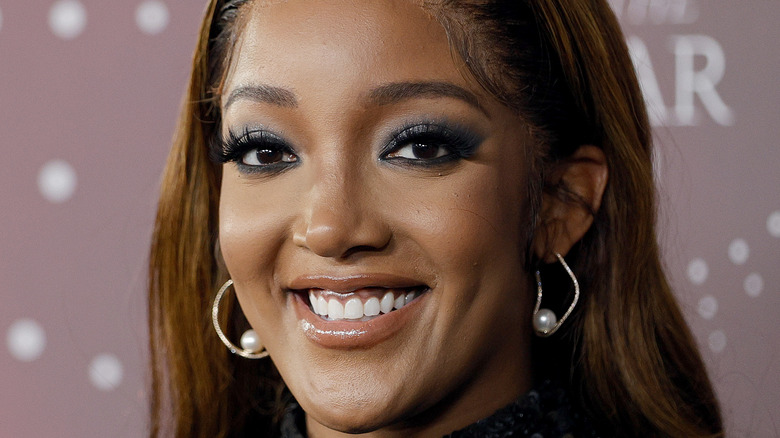 Jason Kempin/Getty Images
The 2022 Super Bowl became a royal event when Prince Harry and his cousin, Princess Eugenie — daughter of Prince Andrew and Sarah Ferguson — attended the biggest American sporting event of the year (via Harpers Bazaar). Although Meghan Markle stayed home, Harry and Eugenie caused buzz around SoFi stadium when word got out that two members of the British royal family were in attendance. After all, Harry is a California man now and if the Super Bowl is in California and you're a VIP, there was no place else to be on a Sunday night in February. The hometown team was even playing, and won.
Before the game between the Los Angeles Raiders and the Cincinnati Bengals began, country singer Mickey Guyton took to the field to deliver a rousing rendition of "The Star Spangled Banner" — and it turns out Guyton herself became star struck after her performance when she had a chance meeting with a British prince.
Mickey Guyton's mom couldn't believe her eyes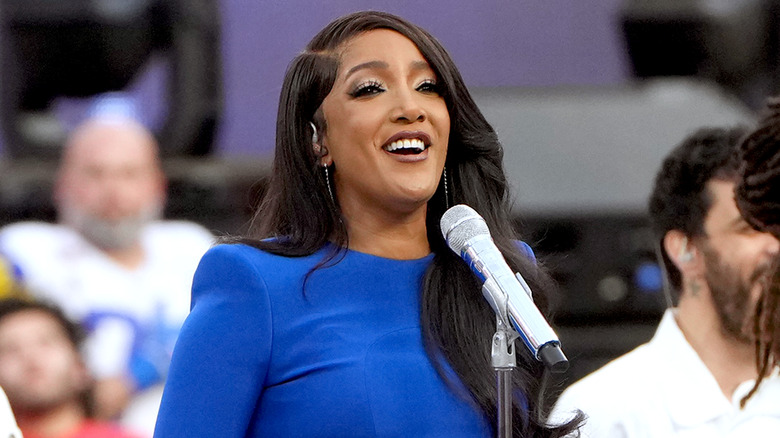 Kevin Mazur/Getty Images
Mickey Guyton took to Twitter the day after the Super Bowl to gush about meeting Prince Harry, sharing a photo of herself in a red track suit and Harry casually clad in jeans, a t-shirt, and a blazer. "I met Prince Harry," the singer tweeted. "He was just lovely. I even curtsied in my track suit."
When Entertainment Tonight caught up with the singer, she elaborated on her royal meeting even more. "It was crazy. My parents actually met him first and took pictures of him the suite and were like 'Man, does anyone tell you, you look like Prince Harry?'" Guyton said. "And he took off his hat to reveal his hair and she still didn't get it until I was up in the suite and said that was actually Prince Harry. It was crazy."
All in all, the night was like a fairy tale come true for Guyton, especially when she sang the National Anthem for the crowd. "Being out there, it was a moment for me ... it was a God moment." Guyton told Entertainment Tonight. "When you work for something so hard, never in a million years did I think I would do that."