How Mary Holland Really Feels About The Ending Of Happiest Season - Exclusive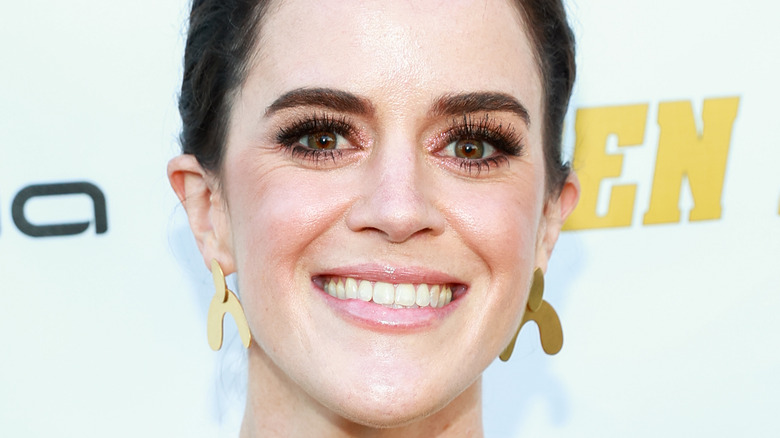 Matt Winkelmeyer/Getty Images
As a general rule, most Christmas movies endings rarely cause a divisive outcry among fans. However, when "Happiest Season" debuted in 2020, all that changed. At long last, Christmas movie fans finally received a decently budgeted LBGTQ+ holiday film — but more than a few fans were hoping for a different ending. The film stars Kristen Stewart (Abby), Mackenzi Davis (Harper), Aubrey Plaza (Riley), and Mary Holland (Jane).
While the movie's core romantic couple, Abby and Harper, face some significant hurdles in their relationship, Abby and Riley have a chemistry that's hard to ignore. As a result, a big chunk of viewers hoped that Abby and Riley would end up together.
During an exclusive interview with The List for "The Woman in the House Across the Street From the Girl in the Window," Mary Holland dished on what it was like working with Plaza and Stewart in "Happiest Season." The co-writer and actress of the film also revealed how she feels about the end of the movie.
Happiest season or happiest ending?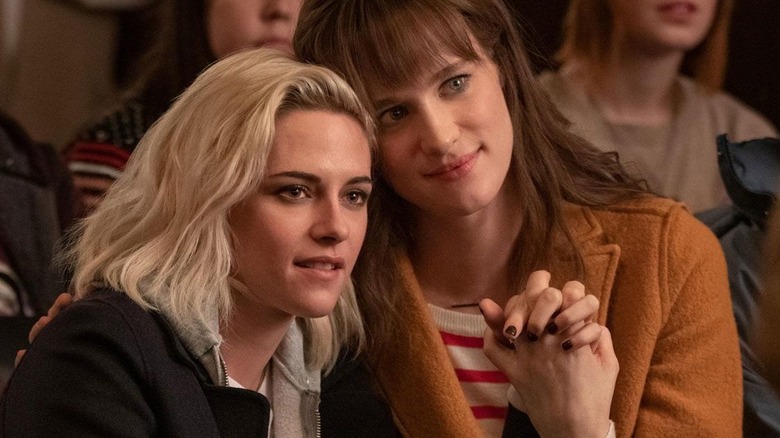 Hulu
On whether or not Holland stands by the ending of "Happiest Season" and what she would say to fans who wanted Abby and Riley to be end game, Holland was quick to affirm the film's ending. "I do stand by the ending of that movie. Relationships are hard, and seeing somebody go through the very personal and very intense process of stepping into their authentic selves and sharing that with their family, it was important to show Harper's journey in that, and then also show the strength of the love that Harper and Abby had for each other," Holland said. "It [was] a difficult moment in their relationship, but their love was true and it was strong, and it was important for them to come together in the end." While Christmas movies typically have more frivolous causes for relationship tension, "Happiest Season" digs a bit deeper — whether fans like it or not. 
Noting the palpable chemistry Plaza and Stewart had during the movie, Holland added, "Aubrey and Kristen, yeah, they're wonderful together. They had such an easy chemistry with each other, but just because you have a chemistry with someone, and you get along with someone, it doesn't necessarily mean it has to be romantic." Yet relationship or no relationship, fans just can't turn away from Stewart and Plaza's scenes. Holland concurred, noting, "There's something really beautiful about their relationship being a very tender friendship and not necessarily going in the direction of romance."
Escape rooms and board games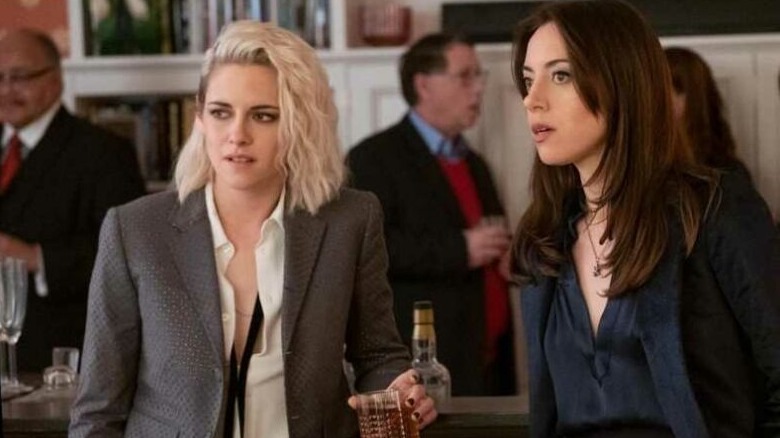 Hulu
On what it was like working alongside Kristen Stewart and Aubrey Plaza on "Happiest Season," Holland said, "Making that movie was a highlight in my life. Everybody on that movie was so fantastic. That was my first time working with Kristen. I had worked with Aubrey a couple times and know her from the comedy scene, so it was great to get to play with her again." 
Between filming, it was all fun and games for the "Happiest Season" cast. "Every single person in that cast loves games, including Mary Steenburgen. We'd have all these group scenes and then in between takes, relentlessly playing games. We played so many word games," Holland recalled. "We did every Escape Room in the Pittsburgh area. We had a really great time playing with each other ... very special memories of making that movie."
The first season of "The Woman in the House Across the Street From the Girl in the Window" is now streaming on Netflix.