The Best Foundations For Acne-Prone Skin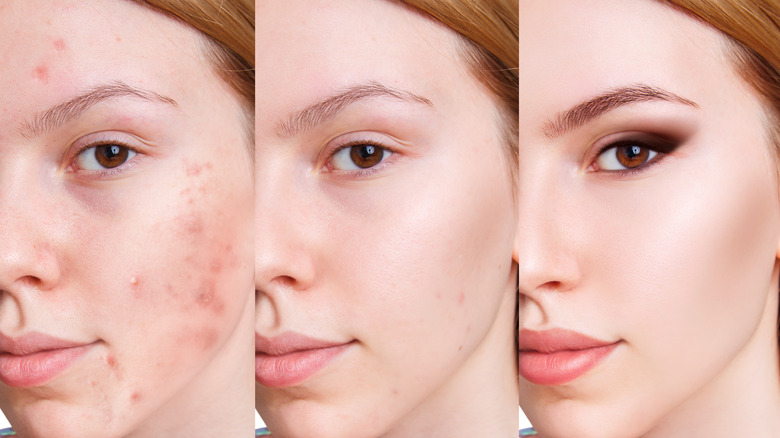 Galaxy Love Design/Shutterstock
Acne can be the worst. According to the Mayo Clinic, acne is a common skin condition resulting from clogged hair follicles, inflammation, or bacterial growth, and it shows up as whiteheads, blackheads, pimples, or blemishes. Most people think acne is just for teenagers, but some adults struggle with acne, too. Depending on your acne's severity, it can leave scars, or go away with time and treatment.
Surprising thins can cause acne. Though you can blame genetics, skin types, or bad luck for having acne, there have been studies that suggest that certain types of food might make you more prone to it, per Healthline. In fact, studies show that ice cream may be particularly bad for causing acne (via the National Library of Medicine).
When you have acne, you need to follow a specific skincare routine, and it involves more than just applying a pimple cream here and there. If you want clear skin, you need skincare products that are oil-free, noncomedogenic, and are specifically made for acne-prone skin. They should have ingredients like salicylic acid and benzoyl peroxide, per Everyday Health. Similarly, you can't just use the hottest new makeup products because they might result in a breakout. That doesn't mean you can't wear foundation, though; you might just need to do a little research to find products that make your skin look better without irritating it. Luckily for you, we've rounded up some of the best foundations to wear if you have acne.
These breathable foundations will cause less irritation and breakouts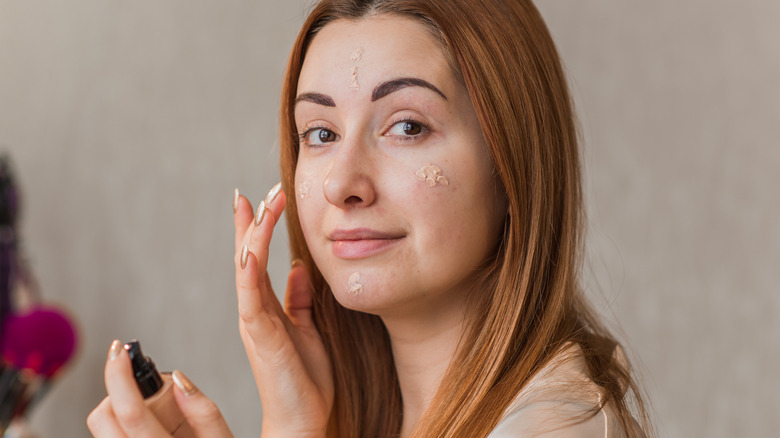 T.Den_Team/Shutterstock
When looking for the right foundation for acne-prone skin, you need something that provides light coverage without clogging your pores, and that can be tricky. Here, we have some of the best skin-clearing formulas that are perfect for this purpose. In fact, Byrdie recommends the best-selling bareMinerals Original Loose Powder Mineral Foundation SPF 15 because this iconic foundation is only made up of five skin-loving ingredients. The loose powder helps with oil control, but gives you a luminous finish. Due to its skincare benefits, continued use can improve your skin, too.
"Neutrogena SkinClearing Oil-Free Makeup contains salicylic acid that helps fight acne-inducing bacteria," New York City-based dermatologist Dr. Shereene Idriss told Self. This affordable foundation conceals the appearance of acne but also helps fight it, so it's a perfect blend of treatment and makeup for those struggling with it.
Glamour loves the luxurious and Black-owned brand Pat McGrath Labs. More specifically, they love its Sublime Perfection Foundation because it's lightweight and looks like an Instagram filter over your face due to its diamond core powder. It won't clog your pores, and is available in 36 shades. If you're dealing with acne and scarring, PopSugar recommends Clinique Even Better Makeup Broad Spectrum SPF 15 because it's non-acnegenic and reduces dark spots after 12 weeks. It hydrates your skin while staying sweat and humidity-resistant. With these, you can enjoy getting dolled up, but don't forget to wash your makeup off before bed.