Box Dyes That Will Ruin Your Hair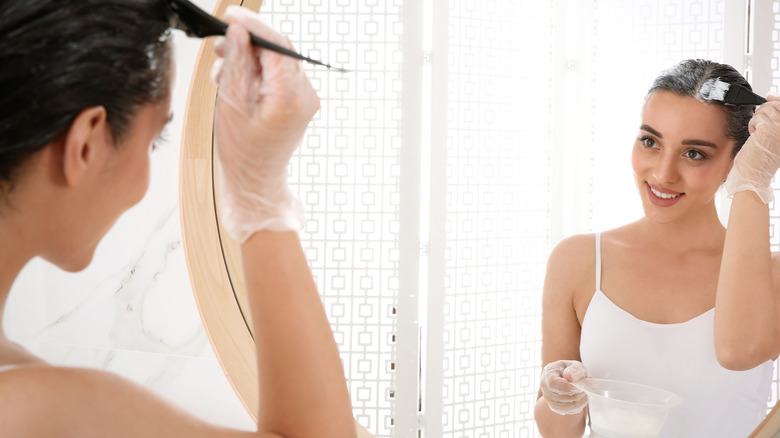 New Africa/Shutterstock
We may receive a commission on purchases made from links.
Ask any hairstylist what they think of box dyes, and they will pretty much say it's a mortal sin or the worst idea ever. Yes, coloring your hair yourself is nowhere close to getting it done at a salon, but salon visits can be incredibly expensive. Plus, if you just want a minor hair change, you can do it in the convenience of your own home for under $10. Besides the skills involved and the results, there are some pretty significant differences between box dye and salon color. According to Hair.com, salon color is better because it is customized for the individual and is less likely to have ammonia compared to box dye. If you consider a drastic hair color change, a salon might be the smarter way to go instead of risking it in your bathroom.
Regardless of the end result, using any kind of hair dye can cause hair damage and pose health issues due to their chemicals, especially if you dye your hair too often. You should avoid any hair dye that has p-phenylenediamine, hydrogen peroxide, ammonia, or lead acetate, as they can cause cancer, per Everyday Health. Bleach and ammonia are the most effective ingredients in hair dye, and also the most damaging, so try to avoid them if possible (via Bustle). Instead, try looking for hydrating and nourishing ingredients like natural oils, keratin, and silk extracts.
Natural box dyes will also damage your hair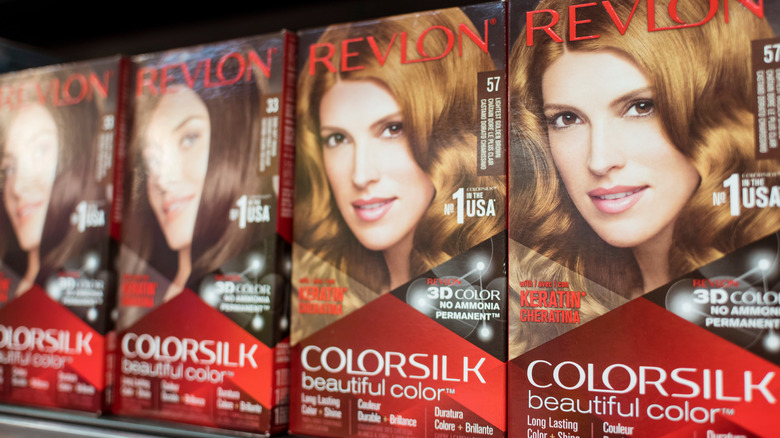 MDV Edwards/Shutterstock
Honestly, there is either very damaging box dye or less damaging box dye. Still, you can check how safe a particular box dye is by seeing where they stand on The Environment Working Group, which has given a health rating to each product on its site. Basically, every box dye will damage your hair one way or another, but if you are determined to add a little color to your hair at home, some are not as damaging to your hair (or overall health).
Southern Living recommends Schwarzkopf Simply Color Permanent Hair Color. It's free of ammonia, alcohol, and silicon, and has moisturizing ingredients like botanical oat milk, soy proteins, and argan oil to reduce damage. If you specifically want to go dark, they have some gorgeous options. Botox Capilar Hair Professionals' favorite least-damaging box dye is Clairol Natural Instincts because it's a semi-permanent conditioning hair color with aloe and coconut oil. It has zero ammonia, and 80% of the ingredients are natural. However, Mamavation claims this hair dye has six "bad" ingredients.
Bustle's pick is Revlon's Colorsilk Permanent Hair Dye, which is super affordable, and has silk extracts and keratin to strengthen and soften your hair. This no-drip formula doesn't have ammonia, either, and is available in over 44 shades. Meanwhile, Cosmopolitan's pick for a non-toxic option is Herbatint Permanent Haircolor Gel because it is cruelty-free, vegan, and free of paraben and ammonia. It has eight organic herbal extracts for scalp and hair health, too!