How To Take Care Of Your Curls In Wintertime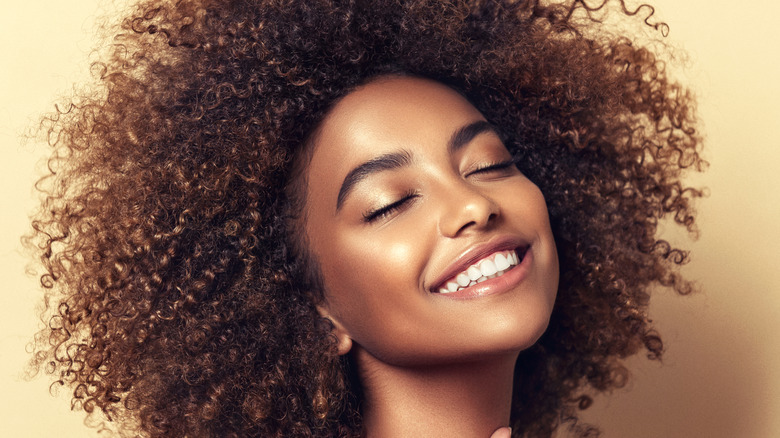 Sofia Zhuravetc/Shutterstock
We may receive a commission on purchases made from links.
Your skin needs extra TLC in the winter as it can feel ultra-dry due to indoor heating and outdoor chill. Since your skin is craving extra hydration, it's important to moisturize your face and body with humectants, occlusives, and emollients to provide well-rounded care. You don't want cracked and flaky skin, right? Also, neglecting your skin during this time of year can lead to skin irritation and speed up the aging process (via The Healthy) — yikes!
Even if you properly take care of your skin, did you know that your hair also needs the same level of love in the winter, too? You can't just wash, dry, and style your hair, or hide it under a beanie because your strands are suffering. Every type of hair requires more attention when the weather is frigid, but this is especially true if you have curly hair. This is because curly hair is typically drier to begin with, and because cold, dry air makes your hair more brittle (per The Cut). The combination of heavy winds and the suffocation of hiding your hair under a hat can turn your curls into a lump of frizz.
"Cold weather dries out the hair, and dry heat has no moisture, which makes curly hair limp, and textured hair more brittle," says celebrity stylist Kattia Solano (via Well+Good). Your hair doesn't have to suffer just because the weather outside is colder. Making a few changes, like adding extra nutrients to your locks, can keep your curls happy this winter.
Keep your curls extra bouncy this winter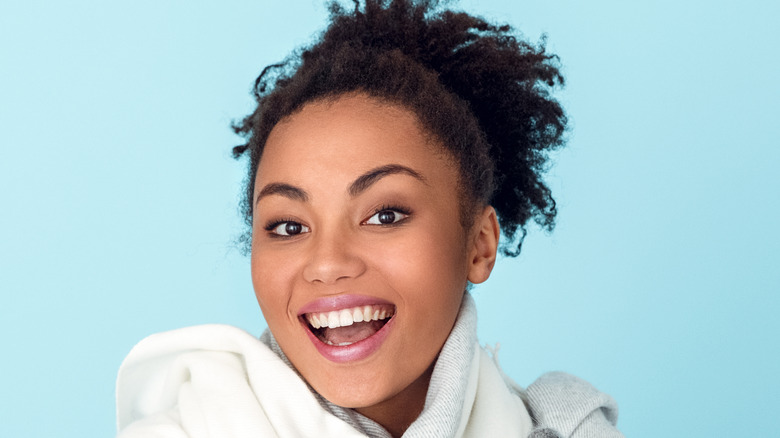 Viktoriia Hnatiuk/Shutterstock
Winter can be rough on your gorgeous ringlets, but taking adequate care of your hair can make them feel loved again. One of the best investments you can make for your hair (and your skin) is purchasing a silk pillowcase (per The Cut). It may sound a little extra, but sleeping on the smooth silk fibers can reduce breakage and frizz, as these issues can develop if you roll around in your sleep. Silk is less abrasive than cotton, and it and won't absorb moisture from your hair as much. The Cut recommends investing in a SLIP silk pillowcase so you can wake up with smoother hair.
Well+Good recommends upgrading to a more moisturizing shampoo, designed specifically for curly hair, in the winter to compensate for the lack of moisture in the air and the added dryness of your scalp. It may be a smart idea to step this up even further by adding oils and serums to your usual haircare routine to combat the cold weather. Well+Good loves hydrating Shu Uemura Essence Absolue Nourishing Protective Hair Oil, as it can smooth frizz and enhance shine.
Since curly hair needs more moisture in the winter, Byrdie recommends deep conditioning your hair more often to reverse damage caused by coloring or heat styling your hair. "Deep conditioning treatments are essential to help repair damaged or compromised hair," says hair colorist Guy Tang (via Byrdie). Byrdie recommends Briogeo Don't Despair, Repair!™ Deep Conditioning Hair Mask because it nourishes and strengthens dry, damaged hair and helps prevent future damage.