How Duggar Family Courtships Are Changing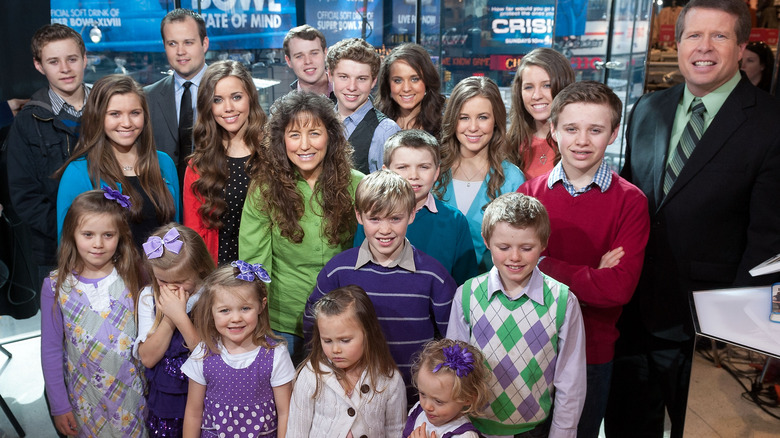 D Dipasupil/Getty Images
When "17 Kids & Counting" debuted on TLC, it quickly became one of the most popular shows on the network. The Duggar family immediately sparked admiration or curiosity, depending on one's viewpoint. For some, the large clan represented old-fashioned values like family togetherness, simple pleasures (all the children learned to play musical instruments at an early age), and an abiding faith. Others regarded the Duggars the way they would an Amish family: a fascinating, sometimes perplexing culture with its own rules for living righteously.
The Duggars are fundamentalist Christians who follow the guidance of a controversial church called the Institute in Basic Life Principles (via NBC News). Their religion dictates everything from their family size (a total of 19 children) to their modest gender-specific clothing to their schooling (all the Duggar children have been homeschooled in a Bible-based curriculum). Viewers have been especially interested in the family's views on romantic relationships and marriage. Instead of casual dating, the married Duggar children have all met their spouses through church or mutual friends, and then entered into "courtships" (per Us Weekly). The courtship period consists of supervised outings (no kissing or hand-holding allowed) to determine whether the person is truly "the one God has for [them]," as dad Jim Bob Duggar has put it.
But one recent Duggar announcement suggests that the family's relationship rules may be bending, at least a bit.
Jeremiah Duggar's phrasing has raised eyebrows
In October 2021, Jeremiah Duggar became the 11th of his siblings to find a life partner. On his Instagram account, he announced that he was seeing Hannah Wissman, who, like Jeremiah, comes from a large, conservative Christian family. "Getting to know each other has been one of the greatest joys of our lives! We are excited to start sharing our story with all of you and to see what God has in store for our future," he wrote. 
But it was his hashtag that really got fans talking. Following his courtship announcement, Jeremiah referred to Hannah as "#mygirlfriend," and Hannah used the hashtag #myboyfriend on her own Instagram post. The Duggars don't ordinarily use that term (via Showbiz Cheat Sheet), so naturally fans are wondering if the family has changed their strict rules about finding a mate. 
Similarly, Jill Duggar Dillard's husband, Derick, recently honored a special anniversary. In his post, he used the "D" word as he wrote, "8 years ago today I began dating my best friend @jillmdillard while I was working on the other side of the world!" He added, perhaps as a sly dig to his in-laws, "I definitely enjoyed our unchaperoned motorcycle ride around the area."
Still, even if the Duggar children are breaking away from traditions, such as being chaperoned and avoiding the word "courtship," some things haven't changed. Most of the children have gone on to marry not long after their relationship goes public, and Jeremiah and Hannah are no exception. Just three months after they came out as a couple, they announced their engagement, and two weeks later, Hannah announced that she'd found "the perfect dress." A Facebook post hints at a March 22 wedding date, per The Sun.