All Of Lisa Bonet's Most Iconic Outfits
Lisa Bonet first stole hearts when she debuted as Denise Huxtable on "The Cosby Show" in 1994. Bonet was known for her enviable outfits on the show, and she hasn't lost an ounce of her legendary style in the nearly 30 years since her first appearance as Denise. Her character's style fluctuated between preppy, high-waisted looks with blazers to a bohemian chunky sweater vibes that more closely mirrored Bonet's own style. Of course, Bonet's signature confidence and sizzling gaze made Denise one of the show's most crushable cast members, and her former partner of 17 years, Jason Momoa, even admitted to having a long-standing crush on her character (via Insider). 
Since her early moments in the public eye, Bonet's iconic style has moved fluidly from colorful '70s aesthetics, to top hats and sunglasses, to sleek red carpet looks with a shimmering edge (via HuffPost). In 2021, Bonet told Interview magazine that in both her career and personal life, she is "definitely learning how to be authentically me, learning to be new, and following this invitation from the universe to step into this river of uncertainty." Though Bonet has always exuded authenticity and bold fluidity in her style and public presence, she continues to grow into the next phase of her life.
Looks that transcended gender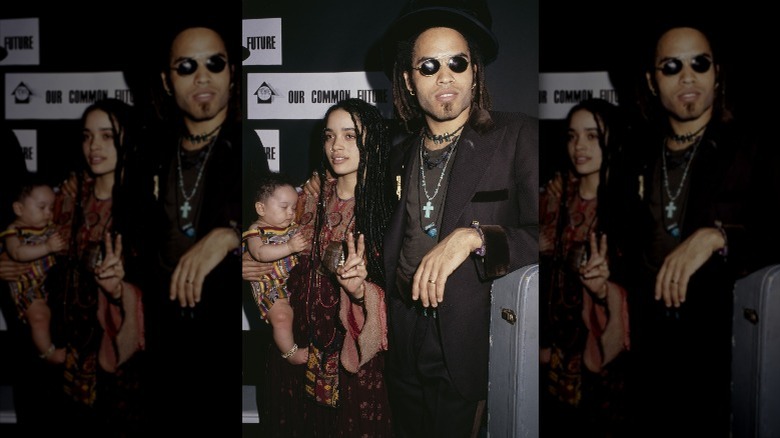 Michael Ochs Archives/Getty Images
Between 1987 and 1993, Lisa Bonet was half of one of the coolest couples in Hollywood with her then-husband Lenny Kravitz. Kravitz and Bonet's fashion choices contributed to the '80s trend of removing gender from clothing, interchanging traditionally masculine and feminine pieces and patterns to create stunning mosaic looks. Of course, unisex and gender-neutral clothing is popular today, but Kravitz's floral deep ensembles and Bonet's broad-shouldered looks set a precedent for a style centered on beauty. Their most iconic outfits surpassed feminine or masculine ideals (via InStyle).
The former couple walked many red carpets with luscious locks, rockstar-chic patchwork sweaters, and leather jackets. Today, the two are still on good terms and have posed at events like the Met Gala in 2015, which was arguably one of Bonet's most memorable looks of the 2010s. She and Kravitz wore matching Valentino ensembles — hers featured a long-sleeved, white Victorian-style blouse, paired with a silk black dress with delicate flowers, and a cascading lace hem. They were joined by their daughter, Zoe Kravitz, a fashion icon in her own right, with her seemingly effortless, often androgynous style that mimics the trends created by her famous parents (via Anne of Carversville).
Mother-daughter fashion moments
Jason Merritt/term
Lisa Bonet has had a considerable influence on the fashion world, and her daughter Zoe Kravitz has emulated her mother in many of her own style choices. The pair even look identical when compared at the same age, with Kravitz rocking similarly long locks and gorgeous cheekbones. In 2018, Kravitz even paid tribute to her mother's legacy, posing nude for the cover of Rolling Stone in the same pose that Bonet did for the publication in 1988. 
On a 2019 episode of "The Late Show" with Stephen Colbert, Kravitz chatted about the inspiration behind the shoot. Colbert showed Bonet's iconic cover photo to the audience, and Kravitz shared a personal note on why the photo of her mother was so special. "She's a few months pregnant with me," Kravitz shared about her mother's iconic photo, which brought even more meaning to her touching recreation of the image. "It was great to pay homage to her," she told Colbert (via YouTube).
In addition to this sweet moment, Bonet and Kravitz often appear on red carpets together with Bonet showing off her eclectic style in fascinating new ways each time she gets in front of the camera (via L'Officiel). One of their most iconic matching moments happened in 2016 when they rocked complimentary outfits at the Saint Laurent Menswear show.