Saweetie Reveals Her Secrets For Taking Care Of Oily Skin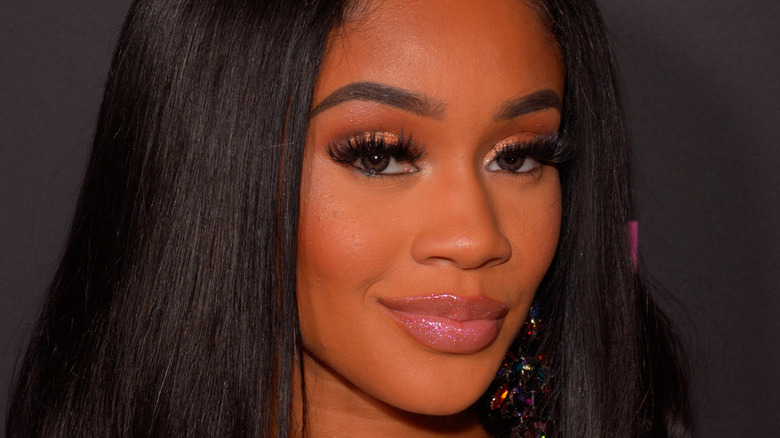 Ron Adar/Shutterstock
We may receive a commission on purchases made from links.
Celebrity-recommended skincare products just hit different. Considering that A-listers can afford the best products and procedures, courtesy of the best makeup artists and dermatologists, you know that the products they rep are the best of the best. And when you can find a celebrity with the same skin type as you, you've hit gold. For anyone dealing with oily skin, rapper Saweetie is here to help.
In 2020, the "Best Friend" singer spilled her skincare secrets in Vogue's Beauty Secrets video, and it definitely did not disappoint. She explained how she became hooked on skincare at a young age, after experiencing "a really bad puberty outbreak" while she was living with her dad. Because "men don't really know what to do with ... skincare, my dad would just tell me to get a hot rag and put it on my face," Saweetie added. It was thanks to her mother's insight that Saweetie began implementing a regular skincare routine shortly afterwards, and she hasn't looked back since. Speaking to Vogue, the singer rolled through her entire skincare routine, but there's one product in particular that stuck out: her toner. This product might be just what you need to get your oily skin under control — so if you're looking for a new oil-controlling product, get ready to tap in.
Saweetie's skincare secret is Ole Henriksen's Oil Control Toner
Out of all the products that Sweetie references in Vogue's Beauty Secrets video, this toner step might be the one thing that really sets her skincare routine apart. Although she breezes over it, Sweetie's oily skin skincare hack is Ole Henriksen's Balancing Force Oil Control Toner, which you can purchase at Sephora. Essentially, it absorbs all the extra oil sitting on your skin, so that your other products go on smoothly and don't slip around. 
"For girls that have skin like me, super oily, sometimes there's a little bit of dirt left. I like to use Ole Henriksen for the toner," Saweetie told Vogue. Ole Hendriksen's toner was specifically designed to remove excess oil and refine pores all without stripping the skin, according to Sephora's description. Oh, and it has a 4.3 out of 5 star rating, so Saweetie isn't the only one that loves the product. The singer doesn't use the entire line from Ole Hendriksen, but that doesn't mean she doesn't love the products. "An [aesthetician] once told me to mix and match and not to exclusively just use one entire line," Saweetie told WhoWhatWear in 2021. "That's stuck with me, and it actually really works for my skin."
Saweetie has a hack for controlling oil naturally
Her toner routine isn't the only skincare secret that Saweetie dropped in Vogue's Beauty Secrets video. The outlet's beauty secret videos are a veritable treasure trove of great tips, and some of the best ones are the simplest ones. Case in point: Saweetie also shared a quick tip about how to use cold water in your skincare routine, and it might even be better than her toner tip.
"Ladies, make sure you rinse, especially for my girls with big pores, with cold water," Saweetie says. "You do not want to leave your pores open for the makeup to sink in because that creates pimples. So make sure you wash with cold water." She's referring to the temperature of the water that you use to wash your products off your skin, which can help pores to close and look smaller, according to Healthline. Therefore, if Saweetie's recommended toner falls out of your budget, you can always follow her free tip to help preserve your skin.