Donald Trump's Social Media Platform Suffers A Bumpy Roll-Out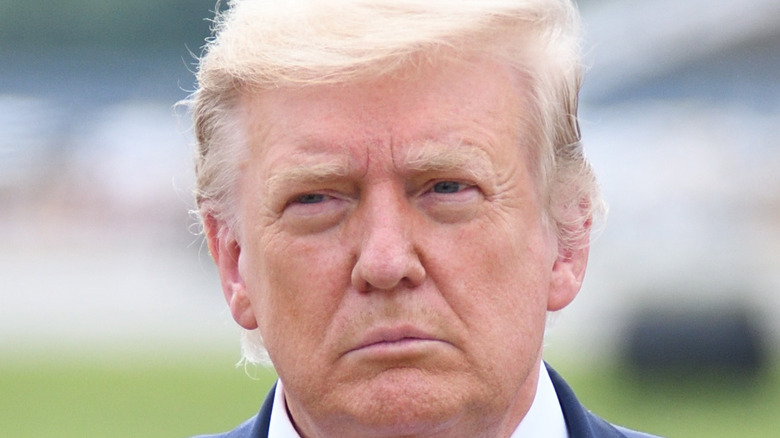 Evan El-Amin/Shutterstock
Twitter permanently suspended former president Donald Trump's @realdonaldtrump account on January 8, 2021, because of how it felt his tweets helped incite the January 6 insurrection two days prior (via Twitter's blog). Trump then took to the @POTUS Twitter account to voice his displeasure, but those tweets were taken down shortly after, too. However, in them, he hinted at establishing his own social media platform (via TechCrunch). Fast-forward to February 2022, and Truth Social has launched on the Apple App Store with the tagline "What makes Truth Social different!? We are a social media platform that is free from political discrimination. Join us and share, communicate, and have fun!"
But it doesn't seem as though it's been fun. Some potential users continue to get error messages when trying to sign up for an account on the app, and others have been able to sign up but then receive the following notification: "Due to massive demand, we have placed you on our waitlist" (per CNET).
Trump's first post on the app reads, "Get Ready! Your favorite President will see you soon." Then, a screenshot of this post on the social media app was shared by Donald Trump Jr. on Twitter as promotion for the app. Users can, or will be able to, post truths and re-truth others' posts, much like sending a tweet and retweeting on Twitter. Devin Nunes, a former California congressman, runs Trump Media & Technology Group, Truth Social's parent company, and he told Fox News that the app would be completely functional by the end of March (via The Guardian).
Trump fans seem to be fine with the app's glitches for now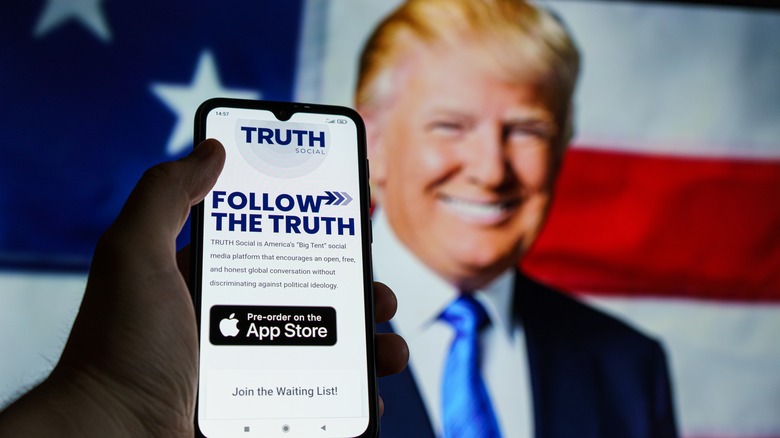 Rokas Tenys/Shutterstock
Launching Truth Social on Presidents' Day was intentional, but some think that was part of its problem. One person tweeted, "I think they were determined to have Presidents' Day launch so the[y] released a product that wasn't ready for market and it shows." They weren't alone. Another tweeted, "Truth Social is absolutely nowhere near being ready to launch. Couldn't even enter date of birth – app already died. I built apps for 6 years. This is a basic fail. Not sure how @AppStore approved this. Did they feel pressure to approve Trump's app so they wouldn't look biased?"
CNN media reporter Oliver Darcy confirmed how hard it was to sign up, tweeting, "I tried to read the Truth Social Terms of Service, but when I click the link from the homepage, I get redirected to a 404 [error] page. Same thing happens when I try to read the privacy policy. And when I try to sign up for the waitlist, I get sent to a 405 [error] page." 
Trump's fans, however, are steadfast, and not worried about the glitches. One wrote, "I'm on the waitlist for #TruthSocial. I'm excited to be able to get rid of Twitter! Everyone needs to delete their accounts once Truth Social is completely up and running smoothly." Meanwhile another tweeted, "I'm having a hard time getting on Truth Social. Which is GOOD! Well played by the man who can, Trump! Happy REAL Presidents' Day!" Here, it's implied that the error must just be because too many people are using the app.