Nina Dobrev Swears By This Long-Lasting Brow Gel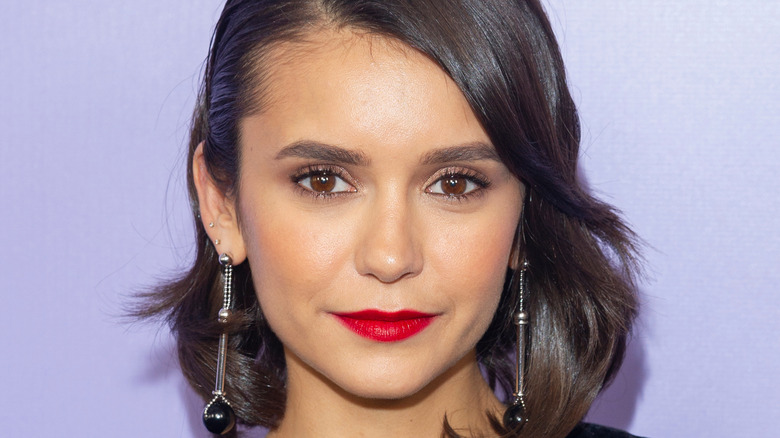 Ovidiu Hrubaru/Shutterstock
Nina Dobrev endeared herself to fans everywhere with her starring role as Elena Gilbert in the CW's soapy teen drama "The Vampire Diaries." Though the show ended in 2017, per Digital Spy, we still haven't gotten over the Bulgarian-born actress, nor her place in the never-ending love triangle between immortal brothers Damon and Stefan Salvatore. When she's not acting, E! News reported that Dobrev currently runs a successful wine business with her friend and fellow actor Julianne Hough, called "Fresh Vine Wine." Both women also share a common interest in health and wellness, as well as beauty.
In fact, Dobrev shared her 10-minute beauty routine with Allure in November 2021. In the video, she emphasized her obsession with serums, which she called out as being so important for healthy-looking skin. The "Vampire Diaries" alum also shared her preference for natural, bold brows. "It's so funny how, in the early 2000's, having really skinny eyebrows was very trendy," Dobrev explained, via Allure. "I remember tweezing, and tweezing, and tweezing until I had nothing left. And then the thick brows came in, and thank goodness 'cause my brows are naturally very thick." So for anyone else who's all about the thicker brows, how does Dobrev prefer to style hers? As it turns out, her natural look is thanks to the help of one very specific product.
Nina Dobrev uses Benefit Cosmetics' Clear Brow Gel to sculpt her brows
As Nina Dobrev revealed to Allure, she first fills in her eyebrows with the Roen Vow Brow Pencil (available at Saks Fifth Avenue), before reaching for Benefit Cosmetics' 24-HR Brow Setter Clear Brow Gel. The latter product helps to style and sculpt her brows — plus, it has incredible staying power. "This is an eyebrow gel that really stays on for a while, which I like, because I have been known to jump into a pool or two at a party," Dobrev told Allure. As for her technique, she starts by "brushing them upwards," then "rein[ing] them in." "The great thing about this product is the brush is very precise so you can really manipulate each hair if there's one out of place where you don't like it," she added.
Unsurprisingly, Dobrev has good taste, because Allure is also a major fan of this 24-hour brow setter. "[It] probably has the firmest hold out of any brow gel [I've] ever tried," NYC-based makeup artist Tobi Henney told the publication. Likewise, Byrdie loves this long-lasting gel, particularly if you're the type to struggle with crazy brows. "The dual-sided brush features short bristles on one side to sculpt and shape hairs, and longer bristles on the other," the outlet writes. Additionally, Elle calls the clear brow gel the magical "equivalent of a topcoat nail polish" for your perfectly precise brows. If you aren't ready to commit to full size, you can snag a mini version for $14.