Why February 26 Will Be A Day Of Reckoning For The Cambridge Household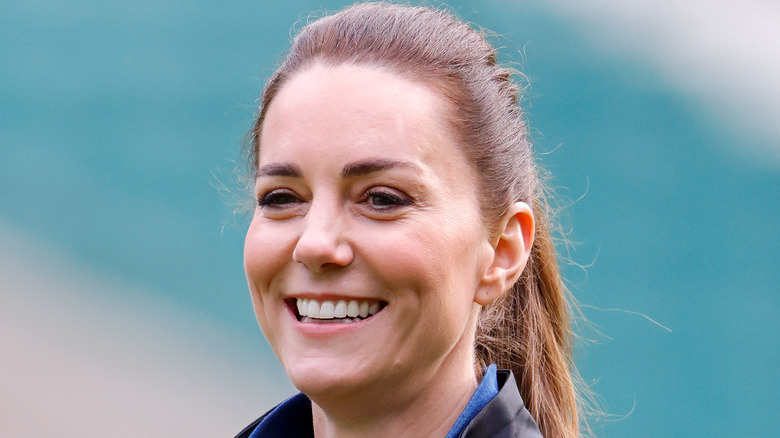 Max Mumby/indigo/Getty Images
The Duchess of Cambridge has always had a reputation for being sporty, even back when she was just Kate Middleton. Pippa Middleton, Kate's younger sister, referenced as much when she spoke to Vanity Fair in 2014 about the family's deep love of rugby. "Rugby was a big thing in our family, and the focal point was international matches ... We'd plan our weekends around the matches, a quick bite to eat at halftime or lunch on our laps ... If we lost, my dad would be in a state of despair for the rest of the afternoon, as if he'd actually lost the game himself," she told the outlet. Now, the tradition of watching rugby together has carried through to the duchess' own family. "[My children] are all enjoying it," Kate told a few of the England rugby players, when she visited Twickenham Stadium in February 2022, according to The Standard. "Louis is kamikaze, we're worrying about when he gets older, he'll be in the middle of everything," she joked.
Since becoming a member of the royal family, Kate's love of rugby has only grown. In 2015, The Standard reported that she attended the 2015 Rugby World Cup when it was hosted by England. Then in 2017, she was "visibly gripped" while watching France play Wales. Perhaps this is because her husband, Prince William, is patron of Wales. On February 26, Kate will once again be watching Wales play, but this time she won't be rooting for her husband's team.
The Duke and Duchess of Cambridge are divided over a rugby game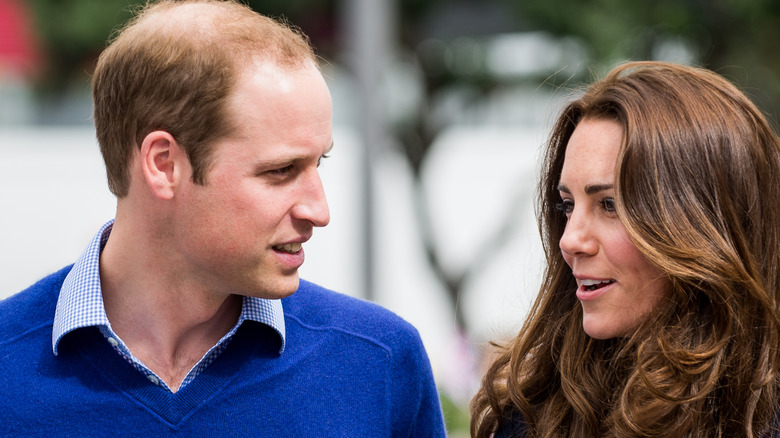 Shaun Jeffers/Shutterstock
In February 2022, Kate Middleton became a patron of England's Rugby Football League and Rugby Football Union. Following the announcement, the Duchess of Cambridge took to Instagram, writing that both organizations "are committed to harnessing the power that sport can have in bringing communities together and helping individuals flourish." She went on to say how she looks forward "to working with them across all levels of the games, and to cheering England on in what promises to be an exciting year for both sports!" She signed off with a "C" (for Catherine), which is what she's been known to do on her more personal social media posts.
As a patron, the Duchess of Cambridge will be the "public face" of England's Rugby Football League, Harper's Bazaar explains. This means that she will be able to publicly support the Rugby Football Union on Saturday, February 26, during their match against Wales in the Six Nations tournament. But while the teams prepare for their match, all eyes are on the Duke and Duchess of Cambridge, since this will be the first matchup where their respective teams face off. "We're terribly competitive," Kate Middleton said during her visit to Twickenham Stadium, per The Standard "The fact we're now supporting two different teams is going to make things interesting."