The Truth About Tan France's Outerwear Line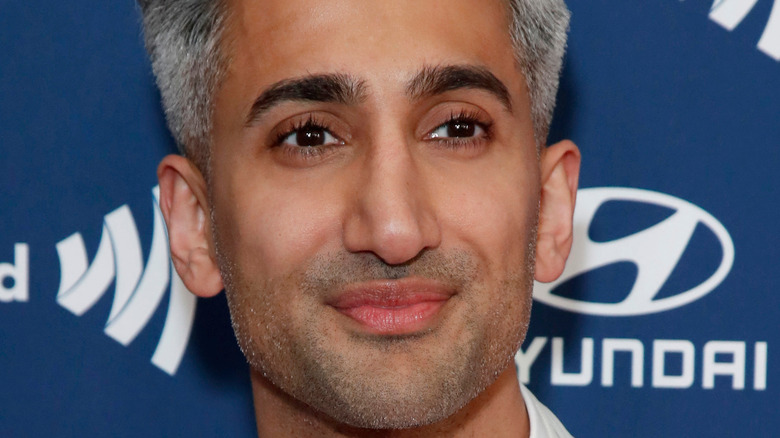 Kathy Hutchins/Shutterstock
Tan France is a style icon. While he's most well-known for his exceptional styling skills as a member of Netflix's "Queer Eye" cast, France began cultivating his career in the fashion industry from a young age. After completing his fashion degree, France went on to take roles at major fashion retailers such as Chanel, Zara, and Selfridges (per MasterClass). Early on in his career, France launched his own line, "Kingdom & State," which was crafted specifically to follow Mormon dress guidelines, (via The Famous People). Coupling his industry experience with the style expertise he exercises as part of the Fab Five on "Queer Eye," France launched a groundbreaking new fashion line in late 2021 (via InStyle).
When France set out to create his new line Was Him, he wanted to do something different. "I didn't want to do a regular clothing line, because everyone seems to have one these days, and I couldn't care less," France told InStyle. In fact, the style icon turned down countless opportunities to launch a line before thmbl reached out and offered France full creative freedom.
Tan France had a vision for his new line
When Tan France first thought about launching Was Him, he wanted to address what he saw as a major issue with outerwear. The warmth and functionality of a coat rarely aligns with a high fashion look in the world of outerwear, and France's vision for his latest line was to change that (via Town & Country). Aiming to create timeless pieces that make a major statement, Was Him offers affordable luxury at a price tag of less than $500 (per InStyle).
While $500 isn't exactly cheap, it does make for a much more affordable option than other luxury winter wear options. "Luxe outerwear costs a fortune, and I'm not the kind of person who is willing to spend that kind of money often," France explained to InStyle. Was Him is a limited collection of attainable luxury pieces that don't make you choose between quality and style. The 38-year-old wants consumers to shy away from fast fashion in favor of an investment piece that doesn't feel out of reach. Of typical major retailer purchases, France says, "when those pieces go out of style, they end up filling a landfill and killing this planet."
Tan France has added tons of personal elements
When Tan France begins talking about Was Him, it becomes strikingly clear that so much of who he is as a persona went into creating the stunning collection of winter coats. The pieces are gender-neutral, with a structured silhouette reminiscent of the styles the style guru-turned-designer recalls from his days in his home country of England. The silhouettes aren't the only aspect of Was Him that pays homage to France's heritage, though. His life and personality can be seen in every stitch of his pieces, according to InStyle. 
France employed the artistic expertise of his husband, Rob France, to create unique designs to be embroidered onto the coats as a tribute to his roots in Americana. "As a dual citizen, I wanted this to be a marriage of American and British style. A tailored coat is quintessentially British, so the silhouettes are a nod to the U.K., and my husband is from a family of cowboys in Wyoming, so I asked him to design equestrian-themed patterns for the coats' embroidery," says France. The embroidery style gives a subtle nod to France's roots in Pakistan as well. France also selected colors for a plaid pattern that represent the colors he enjoys observing on the ranch he and his husband share in Utah. Each piece in the Was Him line is deeply personal and expertly crafted, making luxury and truly unique style accessible for consumers.