Here's The Lip Product That Michelle Williams Wore As Jen On Dawson's Creek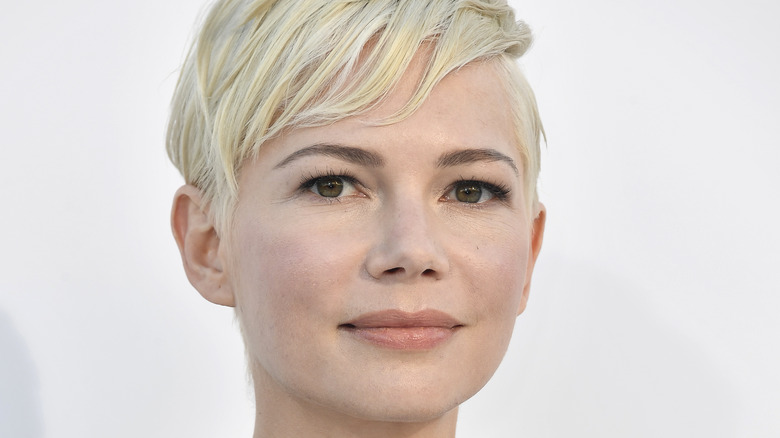 Frazer Harrison/Getty Images
It's easy to forget that Michelle Williams got her start in teen drama "Dawson's Creek," since these days the esteemed actor and four-time Oscar nominee is most well-known for her more serious work in the likes of "Blue Valentine" and "Manchester by the Sea." Although Williams left Capeside in the rearview a long time ago, "Dawson's Creek" remains a key part of her DNA. The actor portrayed doomed party girl Jen Lindley from 1998 to 2003, and her character remains a fan favorite to this day. 
In an interview with HuffPost, Williams admitted she takes it "as a great compliment" that people have to be reminded of her humble beginnings, explaining, "Not that I want to distance myself from having been on that show — it had huge value for me, professionally. Enormous value for me, personally. So, I don't mean it like that at all. But I take it as a compliment that I've grown." Still, despite her impressive career, there's no denying Williams will always be closely associated with Jen. 
Buzzfeed argued she was the best character on "Dawson's Creek" hands down, while Screen Rant ranked Jen the third most likable character overall, below only Jack McPhee and Pacey Witter. If you're still reminiscing about Jen's short life and killer New York style, fear not, because this is the exact lip product used on Williams during her time on the show. 
Jen Lindley was the resident fashionista of Dawson's Creek
Makeup artist Brittany Cale shared a video to TikTok detailing what was used to achieve Jen Lindley's effortlessly beautiful look on "Dawson's Creek." According to Cale, makeup artists on set utilized Dr. Hauschka's lip care stick, which you can pick up online for $15. They also emphasized actor Michelle Williams' natural lips with MAC's classic liner in shade Spice. Pick it up from their online store for $19. 
"Dawson's Creek" is a treasure trove of the late nineties and early 2000s style, but Jen's understated glamour has stood the test of time even if, as Screen Rant argues, some of her behavior was slightly questionable. In fact, during the show's 2018 reunion, Williams admitted Jen certainly wasn't popular with viewers right off the bat. According to Entertainment Weekly, she quipped, "There were no rabid Jen fans." 
There was even a website dedicated to taking her down, which the actor acknowledged was difficult to deal with at the time. "It's a funny thing when you're developing your own identity and the identity of the character you play somehow becomes confused with your own," she shared. Thankfully, these days, "everything is fine." Still, the beloved show was the best form of escapism and, naturally, Jen is super popular now as both a character and a style icon. 
Whether we'll ever get a "Dawson's Creek" revival, though, remains to be seen.