Cat Cora Opens Up About Her Surprise Victory On The Real Dirty Dancing - Exclusive Interview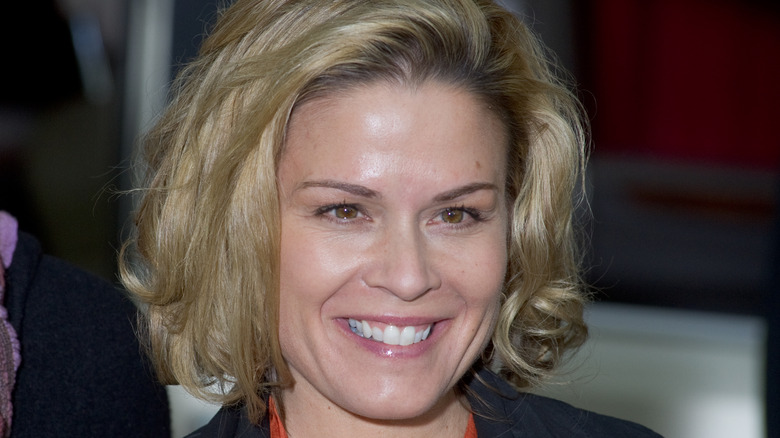 Christopher Halloran/Shutterstock
Cat Cora's professional and personal lives have been all about breaking boundaries and defying expectations. Her fans know her best as the master chef and successful restaurateur who became a household name as the world's first female Iron Chef, starring on the notoriously demanding cooking competition "Iron Chef America" for twelve years. From there, she brought her passion for food and cooking to more shows, including Bravo's "Around the World in 80 Plates" and ABC's "Family Food Fight," according to her website. For a woman to reach the highest levels of a physically grueling profession known for its sexist work culture is remarkable enough — but to do it all while raising six sons, authoring several cookbooks, and engaging in multiple philanthropic efforts shows some serious moxie.
While Cora is known for energy and creativity, few of her superfans would have imagined "dance champion" as an addition to her long list of accomplishments. Defying expectations once again, she was named the champion on Fox's "The Real Dirty Dancing," in which celebrities ranging from comedians to athletes had to master and perform each of the tricky, drama-filled dances from the iconic 1987 movie "Dirty Dancing." In this exclusive interview, Cora shares why she challenged herself to participate, what it was like working with the all-star cast, and what she took away from the experience.
Cat Cora went all in on The Real Dirty Dancing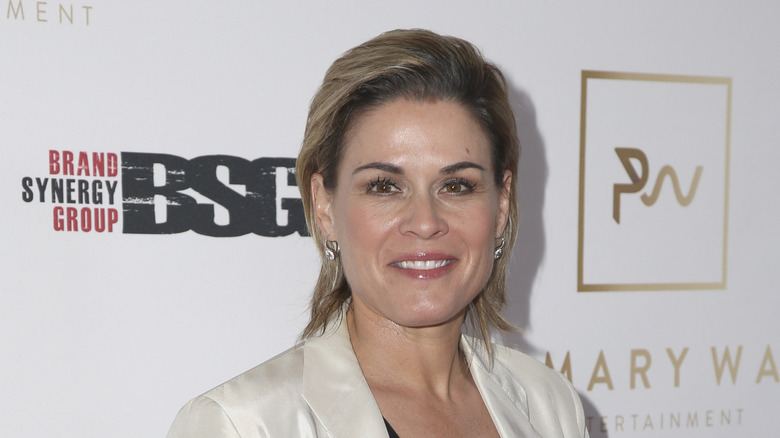 Kathy Hutchins/Shutterstock
First of all, congratulations on winning "The Real Dirty Dancing." I've got to ask, did you expect to win going in?
No, I didn't really know what to expect going in. We all came into this not really knowing [what to expect]. I knew "Dirty Dancing." It's an iconic movie. I first saw it when I was 20 years old. It was so inspiring then, and it's still inspiring today when I've watched it. I knew the movie really well, but I didn't know what to expect when I walked in and who I was going to be competing against.
With all of that said, [when] I really came in this, I decided that I'm going to put it all out there. I'm going to go for it, and I'm going to be open to the whole experience. That's really my mindset coming into it. Did I expect to win? No, but I knew that I was going to do my absolute best, and I was preparing. I was in a really good frame of mind to take this on and to be really open to the whole process.
Here's what she really thought of her partner, Corbin Bleu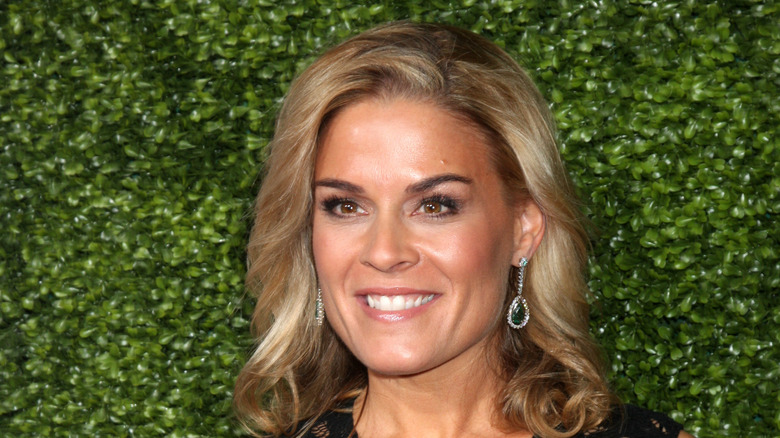 Joe Seer/Shutterstock
What was it like for you to work with Corbin Bleu in the last dance? How did you two get the look that you wanted and the mood that you wanted for that?
Well, throughout the whole process, we were creating this chemistry because he was my partner throughout, except for 24 hours when Tyler Cameron was Johnny and I was Baby. And so I really think it was an evolution throughout the whole competition where we just became more in sync. Our chemistry kept building and getting better and better every day. We were getting very close as friends as well. I felt safe immediately with Corbin, not being intimate with a man, much less anyone else except someone I was married to for a very, very long time. I think that he made me feel so safe from the very beginning. I felt like I was in great hands. I was so lucky to get him as my partner from day one.
Twitch really matched up, I think, a great couple in us, and our personalities, the way our work ethic, our focus, our intensity, our perfectionism, worked well together. We had a great chemistry, and we built an amazing friendship that lasts today. This whole cast was incredible. I have to say Fox did a great job putting together, to me, one of the best casts I've ever worked with.  have a very long TV career, so that's saying a lot. We're still all friends. We're all on a text thread together. We talk all the time. We support each other and everybody's endeavors. We're always rooting for each other. Literally every single one of us, we all became family. That was the best part of the whole show.
Winning feels amazing. Trust me, it feels really good to win, and we worked really hard, Corbin and I, for that win. I know that as you see in the finale, we didn't ever nail that lift until we had to do it in front of the audience. We never got the lift completely, so that was the only moment in the competition where I felt uncertain, and Corbin felt uncertain, and I'm sure that everyone else felt uncertain about whether we were going to be able to nail that lift or not. It was an incredible feeling to get that lift. When it was really the most crucial time to nail the lift, we actually did it.
Corbin is such an incredible dancer. He's an incredible actor. He brought out the absolute best of me. I couldn't have asked for a better partner on the show, even though all the guys were great. Howie, Antonio, Tyler, they were all incredible Johnnies in their own way, but I felt like I got so blessed to be partnered with Corbin.
The opportunity to participate in The Real Dirty Dancing was a happy surprise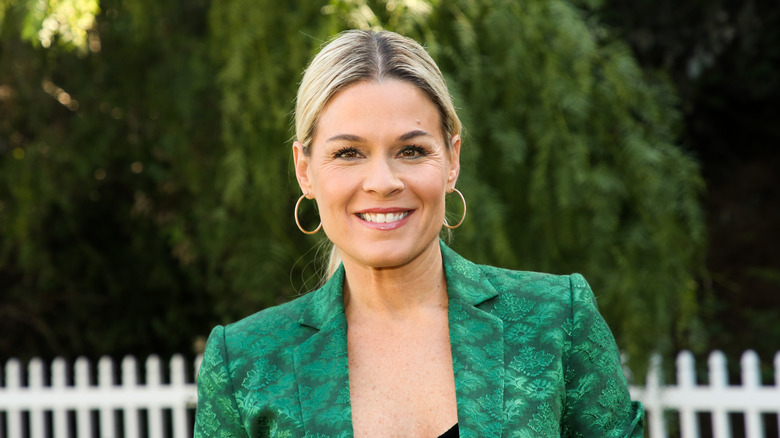 Paul Archuleta/Getty Images
Stepping back a little bit, how did you get involved in "The Real Dirty Dancing" to start with?
We got a call from Fox, which was wonderful. I love when jobs happen and opportunities happen like that, when you get a call out of the blue and someone already knows they want you for the show or for a show. It's a great feeling because really that's very rare. There's always a lot of testing that goes into it, chemistry testing, auditions, interviewing, and so many other ... It's such a big process to actually landing an opportunity on a show, on a network show especially.
This was a sweet, sweet opportunity and such a blessing for me because it really came out of the blue. Fox already knew that they wanted me on the show, and it was wonderful because it was one of those wonderful opportunities that drops right in front of you, and I didn't even hesitate. I'm like, "I love this movie. Yes, I want to walk in their shoes." They're big shoes to fill. No one can ever fill Patrick Swayze and Jennifer Grey's shoes, but I definitely was going to try really hard and give it my all. That's what I did. I came and brought it, brought everything I had to it ... There's method acting. I was really in method TV. So I really went into the role and really got into character to play Baby.
To be able to go to Kellerman's Mountain Lake Lodge in Virginia, to be able to go back there and literally walk in the steps that Jennifer Grey and Patrick Swayze walked into was absolutely one of the best experiences I've had in my television career. It was really amazing to feel their energy there. Going into those and really acting out those iconic scenes was incredible for me because it's something that's important. Part of my next chapter is acting, and so being able to really experience it and be on a real set with 300 crew and five cameras and a director and producers, it was a wonderful feeling. To be able to dance those iconic dances, and the clothing, the fashion from back in the '60s, and the cars and the music and everything about it was really magical.
Cat Cora had no previous dance training —but wasn't going to let that stop her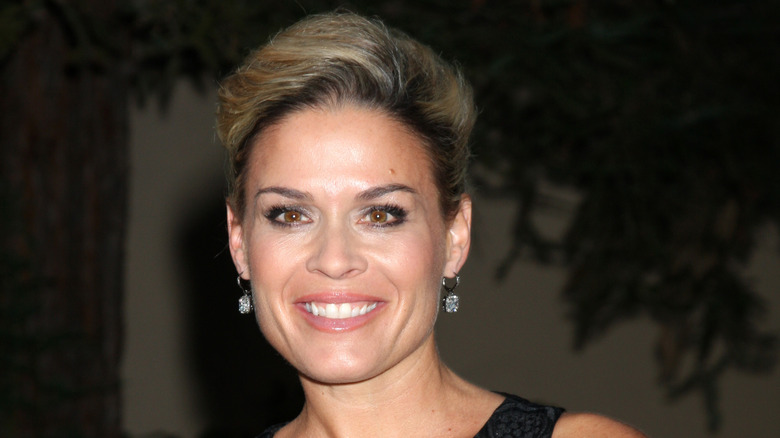 Kathy Hutchins/Shutterstock
What kind of dance training or dancing experience did you have before the show?
I didn't have any formal dance training at all. I had never taken a dance lesson in my life. When I was younger, I'd go to the clubs and dance, and I loved it. I've always loved to dance, but it was my dance, whatever came out of me, but I'd never had any formal training in dancing, and so this was the first time. That was something that really excited me too, when the opportunity came along, is that I knew that I was going to be able to get some formal training from amazing choreographers, and we did.
We had to bring it. When we paired with our other celebrity, we were literally on our own. It was wonderful to have some training so that we were prepared for at least knowing some of these dances that are real dances. They're pro dancing, you know? To really work with some professionals and get some training was really a wonderful experience as well, because I'd always wanted to do that. I never had the time, never had the opportunity. 
This was a great opportunity for me to learn the salsa or to learn lifts or to learn how to hold my head in my hands and really have these graceful movements, and the dirty dancing, too. All of that was really a great opportunity for me to express myself in a very different way than I've ever been able to do on television and really in front of an audience. That was something that I really looked forward to and wanted to do.
Cat Cora knew that learning the dances would be tough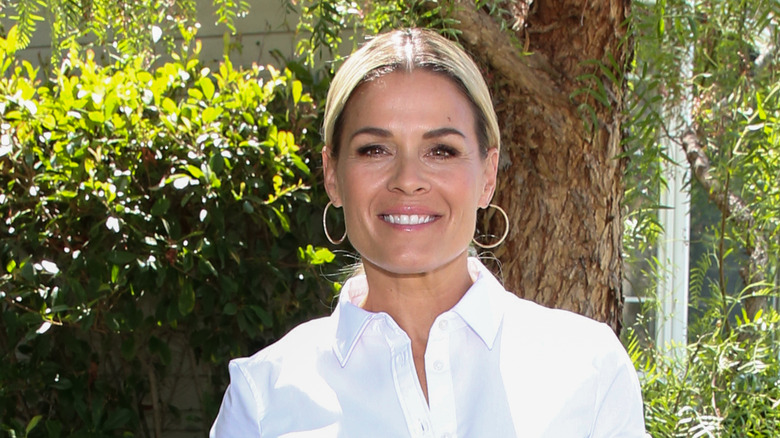 Paul Archuleta/Getty Images
Was learning those dances easier or harder than you thought?
I think it was when we had to learn them in 24 hours, it was tough. It was hard. It was blood, sweat, a few tears, only because I'm such a perfectionist, and Corbin is such a perfectionist. For me, I wouldn't stop until I had it absolutely nailed. I said when I come into this, I'm giving everything I have. I'm not holding back. I had the blessing from my family: Don't hold back. Go out there and win that [show], even though there was dirty dancing and there was a kiss scene and there was some very intimate scenes in Johnny's cabin and things like that, and some very skimpy clothing, some of the fashion that Jennifer Grey wore.
I said to myself, "You're going to open your mind. Be open to the process. Yes, you're almost 55 years old, but you're going to go out there and you're going to dance like you're 25, and you're going to give everything." That's what I did. I work out every day. I'm very healthy, I'm very fit, but at the same time, this is a whole different set of muscles you're using. This is a whole different beast when you're going in and professionally dancing.
For me, it was exciting and challenging to learn the dances, and we had 24 hours to learn brand new dances. Yeah, it was tough. I don't think it was tougher than I thought. I knew it was going to be tough and challenging, but I was so ready when I stepped off that plane and stepped into Kellerman's. I was so ready for this challenge and this competition, and I came to win.
Her experience on Iron Chef America prepared her mentally for The Real Dirty Dancing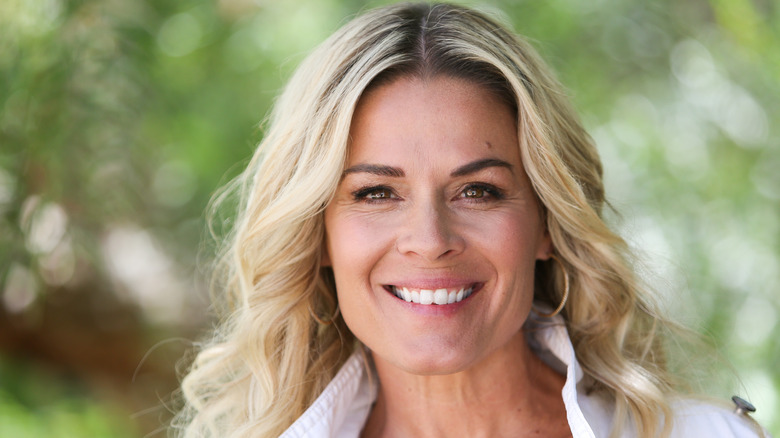 Paul Archuleta/Getty Images
I know this isn't your first TV competition. You were also on "Iron Chef America." So do you think your experience on "Iron Chef America" prepared you for this in any way?
Doing 12 years of "Iron Chef America" on Food Network and being an Iron Chef, absolutely. I've trained myself to be able to, when I'm in a competition, to go into a zone and go into this zen place, and that's after years of competition. That really helps me tremendously when I needed to get into the zone. I knew what that was, and I knew how to do it very quickly, and I knew how to work really, really hard to win a competition. All of those things worked in my favor.
Again, everybody that was competing, or most of us that were competing, are used to competitions. Corbin has done dance competitions. Angela and Lonnie are standup comics that go on the road and go on tour, and they're used to the pressure of standing in front of huge audiences by themselves and delivering incredible material to make people laugh every day. Antonio is a pro football player. Brie Bella is a WWE champion. So I think a lot of us were used to those kinds of pressures. And so I think that's what made the competition so even in a lot of ways, and also so fun because we were all used to this pressure, and we were all used to competing in these kinds of situations. So I think that's what was great is that everybody came to win.
The thing is, everybody came to win. It was a competition, but we were all still rooting for each other. Like I said, we all worked really hard. Everybody was the consummate professional on set, but we also became really close and really great friends. We were a family, and we still are. Even though there was a competition, we were also rooting for each other in various ways. That's what made it such a special experience behind the scenes, and then it made incredible TV for the world.
It's never to late for new challenges and experiences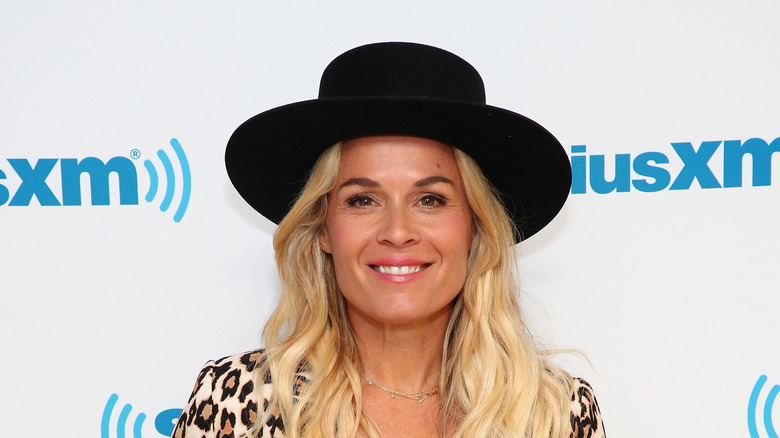 Astrid Stawiarz/Getty Images
It's great that you got to know each other so well. Is there anyone in particular that you appreciated getting to know?
I think everybody in their own way was really a phenomenal person. All the girls bonded really well, which was really nice to be on a set where women were supporting each other and empowering each other. I think that it doesn't always happen, so this was really a special experience to have all of us be close. We all had a lot of deep conversations together.
I spent more time with Corbin because he was my partner throughout the whole competition, so we really bonded. Now, I know his wife as well, and they know our family. We all have gotten to know each other and each other's families as well. It extended out to families as well, and I think we've all become close. Equally, everyone was someone special on that set and empowered me in some way, and I worked really hard to empower them.
What is the most important thing that you learned from being on the show?
What I wanted to teach my six teenage boys and also the message that I wanted to put out there through my dancing and through this experience to women out in the world, young girls out in the world, struggling moms especially out in the world that are trying to keep it all together, is that you're never too old to have a new experience. You're never too old to be vulnerable. I wanted to show my boys, you can be vulnerable and take risks at any point in your life, no matter what. Don't let anyone put you in a box, and it's okay to get out of your comfort zone and be vulnerable. That is a huge strength.
That's really the message I wanted to put out there. I was the oldest cast member on the set, but I felt like I came in there, and through my example, I hope that I inspired other moms, women, young girls, and also my six boys that you can do anything at any age.
Here's Cat Cora's diet for optimal dance performance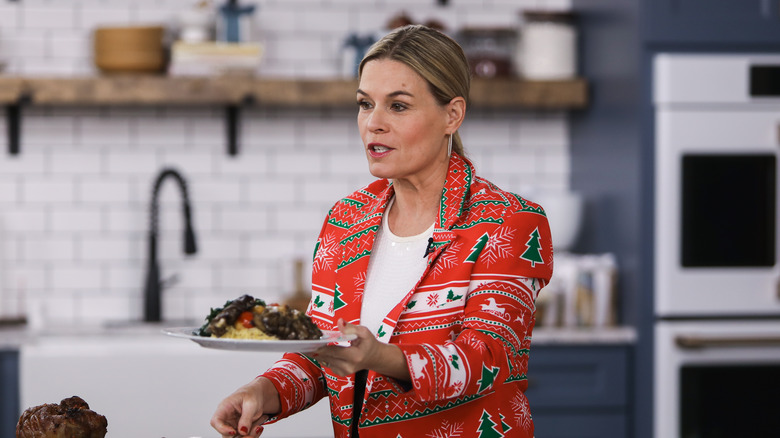 Paul Archuleta/Getty Images
And finally, one last question: As a chef, could you recommend any special dishes to keep in dancing condition?
Well, I ate a lot of salmon and a lot of steamed spinach on set because that's what was really fueling for me, and some grains, some quinoa, things like that, brown rice, and a little bit of lemon and good olive oil. That's really what I ate almost every day when I was on set. Before that, I eat very healthy. I eat a lot of veggies, a lot of fish, lean meats, chicken, grains, brown rice, whole fruit.
I tried to drink a green juice every day when I was on set as well, and something that's low in sugar and something that's really healthy for you. That kept me fueled because you need a lot of calories, and you need a lot of energy when you're dancing that much and rehearsing that much, and you're on set. I did everything I could to be clean throughout the process as well. I didn't really eat any sugar, didn't drink alcohol while I was getting ready for the competition or throughout the competition. I stayed really focused and really living a clean life, and that helped me tremendously to win.
All four episodes of "The Real Dirty Dancing" are now available to stream on FOX's website and the FOX NOW app. You can follow Cat Cora's adventures in and out of the kitchen on her Instagram.