The Best Creams For Treating Eczema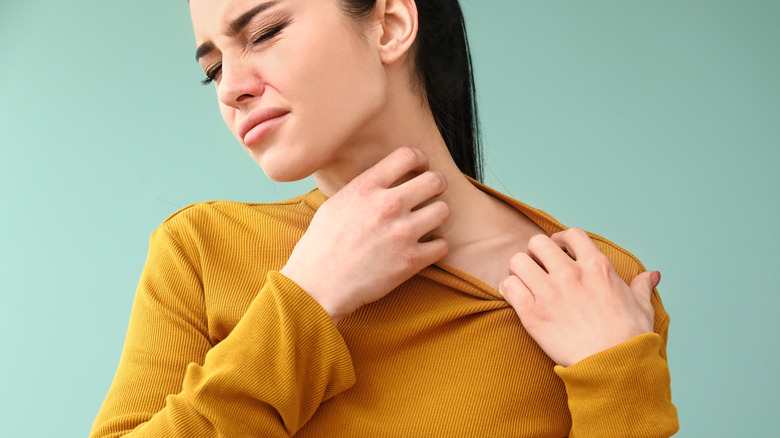 Pixel-Shot/Shutterstock
Many of us deal with dry skin in the winter, but eczema takes it to the next level. According to the National Eczema Association, it is an inflammatory skin condition that can cause rashes, infections, and blisters. However, dry and itchy skin are the most common symptoms. It affects 16.5 million American adults; about 40% of them struggle with a moderate or severe form, per Deep Science. 
There is no specific cause of eczema, but it has been associated with genetics, environmental factors, or an autoimmune disease. According to the Mayo Clinic, extreme cases can be treated with prescription corticosteroid cream or ointment, antibiotics, wet dressing, and light therapy. There is no absolute cure, but taking care of your skin and using moisturizing creams or medicated ointments can help treat the condition. Mild to moderate cases can be treated at home by investing in a cream or moisturizer. Unfortunately, a treatment that works for you may not help your friend because it's not universal across the population.
Shari Lipner, an associate professor of clinical dermatology at Weill Cornell Medicine, told Self, "Choosing the right moisturizer can help in preventing eczema flareups and treating the eczema." We pulled together some of the best skin soothers for you to check out below.
CeraVe Moisturizing Cream is a favored option for treating eczema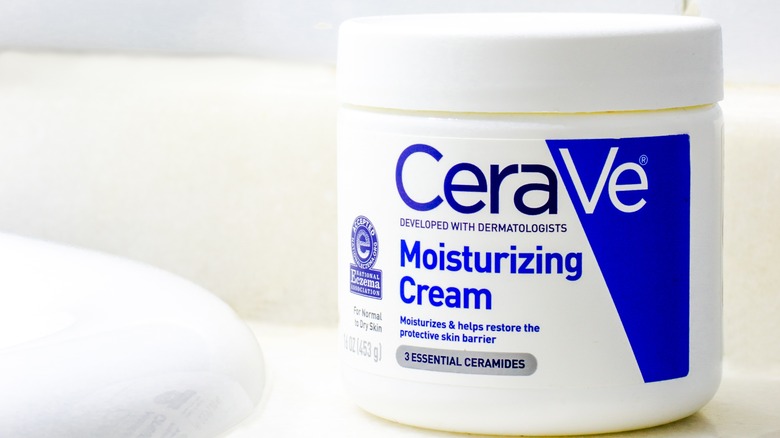 Dina Galal/Shutterstock
According to Self, the best eczema creams contain ingredients like humectants (to provide extra hydration), emollients (to moisturize and protect severely dry skin), and occlusives (to form a protective barrier and help prevent further irritation). One of the best options on the market is La Roche-Posay Lipikar Eczema Cream ($15); it contains ingredients like soothing colloidal oatmeal and hydrating shea butter (via Self). The product claims to visibly reduce signs of eczema, and regular use can help prevent skin from developing discoloration and scarring from scratching.
Meanwhile, the New York Post favors the best-selling CeraVe Moisturizing Cream ($16.99). It contains ceramides that help restore and maintain the skin's natural barrier, and hyaluronic acid that attracts hydration. CeraVe is reportedly gentle enough to be used on the face or body as it is hypoallergenic and noncomedogenic. Deep Science recommends Kiehl's Since 1985 Ultra Facial Cream ($22), which claims to provide 24-hour hydration to even the most sensitive skin. Ingredients such as squalane, glycerin, and glacial glycoprotein work together to provide hydration and protection. It is fragrance-free and also protects you from the sun.
Another option is Avène Cicalfate+ Restorative Protective Cream ($28), according to The Cut. It can help with dryness, redness, and itchiness and is said to work almost as well as steroids. This cream was formulated to speed up healing and recovery by two times by maintaining a hydrated and protective skin barrier.