The Wife Of Supreme Court Justice Clarence Thomas Is In The Spotlight Over The Company She Keeps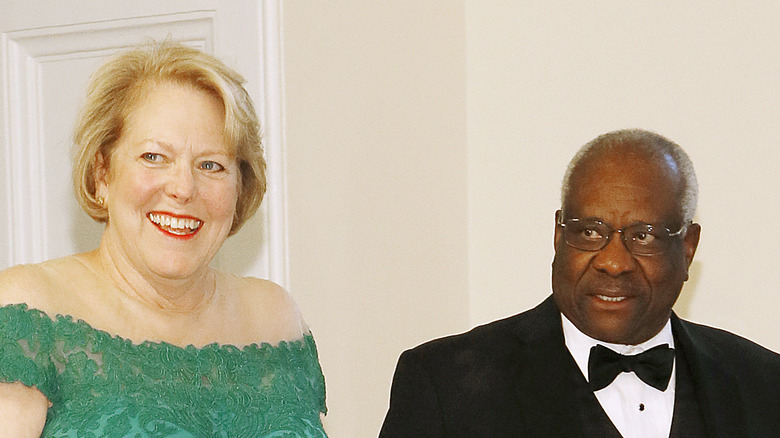 Paul Morigi/Getty Images
Unlike other spouses and partners of Supreme Court justices, Ginni Thomas, who has been married to Justice Clarence Thomas for over three decades, has been incredibly vocal about her political affiliations. 
Over multiple decades, through her private firm, Liberty Consulting, Ginni has lobbied for conservative causes like abortion, gun rights, and religious freedom, according to ABC News. 
"Ginni Thomas' activities are different from any other spouse in the history of the U.S. Supreme Court," Gabe Roth, executive director of Fix The Court, a nonpartisan ethics group, told ABC News. "She is more activist in political causes than any other spouse. She has more relationships with organizations that have cases that come before the justices than any spouse before."
Ginni's unprecedented role in politics has also raised eyebrows, given the fact that the work she has done for various causes has been linked to cases that have appeared before the Supreme Court — and, of course, before her husband. 
Despite this very personal link, the Supreme Court Justice has not recused himself from hearing these cases, according to CNN. However, since the precedence is nonexistent, there are no rules to handle this predicament. 
Earlier this week, The New York Times published a detailed report about the conservative company Ginni has kept over the past few years and how she is tied to one of the most turbulent days in Donald Trump's presidency.
A new report discovered that Ginni Thomas was in cahoots with January 6 organizers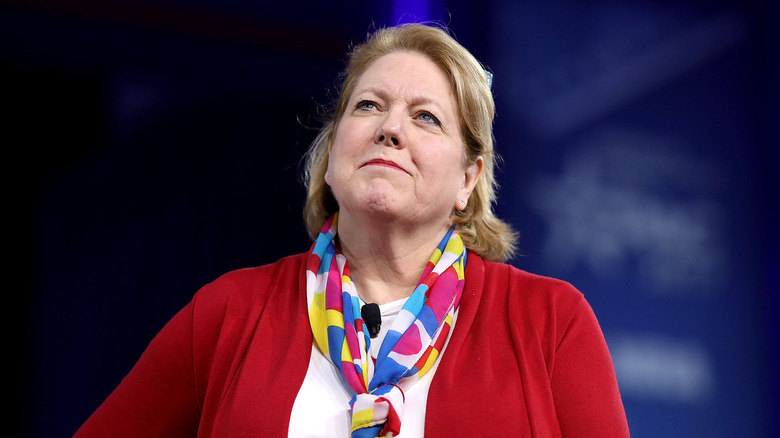 Chip Somodevilla/Getty Images
Only hours before the January 6 riot took place at the Capitol in 2021, Ginni Thomas wrote a passionate message to the supporters of former President Donald Trump on her Facebook page.
"LOVE MAGA people!!!! GOD BLESS EACH OF YOU STANDING UP OR PRAYING," Thomas wrote, per The New York Times.
Over one year later, a New York Times report uncovered just how involved Thomas was in the planning of the January 6 riot, which was organized by those who falsely believed that the 2020 presidential election was stolen from Trump. 
According to the report, Thomas is one of the newest leaders of the Council for National Policy, a group that has brought together Christian conservatives, longtime Republicans, Tea Party activists, and Make America Great Again activists to bolster certain causes. 
In the aftermath of the 2020 presidential election, the group was especially active in attempting to persuade Republican lawmakers to challenge the election results. 
"The way it was presented to me was that Ginni was uniting these different factions around a singular mission on January 6," Dustin Stockton, who helped organize a faction of the January 6 rally, told The New York Times.
Thomas has also served on the advisory board of the conservative nonprofit Turning Point USA, which, according to The New York Times, sponsored the January 6 riot and even provided buses as transportation for the rallygoers.