Inside The Impressive Honor Dame Helen Mirren Will Receive At The 2022 SAG Awards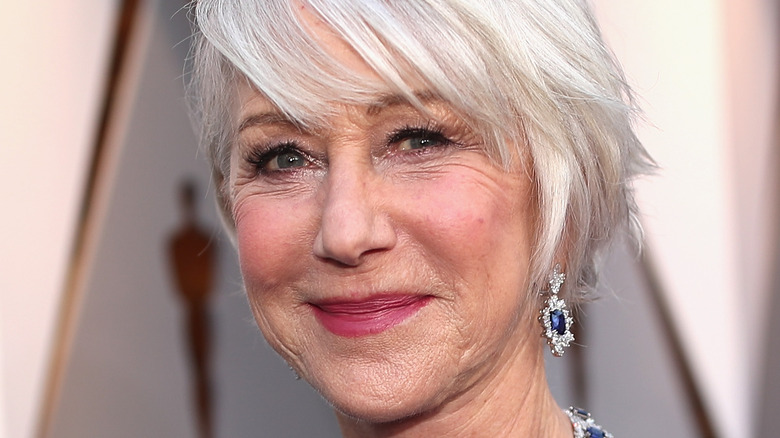 Christopher Polk/Getty Images
The 28th annual SAG Awards are almost upon us! Per Us Weekly, the star-studded event is slated to take place on Sunday, February 27, at Barker Hangar in Santa Monica, California. The ceremony will be broadcast on TNT and TBS at 8 p.m. ET, but it's worth noting that this is the first time since the pandemic that the ceremony will be taking place live and in person. According to the outlet, Rosario Dawson and Vanessa Hudgens announced the nominees via Instagram Live in January 2022. Megahit TV shows "Succession" and "Ted Lasso" currently lead the charge with five nominations each. The host has yet to be announced, but they'll have a tough time beating father-son double act Eugene and Dan Levy, who memorably kicked off and finished the festivities back in 2020.
For her part, SAG-AFTRA president Fran Drescher is thrilled that the show can happen properly this year. "After such a long time apart [during the coronavirus pandemic], we're excited to be together again this year at the 28th annual Screen Actor's Guild Awards," she gushed on social media (via Us Weekly). Although there are plenty of reasons to tune in to the festivities, all eyes will be on Dame Helen Mirren, who is being honored in a significant way this year.
Dame Helen Mirren is receiving a Lifetime Achievement Award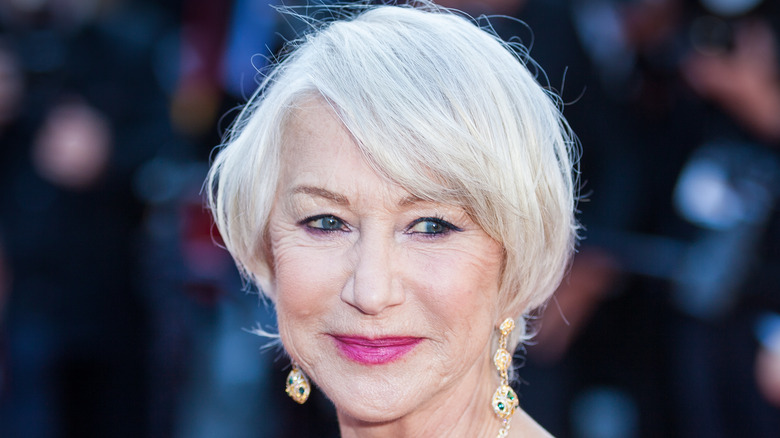 taniavolobueva/Shutterstock
Per The Hollywood Reporter, fellow British acting icon Kate Winslet is set to present Dame Helen Mirren with the 2021 SAG Life Achievement Award, at the upcoming Screen Actors Guild Awards. The honor is historically bestowed upon "an actor who fosters the finest ideals of the acting profession," so Mirren — who has won Oscars, Emmy and Tony Awards for her work over the years — more than fits the bill. Winslet has also been nominated at the SAG Awards, for leading pandemic favorite "Mare of Easttown" (which won her an Oscar in 2021). According to The Hollywood Reporter, both women costarred in the 2016 film "Collateral Beauty."
As Variety reported, Mirren is the 57th recipient of the SAG's highest honor, which is typically awarded to someone who's excelled both in their career and their humanitarian work. Previous notable recipients include Robert De Niro, Morgan Freeman and Lily Tomlin. "Dame Helen Mirren is quite simply a brilliant and luminous talent," SAG-AFTRA president Fran Drescher said of actress. "She has set the bar very high for all actors and, in role after role, she exceeds even her own extraordinary performances."
Helen Mirren is torn on what this moment means for her career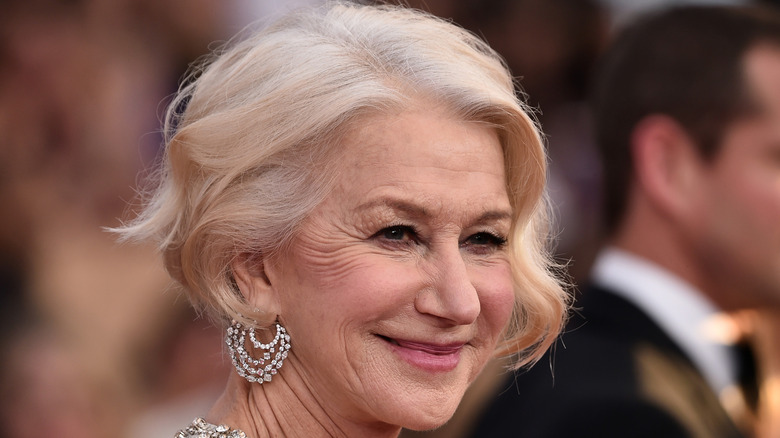 Alberto E. Rodriguez/Getty Images
Naturally, Dame Helen is thrilled about her upcoming Lifetime Achievement Award.  "I am honored to have been chosen to receive the SAG Life Achievement Award. Since I was a young actor starting out, I have always been inspired by and learned from American screen acting, so this award is particularly meaningful for me," she told Variety in a statement. That said, though the honor is major cause for celebration, it's also caused the acting legend to rethink her place in industry.
While appearing virtually on British chat show "Lorraine" (via Twitter), Mirren described the award as an "interesting moment for reflection. "It's a funny moment that, of course, there's a great feeling of pride and: 'Wow, me? Really?' And then, of course, there's a slight sting in the tail as well... Certainly, the end of the road is in sight where it wasn't like 20 years ago, and you can sort of see it down the road." Hopefully, we haven't seen the last of the esteemed actor yet. Per Variety, Mirren has at least two upcoming projects, with movies "The Duke" and "White Bird: A Wonder Story" both due to hit screens later in 2022.