Is E.l.f. Poreless Putty Primer Worth It?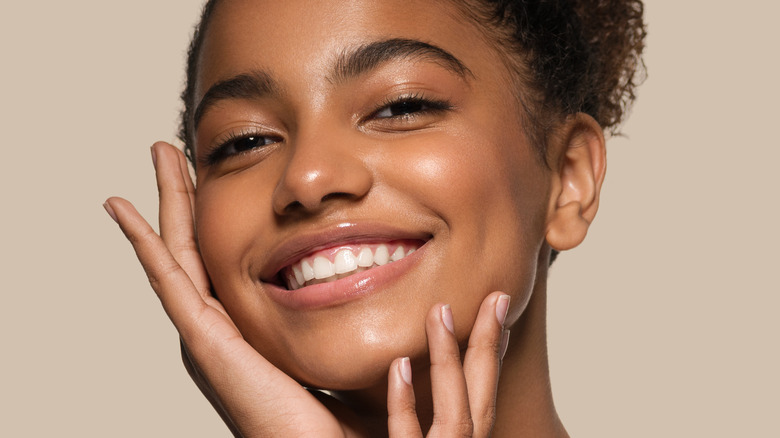 Irina Bg/Shutterstock
Every other week, TikTok drops a new trend or product on our radar. We're just a scroll away from discovering new ways to get glowing skin, using vegetables as acne patches, and trying the glasses concealer hack to minimize dark circles. Taking advice from an intimate short-form video app like TikTok always seems like a good idea, especially if millions of viewers are taking the plunge with you. Just because something goes viral, though, that doesn't mean it actually works. For example, many were advocating for lube as a primer for makeup, but skincare experts warned that the unconventional product could lead to breakouts (per Insider).
However, an actual primer is now being widely reviewed for its ability to erase pores. The e.l.f Poreless Putty Primer went viral at the end of 2021, garnering almost 30 million views on TikTok. The primer has its own hashtag on the app too, with reviewers putting the product to the test. Read on to learn whether this primer is actually worth the hype.
It's one of the best primers in the U.S.
The e.l.f Poreless Putty Primer is a velvety primer that offers two finishes — matte and luminous. It's infused with squalane, an ingredient that hydrates and reduces inflammation, and is free from parabens and sulfates (via Healthline). One reviewer on TikTok said that once she applied the Putty Primer, her "pores were immediately smoothed out" and that after applying foundation, "it looked flawless." Many reviewers also used it to prime their eyelids, which really made eyeshadow colors pop.
We really shouldn't be surprised, though. According to Allure, the e.l.f primer was named the No. 1 primer in the U.S., per a Nielsen beauty sales survey. It retails for $9, which is a great bargain for achieving filter-like perfection. A review by Byrdie writer Emily Algar does note that the product contains silicones, which can be bad for breakouts. For the most part, the affordable product convinces us of its viral status.