The TikTok-Viral Concealer Hack To Minimize Dark Circles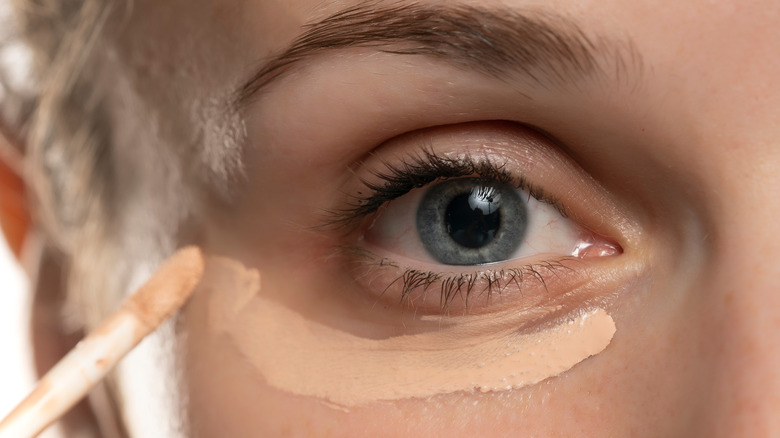 Vladimir Gjorgiev/Shutterstock
Since TikTok's meteoric rise to popularity in 2018, the app has introduced countless lifestyle hacks, some of which have been truly life-changing (via Cosmopolitan). We started using creator Jarida's TikTok foundation hack after we first saw her video in June 2020, and we're still loving the results (via TikTok). Everything on BeautyTok is sourced from a place of creativity, and the latest innovative trend is no exception. If you haven't seen the new TikTok-viral concealer hack to minimize dark circles yet, you're in for a real treat.
When watching these videos initially, the technique seems a little strange. Essentially, you apply your concealer around your eyes as if you're drawing a pair of glasses on your face (via The Zoe Report). Sounds crazy, right? Though you'll temporarily look like Harry Potter until the product is blended in, this viral hack is actually one of the most effective methods to cover dark circles with ease. Several trusted publications have tested it out, and we're going to dive deeper into the process to see how we can successfully mimic the results.
TikTok's glasses concealer hack minimizes dark circles
To try out the latest concealer hack from TikTok, you just need to follow a few simple steps. Instead of using the traditional dotted method of applying the product under your eyes to cover dark circles, you're going to essentially draw a pair of glasses on your face with the concealer wand (via Refinery29). The idea was first popularized by creator Serena Lakkiss in October 2021, and has rapidly become a fool-proof way to transform your face within minutes (via TikTok).
Begin by drawing a circle around your right eye. Start in the inner corner near your nose, then move upward into your crease before coming down the other side to bring the concealer into your under-eye area. Connect the circle completely before repeating the process on your left eye. Once you've done this, use the concealer to draw a line from the outer corner of your eye upward toward your hairline on both the right and left sides of your face. Finally, swipe another line between the left circle and the right circle across the bridge of your nose (via YouTube). If it looks like you're wearing a pair of concealer glasses, you've done it right!
Finally, all you need to do is blend the product in with a beauty blender and you'll completely conceal your dark circles.