Julia Lemigova Talks All Things The Real Housewives Of Miami - Exclusive Interview
"The Real Housewives of Miami" Season 4 revived the series after it was off the air for nearly a decade, and the show, which is now airing on Peacock, brought with it new housewives, new friends of the housewives, and new drama. Viewers were welcomed back to the Sunshine State by a few familiar faces, including Larsa Pippen, Lisa Hochstein, and Alexia Echevarria, and they brought new cast members with them. Among them is Julia Lemigova, a former professional model from Russia who's now happily married to all-star tennis player Martina Navratilova. Together, Lemigova and Navratilova are the first lesbian couple to appear as main cast members on any "Real Housewives" series.
According to Bravo's The Daily Dish, Lemigova was brought to "The Real Housewives" by Adriana de Moura, and their close friendship plays a large role in Lemigova's story arc throughout Season 4. Some of their scenes could be — and have been — taken as flirting, but both parties maintain that they're just friends.
Season 4 of "Miami" is headed for its conclusion soon, but with just a few episodes left, we had the opportunity to talk to Lemigova (We've previously chatted with Pippen about returning to "The Real Housewives," too). In our exclusive interview, Lemigova revealed what it's like being a queer voice in the "Housewives" franchise, how she landed her role on the series, how her marriage has fared since being on the show, and more.
Julia Lemigova on what fans can expect in the rest of Season 4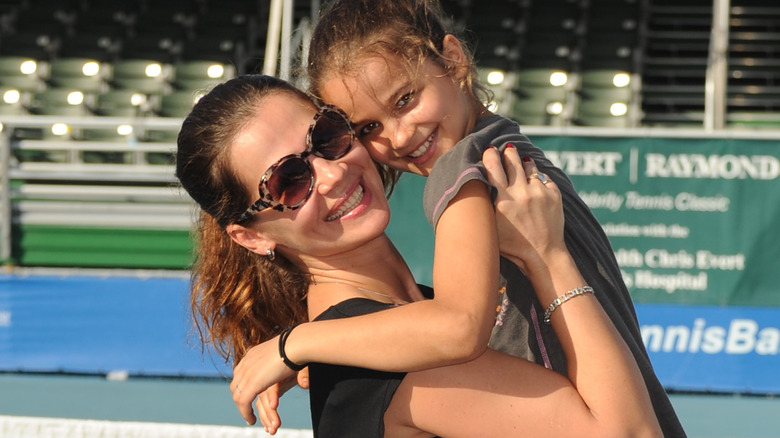 Larry Marano/Getty Images
So, Season 4 of "The Real Housewives of Miami" is almost over at this point. What can you tell us and tease about the rest of the season?
Stay tuned because the drama is not over and some thing[s] did resolve, some things did not. A lot of [unanswered questions], and I think it's really great. I watched, recently, the episode which you guys are going to see soon and I'm really happy with how it ended and the resolution of everything. There is a lot of things still to discover and look forward to.
This was your first season on the show. How did you land your spot on the cast? What has your experience been like?
When my friend Adriana [de Mour] invited me to join her on the show, I [had] never watched any of the franchises. I had no idea what to expect. All I knew is [that it's] reality TV, which means you have to be you. You have to be true to yourself ... you cannot lie to the camera because [the] camera will pick it up.
[You can] make a fool out of yourself, so it's not your place to be on the show if you want to pretend to be somebody else. I never pretend to be somebody else in my real life, so I thought, hmm ... This show might be a perfect fit for me. I loved it from the beginning. I was a little bit shy in the beginning, which they told me is normal. I don't have to feel bad about it because, again, you're authentic. It would be almost strange to come in as a pro. As the episodes were filmed, time goes by. I rediscovered, in me, my bravery and toward the end, started to bring it up. Then, once you open a little door, then it's like a hurricane wind.
I'm not holding back anymore. I'm going to be always me, whether it's on-camera again or off-camera and thinking of the experience on the show to allow me to bring it out of me, finally.
On whether she's seen the other Real Housewives series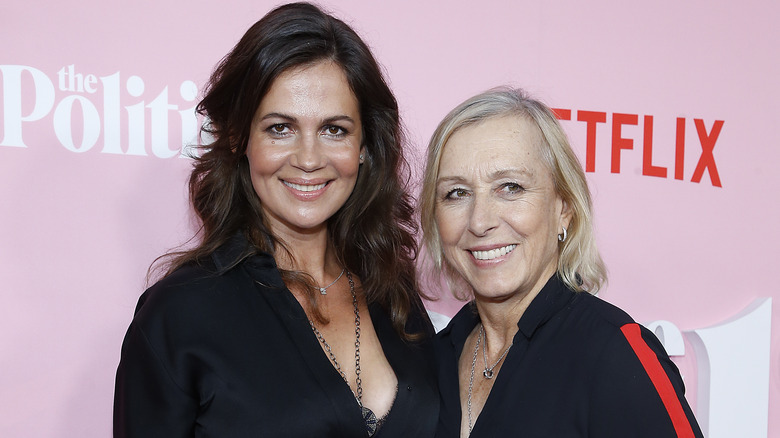 John Lamparski/Getty Images
It's really interesting that you said you'd never seen any of the shows before. Have you gone back and watched any of them?
The first day when Adriana invited me to be her friend on the show, I watched that. I downloaded the whole first three season[s] of [the] original "Housewives of Miami" and I watched one season a day. Can you imagine? All the episodes in one day! Martina kept coming into the room, she would sit and watch with me a little bit. Then, she would cook me lunch, bring me dinner. [She would ask] "Are you still watching?" Yes, because when I start something I'm like this, boom, I don't let go. One day, one episode, second day, three days, I watched them all and I didn't know what to expect. At first, I was thinking, "Oh my God, how and where am I going to land with my 300 chickens into the closet, and Lisa's closet with those 300 beautiful shoes?"
Then I thought, "Oh my God, it'll be so much fun because I enjoy making fun of myself. I don't see it as a bad thing. Oh my God, can you imagine what fun it would be if the girls could come to my farm and I would make one of them, in their beautiful manicured hands and diamonds, milk my goat?" Be fun, come on. Don't be so serious. Let's play with it and bring some fun things out of each other.
When you signed onto the show, did you have any fears about whether it might affect you or your marriage or anything?
Not at all, because if your marriage is strong, I don't think reality TV could make it any weaker. If anything, it would make it stronger. It gives a couple a true exercise of how much you go together and strong and have each other's back, whether it's in your married life or whether it's in your friendship life.
What has the fan reception been like for Julia?
How has the fan reception been for you?
It is so sweet, so warm. You can never please everybody. I had some comments where people were giving negative comments about my friendship with Adriana. Some people were like, "Oh my God, Julia, she is disrespectful to her wife. How could it be?" Martina is like, "What's disrespectful about it? If I'm okay with it, they should be okay with it. Why are they saying that?" Martina probably, at one point, I'm sure, knowing Martina, she would say something to the fans about it ... It's so sweet that they're very concerned, but I can reassure all of the people who are thinking that I'm disrespecting Martina, that I'm not, and Martina also thinks the same. I'm sure, at one point she will tell them herself.
How is your relationship with Adriana now that the season's almost over? I know it seems like the season almost tested it in some ways.
The same thing. Nothing can really break a true friendship, not the outside elements. The only things that can break it are the two people themselves. If something happens between two people, that could weaken the friendship or marriage, but not [due to] the outside factors. If anything, it makes it stronger because the base of our almost 10-year friendship with Adriana was trust. We always wanted good for each other. We never were jealous of each other's success or life, and there is nothing in this planet which could make me go against her and betray her because that's not who I am and nobody can turn me against her.
I could have a fight with her, but the way I am, it would be eyes to eyes with Adriana, with Martina. It's not behind anybody's back and it's not because somebody tells me this person is bad or this person is [something else]. I take Adriana for good and for bad, the way she is. She was always the sweetest to me. I know her so well off-camera that, whatever she says on-camera, I know it's because of her fiery Brazilian personality, and we laugh about it and we help each other. She helps me when I am maybe too long in my answers, and I help her when she is too fiery. We have each other's back. That's the bottom line.
On being a queer Real Housewife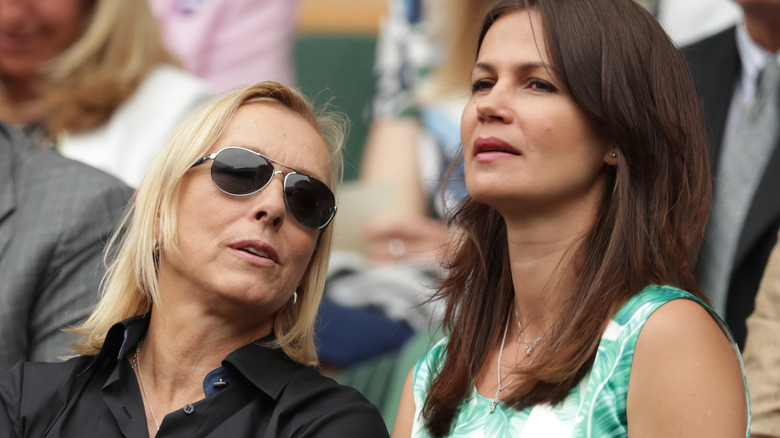 Pool/Getty Images
No, your answers are not too long at all. 
I bet they are.
No no no! 
I bet they are. I know it about myself. I'm learning. I'm going to take some lessons from Martina because she's so good at it.
No, I love the in-depth answers. It gives everyone a chance to really know you. Obviously, you were very close with Adriana before the show, but which of the other Miami Housewives have you gotten closest with now that you've been on the show, whether on- or off-screen?
Nicole [Martin], definitely Nicole. We see each other. Our families see each other. We go to each other's houses. We spend time together. We spend Thanksgiving together, which was totally off camera. Actually, when the first episode aired, she made a dinner party with her friends and family, and Martina and I were invited, and my daughter, Victoria. She came in there with her boyfriend. We grew to know each other organically. I absolutely did not know Nicole in the beginning and [am] really happy that thanks to the show, I have a new friend.
I wanted to talk about how we don't see a lot of queer representation on any of the "Real Housewives" series. So I wanted to ask you, what does it mean to you to be such a pioneer, a queer Real Housewife in a world where there isn't many?
At the beginning, I'm not going to lie, I was a little bit nervous because people would say, how does it feel to represent the community? It's such a big responsibility. When I do something, I want to excel in it, but this is not a sport to excel. This is actually helping other lives. You have to really know what you're doing. It was new to me [and] felt like a very big responsibility. All I can say is that I'm going to do my best to at least represent myself and hopefully to inspire other people and help other people.
I already had a lot of messages from people and responses saying the warmest, nicest things about it. I want to continue doing it, do more, and represent our community in the best possible way. Also, my God, it's about time as well. Right?
Julia Lemigova's advice for queer audiences watching her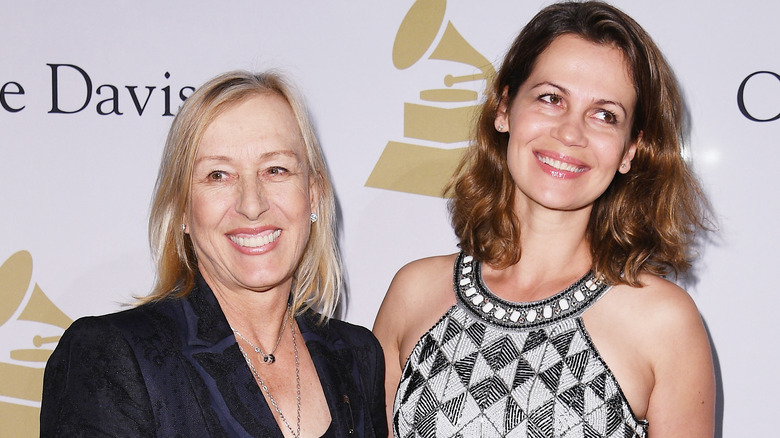 Kevork Djansezian/Getty Images
It's amazing. The franchise gave this opportunity because as I was always saying, love has no gender. I'm happy to show my life with Martina, my family, my multiple animals, family, the kids, just like any other marriages. There's no difference between straight marriage [and] gay marriage. It's a marriage, it's a love between people, and it's how it should be.
I read online that your children helped you come out, which I thought was super beautiful. What advice do you have for younger or any audiences — any queer audiences — that are seeing you thrive on TV now?
It's a tough one because it's so personal, it's so individual, and I know how amazingly hard it could be to come out to your family, to come out to your friends. There is always a time when a person would feel it's a right one to kind of listen to your heart. Don't ever get bullied by anybody, just truly listen to you when you are ready and the one thing I can tell for sure, and I guess that will be my advice to them. Nobody, nobody ever wishes they didn't come out. They feel they should have done it sooner. This is the thing that would be. Coming out sooner or later, that's how they will decide themselves, but for sure, having this humongous weight on your shoulder drop, they would never regret it.
You've done this show. You've been a famous model. You've even opened, I saw, a spa and a skincare line at one point. So, what I've loved is that I get to see that you really love to pursue your passions and try new things. So, can you tease any other ventures that you want to pursue in the future?
I'm still passionate about my skincare. I have the formulas, I put them in a freezer, so to say, because it was taking all my time away from the family, and the girls were growing up and I didn't have enough time to do both, to be with them, with their mom, and do the skincare line. So I sometimes take them out of the freezer and play with them and see, cause I love making perfumes. I love the skincare. I do make it, but just for friends and family use.
Julia Lemigova on what her daily life is like now
[Julia Lemigova on her future ventures]
Maybe one day I'll pick it up, but right now I'm concentrating on today, on now. I do want to do more for the LGBTQ+ community because I realized how amazing it is to help other people and something that I realize I could probably. I want to do more. I want to learn about that. My passion is always animals, so it's not a venture. It's my life. I have more animals coming to my farm soon. I could maybe help, which I always did, [with the] humane society, help homeless animals, do something with children and definitely do more in our community as well.
Now that you're such a popular TV personality and Martina is one of the greatest tennis players of all time. What is everyday life for you like now?
Just like it always was before off-camera. Like you were saying, since I was 16 years old, I was working with a camera, whether it was modeling or some TV work. I've done TV commercials, fashion shows, so I'm used to cameras and beauty pageants. I was a second runner up on Miss Universe, then Miss Russia, and the camera was not new to me. The camera was not new to Martina. All [of our relationship was documented on camera], so we would be on and off camera all our life and then go home, cook dinner, do homework with kids, and, just like any other family, walk the dogs and then go to sleep.
While we're on the topic of reality TV, of course, we at The List are curious. Are there any reality series that you love to watch? Are there any other reality series you'd even want to be on?
I think "Real Housewives of Miami" is plenty enough for me. I'm not doing anything else, but I started watching "The Real Housewives of Beverly Hills" recently.
Julia Lemigova reveals what's next for her after Season 4 of "Miami"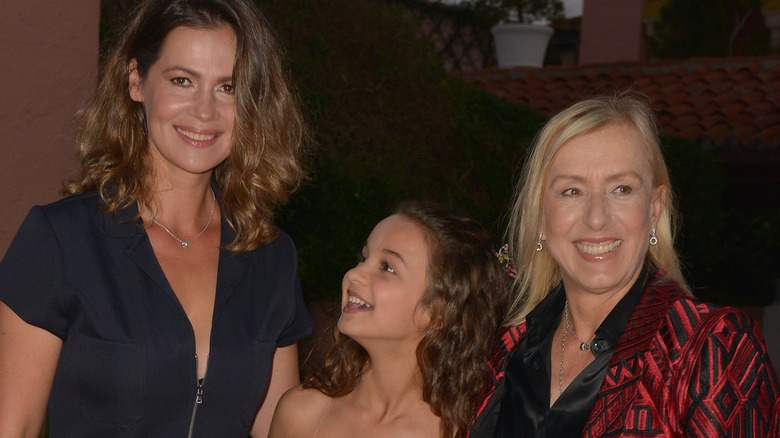 Johnny Louis/Getty Images
I was laughing all the way flying to New York and watching Lisa Vanderpump and her British, beautiful accent and how fabulous she is and her little dog and oh my God, I actually did something that I [have] never done before. I [have] never reached out to [a] celebrity before in my life. I watched her, and I DM[ed] her on Instagram, saying, "I want to meet you," because I think we have a lot of things in common of the moment I did it. I was like, "Wow, she hasn't replied yet," but I hope she will.
I hope so, too! I think that's the collaboration everybody didn't know they needed, but we definitely need. So, just what is next for you after Season 4 of "Miami?"
I really hope that [there] will be [a] Season 5 and 6 and 7 and so on. [After this,] leading my life, and we just sold our old farm and we have a new farm now and lots of new animals coming in, and the travels my daughters are in. One is in Europe, one is in [a] university in America. [I'll] keep doing what I always do,. maybe travel with Martina a little bit more, Wimbledon and French Open [are] coming up. Watch some more tennis and maybe travel with my wife a little bit more now that the girls are gone, but then I have so many animals. How do I do that? Everything you've seen on the show, [we] keep living it off-camera and if [the] camera will ever come back into my life again, [we'll] show it to every one of you.
You can catch Julia Lemigova in "The Real Housewives of Miami," with new episodes available to stream each Thursday on Peacock.