The Law And Order: SVU Episode You Forgot Starred Rose McGowan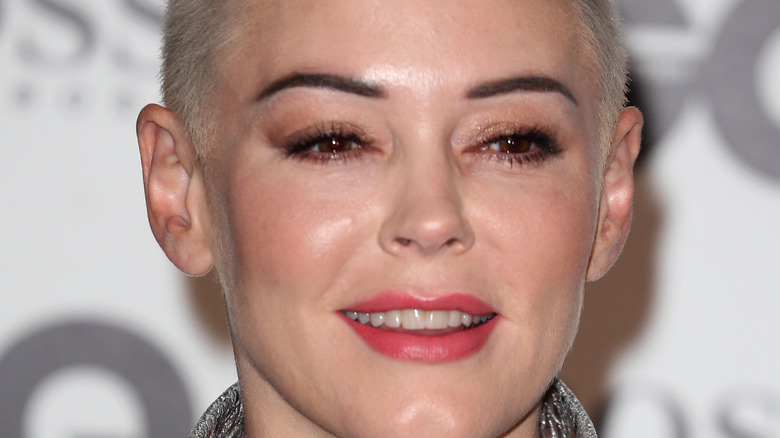 Cubankite/Shutterstock
Actress Rose McGowan was one of the biggest actresses of the 90s. She became a favorite with roles in movies like "Jawbreaker," "Scream," and "Going All The Way," all before getting cast as Paige in the hit WB show "Charmed" (via IMDb).
But if fans noticed that McGowan's career had floundered, or wasn't burning as bright as it once had, it was no coincidence. McGowan, along with other actresses like Ashley Judd and Mina Sorvino, was one of the celebs who had been silenced and blacklisted after being sexually assaulted by now-disgraced producer and Hollywood heavyweight Harvey Weinstein (via The Guardian). It was only in 2017, with the rise of the #MeToo movement, that the public-at-large learned what happened to McGowan. For the most part, it seems as though McGowan's acting days are behind her, with much of her focus now being on activism. Furthermore, McGowan released a memoir in 2018 titled "Brave," detailing the trauma she went through at the hands of Weinstein — and the rest of Hollywood.
"I miss performing. But my career was stolen," McGowan told The Guardian. "We all got stolen. And we were all very good at our jobs. That's the other crime in all this." Still, fans can always return to her prior appearances, including a stellar one on "Law & Order: SVU" that many have forgotten about.
Rose McGowan's role on "SVU"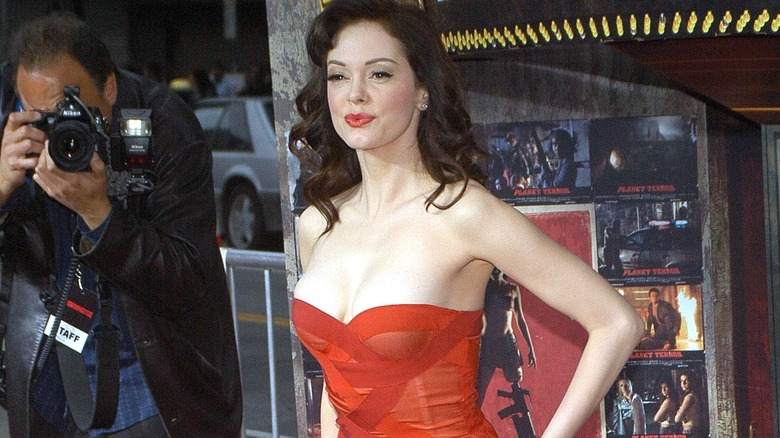 Everett Collection/Shutterstock
Although Rose McGowan has semi-retired from acting, she once participated in a rite of passage completed by actors of all stripes: appearing in an episode of "Law & Order: SVU" (via CBS News).
McGowan guest starred in a 2011 episode of the show titled "Bombshell," which found her character, Cassandra Davina, drawing attention from Special Victims Unit detectives Stabler and Benson when they went undercover at a swingers club. As the pair investigated a stabbing, they learned more about Davina's tangled web with her jealous boyfriend. Of course, they also eventually discovered that all is not as it seemed.
Agreeing to appear on "SVU" was an easy decision for McGowan, who was a fan of the show. "The first thing that drew me to 'SVU' is the fact that I actually watch it. My sister and I once got sucked into a 10-hour marathon...I was like, 'Wow, what an amazing show!' Plus, they've had amazing people on it, such as Maria Bello, Jeremy Irons and Marcia Gay Harden," McGowan told Collider. "They have had such an amazing line-up of people that go in and out of it. If that hadn't been the case, I don't know that I would have been as attracted to it, but they get such powerful actors," she continued. "And, Mariska Hargitay and Chris Meloni are so good. To be able to be in that world, that I've lost many hours of my life to watching, was definitely a treat."
If you or anyone you know has been a victim of sexual assault, help is available. Visit the Rape, Abuse & Incest National Network website or contact RAINN's National Helpline at 1-800-656-HOPE (4673).